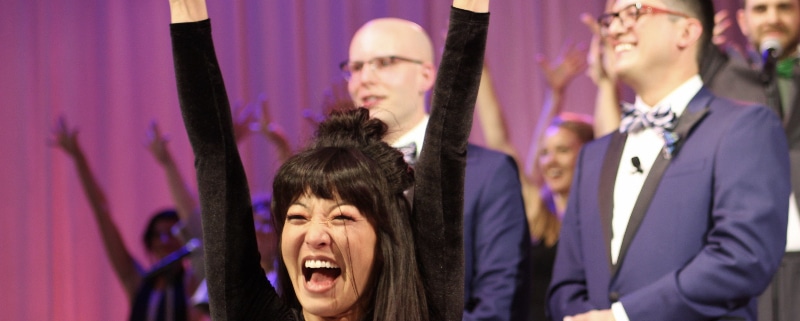 Adoptee Rae Leigh Case found her heart family 'the moment I arrived'
EDITOR'S NOTE: Miss Saigon, inspired by the opera Madame Butterfly, tells one very specific story of the Vietnam War. It does not attempt to convey the breadth of the Asian American experience then or since. The DCPA NewsCenter has compiled a series of real-life stories of Asian Americans from vastly different backgrounds and countries of origin whose stories are both dramatic and dramatically different. We continue with Rae Leigh Case, both a Miss Saigon cast member and a graduate of Arvada's Pomona High School. Please note that we have chosen to honor the authentic spellings for Viêt Nam and Sài Gòn, respectively.
Arvada's Rae Leigh Case knows next to nothing about her birth mother except that she was young and unmarried in 1985 when she walked into a Korean hospital one morning, gave birth and walked out that same afternoon. "She seemed to know exactly what she was doing," said Case. And for that, she is forever grateful.
"I am a big believer in fate, and I think everything happened exactly the way it was supposed to," said Case, who was adopted at 5 months old by Charlie and Laurie Klapperich, who already had two boys and wanted a girl to complete their family.
"I fully believe I was meant to be my parents' daughter, and my brothers' sister," Case said. "I can't imagine it any differently."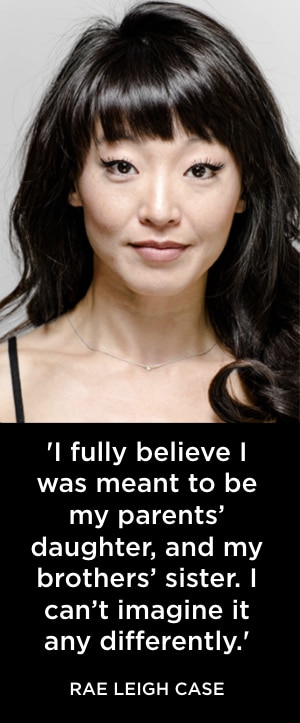 Laurie Klapperich, who has designed costumes for more than 200 local stage productions over the past three decades, brought Rae with her to work at the Arvada Center on the baby's second day in America. Thus began her life in the performing arts. Case mostly pursued ballet until, get this: The first theatrical audition of her life landed her a leading role in the 25th anniversary touring production of A Chorus Line, as Connie. She was later hired to play the same role at the Arvada Center in 2017.
This small-world story seems so small to possibly be true, but it is: The childhood best friend of Rae's brother, Phillip Klapperich, turns out to be Nathan Allen, whose Chicago theatre company created Off-Center's recent extended-hit escape-room adventure, The Last Defender. The two Arvadans, who met in the Moore Middle School Drama Club, went on to play the twins in the Arvada Center's 1992 production of Peter Pan and later moved to Chicago together and co-founded The House Theatre. Phillip wrote many of company's first shows, including an original adaptation of The Nutcracker that has been running annually for 10 years. The House Theatre costume studio is to this day named after Rae and Phillip's mother, Laurie.
Case says she had a great childhood in Arvada, although there were times when she was bullied just for looking different. "I definitely was made to feel different at school, but I was fully accepted into the dance world, and I loved it so much," she said.
Now as an adult, Case has a cultural curiosity about Korea, but harbors no deep desire to find her biological parents. "I don't really go down that 'what if' road too much because I just feel so secure in what was meant to be," she said.
For now, she was meant to be a swing performer in Miss Saigon, which means she might be called upon at any moment to replace any number of women in the cast.
"It's been a pretty incredible experience," said Case, who has just signed on to continue touring with Miss Saigon for another year. "I feel really grateful every day, and I don't forget where I came from or who got me here from the Denver theatre community."
Here are more excerpts from John Moore's conversation with Rae Leigh Case:
John Moore: So what do you know about your birth parents?
Rae Leigh Case: I know nothing, actually. It literally says on my birth certificate: "No records for the mother or a father."
John Moore: How does that settle with you now as an adult? Are you OK with that?
Rae Leigh Case: I am more than OK with it. I just felt fully a part of this family from the moment I arrived. My parents have always been more than great about the fact that I'm adopted.
John Moore: Was it ever an issue growing up that you didn't look like anyone else in your family?
Rae Leigh Case: Not until I went to school. That was almost like an identity crisis. I had a great childhood but, at the same time, there were definitely some (expletive) little kids at school. I would get a hard time for looking different, and I didn't understand why. I knew I was Asian by birth, but I was also fully a part of my family. So that was confusing.
John Moore: What did your parents tell you when you would come home from school with questions about that?
Rae Leigh Case: They did the best they could to answer them. As a little Asian kid growing up in a predominantly white community, they couldn't completely relate to what I would call 'awkward racism.' But they did their best. And I went into ballet pretty early, at around age 8 or 9 at the Arvada Center, and it was never a thing there.
John Moore: Have you ever felt an urge to go to Korea?
"I knew I was Asian by birth, but I was also fully a part of my family. So that was confusing."
Rae Leigh Case: Absolutely. I would love to go back. I've just never felt the need to seek out my biological parents. It's more about just seeing where I was born and experiencing that culture and understanding that while that's a part of who I am, it doesn't encompass who I am.
John Moore: When were you first introduced to Miss Saigon?
Rae Leigh Case: We were shopping for colleges for my oldest brother, Phillip, in Washington D.C., and we saw Miss Saigon at the Kennedy Center. I was pretty little, so I didn't quite understand the content of the story. But that was my first visual association with people who looked like me on stage. I had already been taking ballet, but it was just an incredible, inspiring moment as a young Asian-American in the dance world to see.
John Moore: And as a female swing, how often do you perform the show?
Rae Leigh Case: There's one other female swing, Nancy, and we go on quite a bit. We have to cover all of the female ensemble tracks – and a lot of the male ensemble tracks within the numbers.
John Moore: Talk about the unique challenge of having to be prepared to go on as anyone at any time.
Rae Leigh Case: Being a swing is an emotional roller coaster. Sometimes you know a month in advance that you're going to go on for a week-long stint. And sometimes you find out a half-hour before. There have also been a few occasions where if someone gets hurt, you go on mid-show.
Really? You have gone on in the middle of the show?
Rae Leigh Case: Yeah, a few of the numbers are very tricky technically, and sometimes people get hurt. So sometimes it's literally a mad dash in the middle of the show.
John Moore: Explain the difference between a role and a track. You have to know how to do every ensemble dance from every ensemble position on the stage. What's that like?
Rae Leigh Case: I'm not going to lie. I had never swung before, and this was a pretty big show to undertake for a first-time swing. You have to be ready to be plugged into the show wherever they need you. I have a very epic notebook that just stays with me all the time.
John Moore: What do you love most about performing Miss Saigon?
Rae Leigh Case: It's the size, the spectacle and the beautiful love story. It's such an epically large and well-written musical. By the time we get to perform "American Dream," it's just incredible. It's pretty special.
John Moore: Does performing in this show as an adoptee hold any additional significance to you?
"It has been really cool to know that all across the country, people can identify with me from their own experience."
Rae Leigh Case: Oh my God, yes. There have been three times when I have walked out the stage door and there have been little girls waiting for me with their dads. They come up to me and say something like, "You're Rae! You're the adopted one! I'm adopted, too. This is my dad." It's really special to see that. There was a huge number of adopted Asians – and girls in particular. It has been really cool to know that all across the country, people can identify with me from their own experience.
John Moore: Why do you tell people they should come to this show?
Rae Leigh Case: Because it is just so beautiful. Yes, it's controversial, but it's such an important story for people to see. It's still very current with what's going on in the world right now. And the creative team has done such an incredible job reviving it. … And did I mention it's beautiful? Because it's beautiful.
John Moore: You mentioned the controversy. What do you want people to know about the show now, in 2019?
Rae Leigh Case: That when Jonathan Pryce played the original Engineer, it was 1991. Our Engineer is played by Red Concepción, and he's Filipino. I think the writers have been extra, extra careful in creating this revival. The re-wrote the wedding song to make it more culturally accurate. I can tell you that the Asian and Asian American audiences who have seen it, love it. And I can speak for all of the females in the ensemble when I say we feel proud to tell this story. We feel proud to be Asian performers in this incredible musical.
John Moore: Before we go, you mentioned you re grateful to those who helped get you here from the Denver theatre community? Who are some of those people?
Rae Leigh Case: I've had the privilege to work with a lot of the local favorites, but I would single out Michael Duran of BDT Stage; good old Rod Lansberry over at the Arvada Center; and also Gavin Mayer, Kitty Hilsabeck, Stephen Bertles, Nick Sugar, Ronni Gallup, Matty Peters, David Nehls, Donna Debreceni and … everyone else.
John Moore: You've already performed once on the Buell Theatre stage, in the Colorado Ballet's The Nutcracker. What's it going to be like to be performing on stage there in a musical?
Rae Leigh Case: It's all very surreal. I'm honored and so excited. It's going to be pretty great.
John Moore was named one of the 12 most influential theater critics in the U.S. by American Theatre Magazine in 2011. He has since taken a groundbreaking position as the Denver Center's Senior Arts Journalist. He directed a 2015 production of 'Always Patsy Cline' for which the costume designers were Laurie Klapperich and Rae Leigh Case.

Miss Saigon in Denver: Ticket information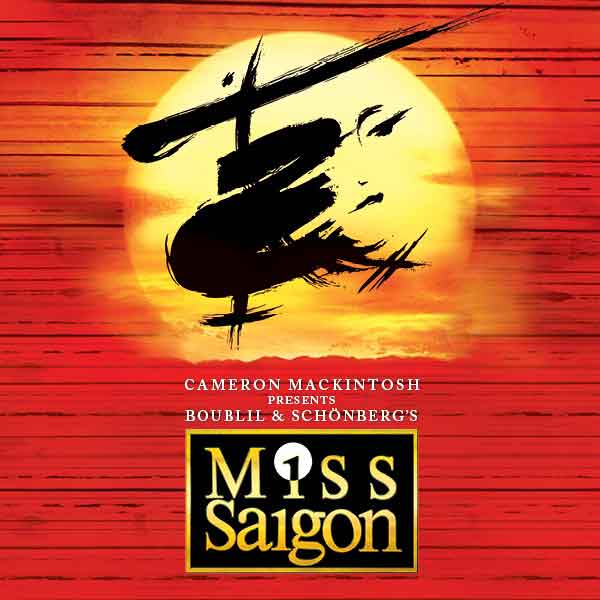 This is the story of a young Vietnamese woman named Kim who is orphaned by war and forced to work in a bar run by a notorious character known as the Engineer. There she meets and falls in love with an American G.I. named Chris, but they are torn apart by the fall of Sài Gòn. For three years, Kim goes on an epic journey of survival to find her way back to Chris, who has no idea he's fathered a son. Featuring stunning spectacle and a sensational cast of 42 performing a score that includes "The Heat is On in Saigon," "The Movie in My Mind," "Last Night of the World" and "American Dream."
Writers: Claude-Michel Schönberg and Alain Boublil, with lyrics by Boublil and Richard Maltby Jr. It is based on Giacomo Puccini's opera Madame Butterfly
Director: Laurence Connor
When: September 10-22

Where: Buell Theatre
Age advisory: Miss Saigon contains some scenes and language that might not be suitable for younger audience members, including scenes of a sexual nature.
Tickets: Available by calling 303-893-4100, in person in the Helen Bonfils Theatre Complex at 14th and Curtis streets or, online by clicking here:

https://www.denvercenter.org/wp-content/uploads/2019/08/Rae-Leigh-Case-Wedding.jpg
583
800
John Moore
John Moore
2019-08-30 12:41:46
2019-09-04 08:32:32
Adoptee Rae Leigh Case found her heart family 'the moment I arrived'