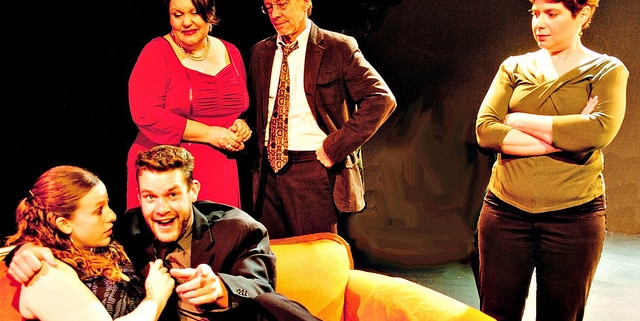 After 20 years of comfort, Spotlight Theater is turning off the light
Photo gallery: Spotlight Theater through the years
Photos of Spotlight Theater productions through the years. To see more, click on the image above to be taken to our full gallery of photos.

Artistic Director Bernie Cardell cites time and money as factors in decision to close after remarkable, 20-year run
By John Moore
Senior Arts Journalist
Lowry's Spotlight Theater Artistic Director Bernie Cardell was fond of saying his company "does the comfort food that makes you laugh, and goes down easy."

Spotlight, which began performing in a Westminster church in 1998, made a lot of people laugh in a remarkable 20-year run during which the upstart troupe outlasted dozens of other small theatres. The company announced its closure this morning, effective later this year.
"It all boils down to the two things that inform most decisions: Time and money," Cardell said in an email announcing the decision.
"Money: Producing theatre is more expensive now than it was 20 years ago. Costs go up while the number of seats you can sell for a production remain the same.
"Time: Our board of directors is a working board. As a dedicated group, we make the shows you see at Spotlight happen. And for some of us, the amount of time we have available for Spotlight is decreasing. Some want to start families while others have commitments elsewhere that are requiring more and more time."
Spotlight was a company that lived to scare or tickle audiences by specializing in mysteries and farces — particularly mysteries written by Agatha Christie and farces written by Ray Cooney. Spotlight staged Cooney's audience favorite Run for Your Wife four times. But the company didn't shy from serious drama, most recently staging The Diary of Anne Frank.
Overall, it is estimated that Spotlight has presented nearly 75 shows and more than 750 performances for about 45,000 audience members and created about 550 acting opportunities for local actors.
Spotlight's 2017-18 season was scheduled to end with a June 23-July 22 run of The Complete Works of Shakespeare Abridged, which will go on as scheduled featuring Ben Hilzer, Joe Von Bokern and Luke Rahmsdorff-Terry. But as a final goodbye, Cardell has announced the addition of a closing show: You Can't Take it With You.
"I thought this would be the perfect sendoff for the company, and it is a show we have not produced before," said Cardell, a 2015 True West Award winner. "It incorporates the best of what Spotlight does: It allows you to forget your worries and escape for a night of fun."
The peripatetic company was founded by Pat Payne as the Westminster Spotlight in 1998. It first performed in the Westminster Presbyterian Church, then moved to a meeting room in the library at Front Range Community College. Spotlight's first real home was the quaint 70-seat theatre in the West Colfax E-vent Center in Lakewood, the same space that birthed The Edge Theatre Company.
The company moved southeast in 2007 into the John Hand Theatre on the former Lowry campus in East Denver, sharing space and sensibilities with the Firehouse Theatre Company. Recently the name changed again, to Lowry's Spotlight Theater, to better reflect the location of the theatre.
Spotlight's goal from the start, Payne said, was not to change the world. "It was to tell good stories."
Spotlight provided acting opportunities for hundreds of artists and maintained a loyal audience base to the end. Payne was proud to report that despite tiny budgets, Spotlight has lost money on only a handful of shows. He attributes that to audiences who kept coming back, he said, "because we gave them what they wanted.
"I hope Spotlight's legacy is that it was a place to produce entertaining and fun theatre that audiences would fall in love with," Payne said, "and where artists were treated as part of the family."
The list of prominent local actors who have passed through Spotlight stages is in many ways a cast list of the Colorado theatre community itself, including Emma Messenger, Haley Johnson, Todd Black, Andrew and Kelly Uhlenhopp, Adrian Egolf, Luke Sorge, James O'Hagan-Murphy, Linda Suttle and hundreds more.
"What I've always loved about Spotlight is not only the sense of family they created with the artists they work with, but the patrons," said Johnson, who performed with Spotlight for 11 years. "Every time you attended a show there, you would see the same friendly faces working the box office or concessions. It created a sense of comfort and familiarity. It's been fun having a theater that consistently produces farces, murder mysteries and classics."
Payne, now Production Manager at Candlelight Dinner Playhouse in Johnstown, left Spotlight in 2014. That's when Cardell, a longtime Spotlight company actor and director, took over as Artistic Director.
"I have been involved with Spotlight Theater for more than 11 years, and in that time I don't know that I have ever seen patrons so enthusiastic in their support," Cardell said in his letter. "It's been less like running a business and more like administrating a fan club.
"I am grateful for the opportunity to bring you the best experience we could create. It's been a soul-satisfying experience."
John Moore was named one of the 12 most influential theater critics in the U.S. by American Theatre Magazine in 2011. He has since taken a groundbreaking position as the Denver Center's Senior Arts Journalist.
Spotlight Theater's recent production of 'The Diary of Anne Frank.' The cast included Lili Shuger, Shane Delavan, Julie K. Wolf, Mariel Goffredi, Claude Diener, Erin Bell, Benji Dienstfrey, Leroy Leonard, Stephanie Kidd, and Eddie Schumacher. Photo by Meghan Ralph.
Lowy's Spotlight Theater: History
1998
Harvey
1999
The Mousetrap
The Odd Couple (female version)
Run for Your Wife
2000
Murder at the Howard Johnson's
London Suite
2001
The Unexpected Guest
A Lion in Winter
Funny Money
2002
Black Coffee
Run for Your Wife
2003
Caught in the Net
Diary of Anne Frank
Dial "M" For Murder
2004
The Boys Next Door
Czar Reid And the Punk
2005
Boeing-Boeing!
A Piece of My Heart
2006-2007
Moon Over Buffalo
Arsenic and Old Lace
Run for Your Wife
Caught in the Net
2007-2008
A Murder is Announced
The Tender Trap
Laughter on the 23rd Floor
2008-2009
12 Angry Men
Funny Money
The Mousetrap
Don't Drink the Water
2009-10
Born Yesterday
And Then There Were None
A Hotel on Marvin Gardens
2010-11
Showtune: The Music of Jerry Herman
Inspecting Carol
Harvey
Run For Your Wife
2011-12
Wait Until Dark
Dearly Departed
Forever Plaid
Beau Jest
2012-13
Murder on the Nile
The Man Who Came to Dinner
The Front Page
Sylvia
2013-14
Witness for the Prosecution
Barefoot in the Park
Deathtrap
Boeing Boeing
Don't Dress for Dinner
2014-15
A Few Good Men
Christmas Belles
Enchanted April
Rope
The Foreigner
2015-16
To Kill a Mockingbird
The Big Bang
One Man, Two Guvnors
Steel Magnolias
No Sex Please, We're British
Night Watch
2016-17
Sabrina Fair
Scotland Road
Suddenly Last Summer

It's a Wonderful Life, a Live Radio Play
A Christmas Carol: a Live Radio Play
It's Only a Play (with Vintage Theatre)
On Golden Pond
2017-18
Buyer & Cellar (co-production with Theatre Or)
Rumors
Sleuth (co-production with Vintage Theatre)
The Diary of Anne Frank
June 23-July 22, 2018: The Complete Works of Shakespeare Abridged
Dates TBA: You Can't Take it With You
https://www.denvercenter.org/wp-content/uploads/2018/05/featured-image-7586.jpg
486
640
John Moore
John Moore
2018-05-07 13:43:00
2018-09-19 10:37:09
After 20 years of comfort, Spotlight Theater is turning off the light