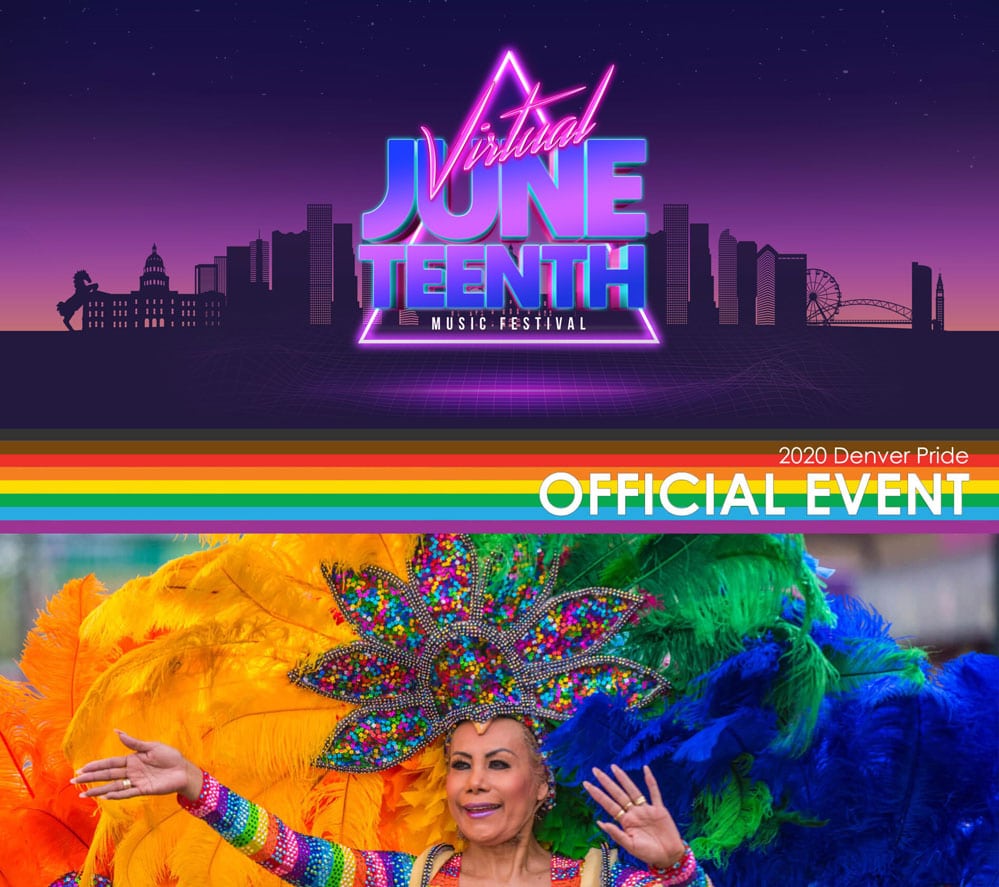 Juneteenth Virtual Freedom Day Celebration
The longest running annual parade in Colorado drew in hundreds of attendees on June 13th as it marched to the Five Points neighborhood commemorating the holiday on June 19th that marks the emancipation of the last remaining enslaved African Americans in the country.
Commemorated in cities across the world, Denver hosts one of the largest gatherings annually and features the Juneteenth Music Festival, cultural exhibitions, and booths from businesses and artists within the community.
Due to COVID-19, the 2020 Juneteenth Music Festival will go virtual on June 18 for an educational and entertaining day celebrating African American history. The virtual festival will be a national stage to featuring the DREAM BIG Awards, a marketplace to support local businesses from the Five Points neighborhood, showcase musicians and artists, and headlined by DJ Jazzy Jeff.
For educational resources, streamed events and marketplace, Visit juneteenthmusicfestival.com
"Now, more than ever, our community is demanding change and action which is an important reminder to us that we are stronger because of our differences. I only wish that we could gather together in the streets of Denver to show solidarity and acceptance of all," said DCPA President & CEO Janice Sinden. "I look forward to coming together virtually to listen, learn, and share in the importance of storytelling and inclusion at this years' Juneteenth Music Festival and PrideFest!"
Show Your Virtual Pride
Since 1975, Denver has turned out to celebrate and support Colorado's LGBTQ+ community at PrideFest. The annual event regularly draws more than 450,000 people to downtown's Civic Center Park for the two-day event that features a parade, entertainment, marketplace and more.
Unfortunately, as continues to be true for large-scale events, health concerns stemming from COVID-19 are driving the event indoors. Instead of gathering downtown, participants are asked to tune in and turn up their enthusiasm for the LGBTQ+ community on June 20-21.
PrideFest is organized by The Center on Colfax, which is the largest LGBTQ community center in the Rocky Mountain region. It works to engage, empower, enrich and advance the gay, lesbian, bisexual and transgender community of Colorado by ensuring that every member of the LGBTQ community has access to the programs and resources they need to live happy, healthy and productive lives.
"Instead of just cancelling Pride, which means so much to so many," said CEO Rex Fuller, "we are working hard to create a variety of opportunities for our community to connect and celebrate virtually."
In fact the weekend's events will include a virtual parade, virtual 5k, online entertainment and dance party, online marketplace and more. The Center hopes to raise $100,000, which, in turn, will provide support and services for more than 52,000 individuals.
Visit denverpride.org for a list of events and information.
https://www.denvercenter.org/wp-content/uploads/2020/06/pridejuneteenthheader.jpg
887
999
DCPA Press
DCPA Press
2020-06-16 13:50:02
2021-02-09 14:28:13
Annual Celebrations Go Virtual