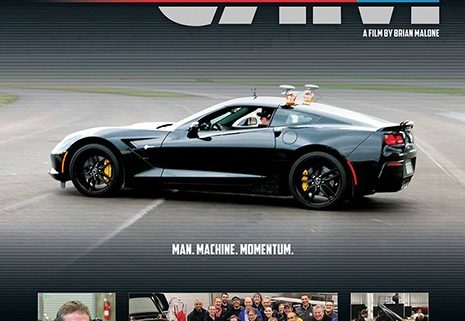 Another Malone takes spotlight at Denver Film Festival
Video trailer for 'Reengineering Sam,' above.
When it comes to driving at speeds greater than 200 mph, former race-car driver Sam Schmidt says, "You're either scared or you're not. And I wasn't."
Schmidt grew up wanting to go farther and faster than everyone else – at any price. And that sounds a lot like a lot like Colorado's Malone family, which goes further and faster than most everyone else – only on a much different kind of track.
"Growing up in our household, there was a premium put on self-expression," said Beth Malone, an actor who was nominated for a 2015 Tony Award for her performance in Broadway's Fun Home. Brother Sean is an accomplished oil painter. Mother Peggy is a western vocalist based in Fruita. But it is brother Brian who is in the spotlight at the 39th Denver Film Festival.
Brian Malone is the director of Reengineering Sam, a remarkable documentary that tells the uplifting story of Sam Schmidt, a rising IndyCar driver who was left a quadriplegic from a 2000 test-run crash. The film chronicles how an indefatigable spinal surgeon from Denver's Craig Hospital put Schmidt back behind the wheel by helping to develop a race car that Schmidt can operate simply with gentle head movements. Just this month, Schmidt was given a limited Nevada driver's license, even though he can't scratch his own nose.
This was a big, national cooperative project that involved scientists and engineers from the Air Force Academy in Colorado Springs to Arrow Electronics in Centennial to Ball Aerospace in Pittsburgh. The successful collaboration not only gave Schmidt part of his identity back when he drove a qualifying lap at the 2014 Indianapolis 500 in his uniquely modified "Quadvette," it opened the door to a wide range of new adaptive technologies that could fundamentally change the quality of life for more than 6 million Americans with limited mobility.
"When Brian showed Sam driving that car with his head, I could hear people in the theatre sniffling all around me," said Beth Malone, who flew home from New York to see Reengineering Sam at the Denver Film Festival on Nov. 5. "Brian figured out how to tell Sam's story with a huge heart that really carries the film."
Schmidt grew up in a Las Vegas racing family acutely aware of the sport's inherent risks. He was a teenager when his father was partially paralyzed in an off-road racing accident. Malone chronicles how Schmidt earned his first victory at his hometown Las Vegas Motor Speedway in 1999 and realized his dream to race in the Indianapolis 500. But everything changed when Schmidt drove head-first into the unforgiving concrete at Walt Disney World Speedway on January 6, 2000, leaving him on a respirator for five months. Around his steering wheel, Schmidt had written the words "Nothing to Lose." But the married father of two, and his family, had everything to lose. Or so he thought.
The film not only shows how Schmidt staved off suicidal thoughts 15 years ago to managing the two professional racing teams he owns and the multimillion-dollar parts company he bought from his father when he was 25, a;; from his wheelchair. But a personal priority of Brain Malone's was to shine an honest look at the toll Schmidt's near-total paralysis takes on his team at home, including his wife, teenage kids and full-time nurse.
"I knew that for this to become an important film, it would have to offer a realistic view of what handicapped folks have to go through every day," Malone said. "And that despite those daily and minute-by-minute struggles, if you have the will and determination, you can really accomplish quite a bit with your life."
Photo gallery: Reengineering Sam at the Denver Film Festival:


To see more photos, click the forward arrow on the image above. Photos by John Moore for the DCPA NewsCenter.
Brian Malone is a journalist by trade who has worked as a longtime local TV news producer with career stops with Channels 4, 9 and 31. Over the years, he has chronicled the work done at Craig Hospital, a national leader in spinal-cord and traumatic brain injuries. It was there he met Dr. Scott Falci, who told Malone about his efforts to help Schmidt drive again.
Malone's previous film subjects have included global warming, the media's ulterior motive in its coverage of the Kobe Bryant rape trial in Aspen, and crookedness within the Douglas County public school board. Reengineering Sam would be a much more human story.
"Brian has an endless capacity for making art and exposing injustice," Beth Malone said. But what takes Reengineering Sam to the next level, she believes, is that he presents a protagonist the audience can really root for.
"I think what makes this a compelling film is that it is such personal narrative," Beth Malone said. "Brian really shows you what it must be like to have all of your personal freedoms taken away."
Brian Malone, who attended Douglas County High School in Castle Rock, says he has taken creative inspiration from his sister's example for more than 30 years.
"Beth has more talent coming out of her pinkie than I ever will have in my whole body," he said. "Apart from the obvious – that she is just phenomenal – she's got that magic ingredient of being able to go out there on a stage and just turn it on in front of an audience, which is a mystery to me. I am more behind-the-scenes kind of guy. Beth is a real pro."
Reengineering Sam was a film with a $500,000 projected budget that Malone managed to make for a bare-bones $150,000. "Let's just say the kids are going top be looking at community college," he said of his two daughters – jokingly.
His film now has a real shot at national distribution, in part because it is produced by Denver's own Academy Award-winning filmmaker, Daniel Junge. And, Malone believes, because the audience for Reengineering Sam transcends the racing and disabled communities.
Check out our Colorado theatre coverage on the DCPA NewsCenter

"What Sam's story tells us is that when the worst happens, you can either push forward, accept it and have a meaningful life with whatever time you have left," Malone said, "or … well, we are not even not going to allow you to think about the other option – because there is no other option."
Britta Erickson, Festival Director for the Denver Film Society, says she selected Reengineering Sam for the 2016 Denver Film Festival on its own evident merits, but she celebrates its local roots. "The Denver Film Society really prides itself on showcasing the best in world cinema," Erickson said, "but when we can showcase members of our own filmmaking community, we get really excited about that."
Much of the Brian Malone's next year will follow Reengineering Sam throughout the country. He is arranging a screening tour to align with the IndyCar racing series' national traveling schedule. But one of his future projects includes his first collaboration with his sister on a passion project for both – a gritty look at the wholesale slaughter of abandoned horses.
"People think these horses that end up at a kill lot are sick and old, and that they need to be put down," Brian Malone said. "But the truth of the matter is that the majority of these horses are just people's pets that they simply outgrow or get bored with. So we're going to turn the spotlight on that."
Added Beth Malone: "It can be nice not to know certain things. But once you know something – you can't unknow it."
John Moore was named one of the 12 most influential theater critics in the U.S by American Theatre Magazine in 2011. He has since taken a groundbreaking position as the Denver Center's Senior Arts Journalist.

---
'Reengineering Sam' was screened twice at the 2-16 Denver Film Festival. Follow the film on Facebook for news of future screenings.
Craig Hospital surgeon Scott Falci and filmmaker Brian Malone. Photo by John Moore for the DCPA NewsCenter.
https://www.denvercenter.org/wp-content/uploads/2018/04/featured-image-3600.jpg
687
465
John Moore
John Moore
2016-11-09 18:35:00
2016-11-09 18:35:00
Another Malone takes spotlight at Denver Film Festival