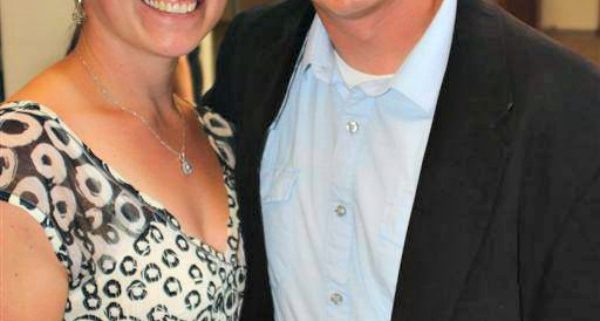 Art and Artist: Rachel Ducat has the mother of all jobs

Rachel and Jason Ducat. Photo by Brian Landis Folkins.
By Olivia Jansen
For the DCPA NewsCenter

Stage Manager Rachel Ducat knows a thing or two about being a mom. Not only does she care for her 17-month old twin boys, she considers being "the mom of the room" part of her job description. From the week before rehearsals begins until any given show closes, Ducat has a slew of responsibilities. She acts as the liaison between everyone from the director to actors to costume-makers to marketing to the running crew. She manages the daily rehearsal schedule and she stays up-to-date on all needs concerning costumes, props, the set and more. Once the play moves from the rehearsal room into the actual theatre, Ducat takes a lead role in running the show. And once the show opens and the director departs, the Stage Manager officially takes over all aspects of the production.
Of course, she has some help. Her assistant on the DCPA Theatre Company's All the Way, opening Friday, is Matt Campbell. When technical rehearsals begin, Campbell makes sure Ducat's directions are followed backstage. Ducat also manages an apprentice who helps get anything done that needs being done.
"I'm their mom during the entire run, and then I close the show," said Ducat, whose recent assignments have included Theatre Company productions of Tribes, One Night in Miami and Appoggiatura. "I maintain it from top to bottom."
Like any job, stage-managing presents challenges. Ducat said learning how to read people is critical, and how to deal with the inevitable conflict that comes with balancing so many personalities and departments. She said she's learned a lot about herself and how to read situations. Just like being a mom.
With Monday as her only one day off each week, Ducat misses her family a lot. But she and her husband, Jason Ducat, make it work. Some days Jason, who was a DCPA sound designer for seven years, will bring the twins to the Denver Center so the family can spend time together over dinner breaks. On big shows like All The Way, the company rehearses from noon to 4 p.m., and again from 6-10 p.m. Rachel typically arrives earlier than that, and leaves later than that.
"I have babies at home, so I miss them," she said. "I miss the day-to-day of, 'What did they do today?' and, 'What did they eat today?' They are long days but it's what we love, so it's what we do."
Parents will tell you their worlds change after having kids. Ducat said she and her husband have made sacrifices, but it's all for the babies. With two little ones at home, they compromise to make their work schedules fit together. If Rachel is working a show, Jason will turn down jobs so he can be home, and vice versa. Ducat said having children also changes where she chooses to work.
"I did a few seasons at Colorado Shakespeare Festival in Boulder, but that's not really feasible anymore," she said. "It's a 45-minute drive from my house, and that's too much time away from my babies."
But she considers turning down remote jobs to be a luxury; it means she gets to work close to home and be near her family.
Ducat personifies many qualities of being a great stage manager, said her boss, DCPA Production Stage Manager Chris Ewing, including her organizational skills and levelheadedness.
"She doesn't panic in the midst of crisis or chaos – two things a stage manager has to deal with frequently," Ewing said.
Theatre has been part of Ducat's life since she was little. As a singer, she loved musical theatre. As an actor, she enjoyed straight theatre. As an English minor, she liked Shakespeare. But she knew she didn't want to be a professional actor, so she needed to find her theatrical niche. As a child, she often was cast as the sister, or Friar Tuck, or other random small parts that didn't interest her. But she loved the production side of theatre. And she has known she is the "mom type" since working as a counselor at a summer camp.
She decided to study theatre production at the University of Delaware. She graduated in 2001 and has been stage-managing ever since. She worked her first show, Twelfth Night, as an intern at the New Jersey Shakespeare Festival. She says her internships were the best part of her education because she didn't do much stage management in school. She learned what she knows now from everyone she worked with after graduation.
Ducat has worked in Cleveland, Chicago, Michigan, Ohio and Connecticut, which she says is part of what she loves about theatre; it can bring you to many new places and allow you to meet many new people. While in Chicago, she worked on blockbuster hits such as Wicked, Jersey Boys and Dirty Dancing.
Her opportunity to work on Wicked is proof the theatre community can be a very small world. Ducat lived in Chicago for about seven years and worked at the Chicago Shakespeare Theater. The show she worked on was geared toward children, so she worked mornings and had nights off. One night, during Wicked's sit-down in the city, Ducat shadowed her friend, an assistant stage manager on the show. The production stage manager was looking for people who could come in at the last minute to work on the show should anyone on the stage management team call in sick. Ducat jumped at the chance. When she sat down with the production stage manager to go over her resume, they realized they had a mutual job connection – the New Jersey Shakespeare Festival. She got the job.
"He remembered coming up to the stage with tears in his eyes to tell me my mother was on the phone crying and that my grandmother had passed away," Ducat recalled. "So it's a very small world in this business; Matt (Campbell) and I worked at the same theatre in Michigan, but at different times. Then we were both hired here at the DCPA in the same season."

Rachel Ducat addresses cast, crew and visitors to the recent opening rehearsal for 'Tribes.' Photo by John Moore for the DCPA NewsCenter.
​
Theatre also brought Rachel and her husband together. They met at the Chicago Shakespeare Theater, which has two venues: Rachel interned at one while Jason worked at the other. They would carpool together but never worked side-by-side until they arrived at the Denver Center. Rachel said Jason is not only her husband, but also her best friend.
What exactly does Jason do as a sound designer? Anything heard at a show, from sound effects to scene-ending transitions, was created by a sound designer. They also might compose music for some shows. The goal is to create feeling at a show. But since Jason wanted to focus more on teaching, which he started doing at Metropolitan State University this semester, he's taken more freelance jobs at local theatres such as the Curious and Edge theatre companies.
Couples working together within the Denver Center's design staff is something of a DCPA peculiarity, Ducat said. With Charles and Jan MacLeod (Lighting Design and Costume Director), and Lisa and Bob Orzolek (Director of Scene Design and Associate Technical Director), Ducat joked there must be something in the Denver Center's water. But for her, partnering with someone you work with just makes sense.
"You're in the theatre for so many hours a day, so where else would you meet people?" she asked. "A lot of times people marry someone where they work because we're here for so long."
The Ducats have made many friends at the Denver Center, and they both have found second working homes at Curious Theatre. They love the weather and the schools, and they see Denver as a great place to raise their boys. But, she said, it's mostly the people.
"The Denver Center attracts people who want to stay here for the long run," she said. "We come and we stay."
DCPA NewsCenter intern Olivia Jansen is a junior at Wartburg College in Waverly, Iowa, where she is studying multimedia journalism. She is from Johnsburg, Ill. Read her previous profiles of Denver actors Karen Slack and Paige Price here.

Rachel Ducat runs a rehearsal at the Colorado Shakespeare Festival's 'A Midsummer Night's Dream.' Photo by John Moore for the DCPA NewsCenter.
---
All the Way: Ticket information

Jan. 29-Feb. 28 at the Stage Theatre
Tickets: 303-893-4100 or BUY ONLINE
TTY: 303-893-9582
Groups of 15 or more: 303-446-4829
Also: Purchase in person at The Denver Center Ticket Office, located at the Helen Bonfils Theatre Complex lobby. Buy and print online at DenverCenter.Org.
Previous NewsCenter coverage of All the Way
Video: Cast reads from Civil Rights Act
When Robert Schenkkan meets LBJ, sparks fly
Five ways you don't have to connect the dots 'All the Way' to today
Full casting announced
Official show page
DCPA Theatre Company giddily going down rabbit hole in 2015-16
Previous DCPA 'Art and Artist' profiles:
Lisa (Director of Scene Design) and Associate Technical Director) Bob Orzolek
Box office Subscription Manager (and Off-Center host) Micah White
Costume Crafts Director Kevin Copenhaver
Stage manager Jennifer Schmitz
Costume Designer Megan Anderson Doyle
Graphic Designer Kyle Malone
Stage Manager Kurt Van Raden
Teaching Artist Jessica Austgen
Head of Acting Lawrence Hecht
Lighting Designer Charles MacLeod
Director of I.T. Bruce Montgomery
Stage Manager Lyle Raper
https://www.denvercenter.org/wp-content/uploads/2018/04/featured-image-2717.jpg
812
600
John Moore
John Moore
2016-02-02 14:01:00
2016-02-02 14:01:00
Art and Artist: Rachel Ducat has the mother of all jobs