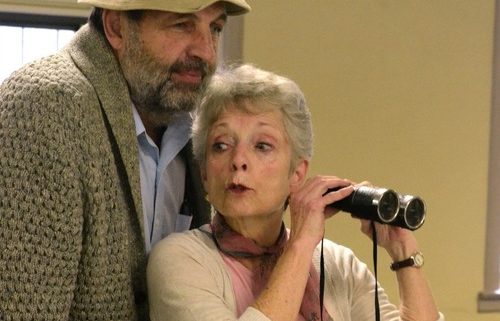 Art and Artist: The Golden age of Larry Hecht
Larry Hecht and Billie McBride as Norman and Ethel Thayer in On Golden Pond,' now playing at the Barth Hotel through Aug. 30. Photo by Michael Ensminger.
For Larry Hecht, there isn't another acting experience in the world like performing in the lobby of the Barth Hotel — which isn't a hotel at all. It's an assisted-living residence in downtown Denver for low-income seniors with physical and mental disabilities.
Every summer, a professional play is staged in the lobby of the Barth as a fundraiser for Senior Housing Options, the nonprofit that cares for its 62 residents – and 450 more in 14 residences across the state. And as any actor who has performed there can tell you … anything can happen at the Barth.
In 2011, while Hecht was performing in Chasing Manet, he had a line that had him berating at a nurse. "I was standing by the elevator door when I had to yell, "Are you blind?" said Hecht. "Right then, the door opened up, and a blind lady who lives at the Barth walked out, with cane in hand, right into the middle of the performance.
"The audience was gone. The actors were gone. It was truly one of those moments where later, you go, 'I don't believe that actually happened.' But it did."
And it may happen again in this summer's production of On Golden Pond, Ernest Thompson's enduring dramedy about an elderly couple making their final visit to the family's summer retreat. Hecht stars as Norman Thayer, the role immortalized on film by Henry Fonda, along with Billie McBride, the Colorado Theatre Guild's recent Lifetime Achievement Award winner, and Tara Falk (Curious Theatre's Time Stands Still).
Hecht's director, for the first time, is his wife, Ashlee Temple.
Hecht has been teaching with the Denver Center Theatre Academy for 17 years, including a major role on the faculty of the now-closed National Theatre Conservatory. As Head of Acting for the Academy, Hecht coordinates the curriculum for the adult education programs. He serves, in essence, as a bridge for serious acting students who want to make the leap from the classroom onto legit area stages. His major initiative is his popular Master Class Project. Recently, Hecht led 15 students into the wonderful, intimidating world of Stephen Sondheim. Next up: a six-actor version of Macbeth.
Hecht, who was born in Salt Lake City, is himself an acclaimed actor with Denver Center Theatre Company credits including A Skull in Connemara, The Pillowman and Glengarry Glen Ross. He won a 2013 True West Award as Puck in the Colorado Shakespeare Festival's A Midsummer Night's Dream. He and Benjamin Bonenfant (Denver Center's Hamlet) won Colorado Theatre Guild Henry Awards for best play and best ensemble for Red.
We talked with Hecht about On Golden Pond, his life at the Denver Center … and working for his wife:

John Moore: How did you first come to be here?
Larry Hecht: I moved to Denver 17 years ago and was offered a chance to teach a class by Daniel Renner. I was offered a full-time position 12 years ago.
John Moore: What's impressed me most about observing your master classes is how they draw serious actors from the local community who are trying to better themselves. Specifically those from the handicapped Phamaly Theatre Company.
Larry Hecht: Yes, I believe in a universal approach to our training; that it should be for people of every age, ability or disability. We have struck up this really great relationship with Phamaly, and as part of that, we invite their actors to take any of our classes they want. Integration is my ultimate aim.
John Moore: You have to take some prerequisites to qualify for your master class.
Larry Hecht: Yes, if you do any of those master projects, we ask that you have done two to three classes first. It's just a commitment issue, because we are asking people to spend a whole lot of time working on these projects.
John Moore: You always hear that number that the Academy serves 50,000 people a year with its programs, but you kind of have to be down here during the summer and see it in action to fully appreciate the scope of the programming here.
Larry Hecht: Every day you see thousands roaming the halls from tots to teenagers. When you see that many kids involved, you know you must be doing something right. With the adult programming, you get the same sort of feeling. Our vision is to tell stories, and to train people to tell stories. That's what we do.
John Moore: But you are also building the next generation of theatre audiences — and practitioners.
Larry Hecht: If that happens, that's beautiful. But as an educator, what I do is train actors to tell stories.
John Moore: So tell me about performing for Senior Housing Options.
Larry Hecht: This will be my third show at the Barth Hotel. It started for me in 2010, when (Director) Terry Dodd he asked me if I wanted to play Picasso in Picasso at the Lapin Agile.
John Moore: And now your wife is back to direct at the Barth for the third straight summer.
Larry Hecht: Yes, she is. I've directed her before (in Crimes of the Heart), but this is the first time I've ever worked for her.
John Moore: And, so … what's it like to be directed by your wife?
Larry Hecht: It's pretty terrific. I mean, she is a really good director. She is a better director than I am, which is kind of … "toasty." She's got an impeccable visual eye because she is also an incredible artist. She's a collagist, so she has an amazing eye for any kind of detail. When she drops something in, you listen, because that kind of vision is few and far between.
John Moore: What do you think she brings to On Golden Pond?
Larry Hecht: More than anything, she talks to actors in such a simple, straightforward way that you never feel you are being directed. The ideas that come out are so smart. She gives you the freedom to play and do your work. And you know, directors are not my favorite people, so …
John Moore: Do you include yourself in that?
Larry Hecht: Oh, I don't direct.
John Moore: But I've seen you direct!
Larry Hecht: I'm a facilitator. I help out along the way. I would rather run lights than direct anything.
John Moore: But you do it.
Larry Hecht: But I despise it.
John Moore: Would you have pursued a role like Norman in On Golden Pond if it weren't a fundraiser for Senior Housing Options, and working with your wife?
Larry Hecht: I probably wouldn't … because I'm so young for it!
'On Golden Pond': Back row from left: Drew Horwitz, Shem Brown and John Fortmiller. Front row, Tara Falk, Larry Hecht and Billie McBride. Photo by Michael Ensminger.
John Moore: Norman is 80, after all.
Larry Hecht: Then again, as I continue to do it, I realize — I'm not that young for it anymore.
John Moore: You're no Henry Fonda in the age department.
Larry Hecht: I was talking to Billie McBride about this last night. I said it kind of feels like the first time I played King Lear. When you play your first Lear, you think, 'Well, you have three or four more of those in you.' So I'm treating this like it's my 'First Norman Thayer.'
John Moore: On Golden Pond is by now, of course, a very well-known story. It's been done by theatre companies all over town. What do you think is going to be special about this staging?
Larry Hecht: For me, besides working with Ashlee, it's getting back over to the lobby of the Barth. It's like nothing in the world in terms of theatre. There's only one Barth Hotel. It's an event that you will never, ever really get to do in another theatre.
John Moore: But this is your third go-round at the Barth. What keeps you coming back?
Larry Hecht: Maybe it's because of the mission of the place. We are raising money. You feel you are part of something special. I mean, incredible people run that place. Incredible. Such angels, I would call them. And then, you also get that same feeling you get when you put on a show in your garage: It's not being performed in the confines of a place that was constructed for theatre. It has an element all its own that is fresh and new.
John Moore: It's not that often that an actor gets the satisfaction of putting on a show that will tangibly improve the quality of life for some folks.
Larry Hecht: They have been able to do some really amazing things with the money they have raised. I think every actor in town wouldn't mind working over there.
John Moore: So you are co-starring with the recent recipient of the Colorado Theatre Guild's Lifetime Achievement Award, Billie McBride.
Larry Hecht: Oh, man, yes. I bow to her every night. And as long as I keep bowing to her, we'll be able to work. (Laughing.)
John Moore: So what is it really like working with Ms. McBride?
Larry Hecht: Billie and I have known each other for a good number of years. She has directed me before, so we are old hands at this. But this is the first time we have really been able to work one-on-one. She's the best. Pretty extraordinary.

John Moore: For those who have never been, what makes seeing a show at The Barth a wonderful theatregoing experience?
Larry Hecht: It's because of being able to turn any place into a real theatre. That's what it's all about. When you are storytelling, you can tell a story anywhere, which turns anywhere into a theatre, if you put the effort into it. And they certainly put the effort into it over there.
John Moore: Looking forward to seeing some of your Denver Center colleagues in attendance at the Barth?
Larry Hecht: I would love for people to get over there and see it. It's a marvelous script, and we know that because it keeps getting done all over the place. It's an extraordinary story, and it is great fun to do.
On Golden Pond
Where: Lobby of the Barth Hotel, 1514 17th St.
When: 7:30 p.m. Thursdays, Fridays and Saturdays through Aug. 30. (Note: No show Thursday, Aug. 14.)
Cost: Tickets $25 for general admission; $35 for preferred seating
Info: www.seniorhousingoptions.org or call 303-595-4464, ext. 10
https://www.denvercenter.org/wp-content/uploads/2018/04/featured-image-828.jpg
468
500
John Moore
John Moore
2014-08-01 19:59:00
2018-04-11 16:33:13
Art and Artist: The Golden age of Larry Hecht