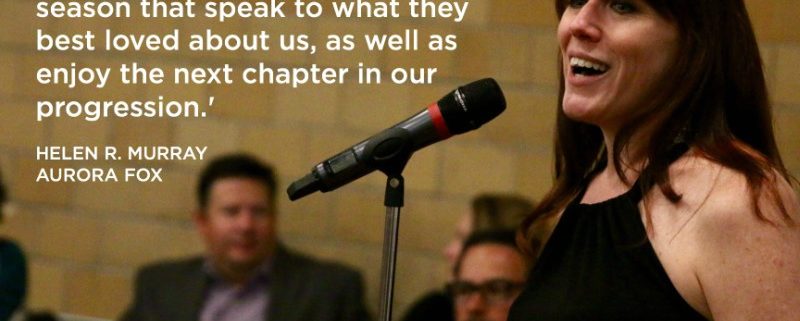 Aurora Fox ushers in daring new era with 'Caroline, Or Change'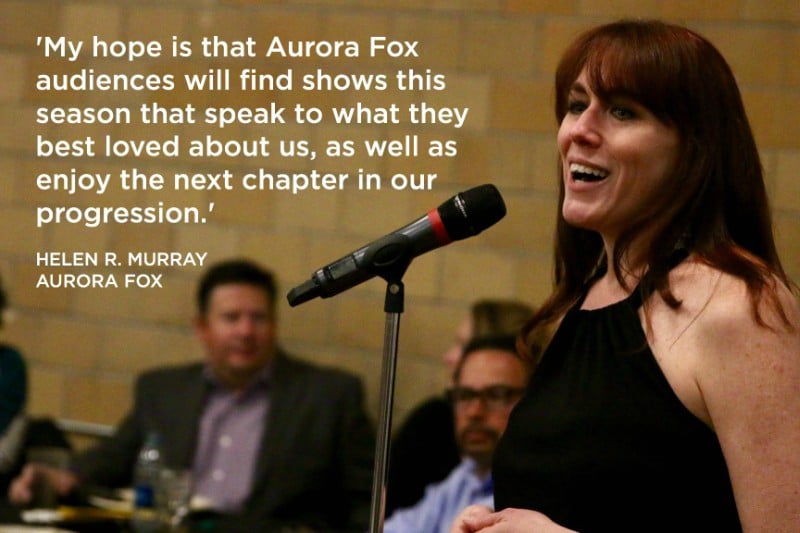 First season under Helen Murray confirms theatre's commitment to bold and culturally relevant new works
A new era at the Aurora Fox Arts Center was officially ushered in tonight when the company announced its 34th season — and first under new Executive Producer Helen R. Murray.
The intriguing lineup offers an emphatic indication that Murray intends for the Fox, which is owned and operated by the city of Aurora, to be a haven for new and provocative works. The season opens with the only title that has ever been previously staged in Colorado — the contemporary Jason Robert Brown musical Songs for a New World. It will close with the epic 2004 Tony Kushner musical Caroline, Or Change.
Caroline, Or Change is the best-known name on the season, with a virtuosic score that blends blues, gospel, Motown and traditional Jewish folk music. Set in 1963, it tells the story of an African-American maid drifting through life as a single mother of four in Louisiana. Her life changes when a friendship develops between Caroline and her white employers' son while some of the greatest social advancements in the country's history are being set in motion. It looks at a time when change was knocking on America's door — as it is in Aurora right now.
"I wanted to honor the history of beautiful work that has been on display here for so long, but to also use that foundation to celebrate pieces that may not have made it to this area as of yet," said Murray. "My hope is that Aurora Fox audiences will find shows this season that speak to what they best loved about us, as well as enjoy the next chapter in our progression."
The lineup includes Second City's Twist Your Dickens, Aaron Posner's Life Sucks, the one-man The Happiest Place on Earth and, perhaps most provocatively: Tearrance Arvelle Chisholm's Hooded, or Being Black for Dummies. The only title that is not a regional or world premiere is Songs for a New World, which was staged by Golden's Miners Alley Playhouse in 2014.
Murray, whose first full official day on the job is July 9, is the artistic director and co-founder of The Hub Theatre in Fairfax, Va.  She replaces Charles Packard, who resigned last May after eight seasons as Executive Producer.
The daring lineup represents a definitive step away from safe and known titles and embraces socially and culturally relevant works. But while that may sound like a departure, it's more of a continuation of a long and unlikely trend at The Fox. With recent stagings of Black Elk Speaks, Priscilla Queen of the Desert, Porgy & Bess, Hedwig and the Angry Inch, Real Women Have Curves and, perhaps most emphatically, the current regional premiere of Passing Strange, The Fox has fully transformed its identity from a somewhat bound government-run facility into a true leader in introducing cutting-edge works that speak to a wide swath of under-represented audiences — and performers.
"If you have been to the Fox regularly, we will keep you coming back. If you haven't been in a while, or have yet to take the trip, then this is definitely the season you should join us," said Murray.
Murray said the Fox will continue the groundbreaking Cabaret series it launched this season, featuring intimate monthly performances by local and national artists in the Fox's studio theatre. In addition, the Fox will host a series of staged readings to support the development of new work throughout the year, as well as panel discussions and talkbacks related to each mainstage production.
Murray also announced a special one-night-only event: A workshop reading of David Nehls' and Zac Miller's campy fun original musical Killer Wigs from Outer Space, followed by a Halloween party. All proceeds from the event will go to The Denver Actors Fund, which in four years has distributed more than $225,000 to Colorado theatre artists in medical need. "The Fox is excited to be giving back to the theatrical community this season," Murray said.
The season announcement was made at the Aurora Fox's annual gala, which included a headlining performance by Broadway star Alex Brightman, who was nominated for a Tony Award for originating the role of Dewey Finn in School of Rock, Andrew Lloyd Webber's adaptation of the hit Jack Black film. (The first national touring production of School of Rock visits the Buell Theatre from May 29-June 10). He will next star in the Broadway musical adaptation of Beetlejuice opening this fall under the direction of Alex Timbers.
Brightman's wide-ranging set included songs he said he loves to sing in the shower. "I'm just clothed tonight," he said. The arguable highlight of the night: Brightman singing the beloved My Fair Lady ballad "On the Street Where You Live" — as a serial killer. The set included Billy Joel's "Just the Way You Are"; "I Don't Care Much" from Cabaret; a song from the Broadway musical Glory Days, which famously opened and closed on the same day (the cast included Denver's Jesse J.P. Johnson); and ended with James Taylor's "Sweet Baby James."
(Pictured: Alex Brightman at the Aurora Fox on Saturday night. Photo by John Moore.)
Brightman, known for his self-deprecation and comic energy, also appeared in Wicked, Big Fish and Matilda.  He currently can be seen in the pilot episode of Showtime's acclaimed series "SMILF," written and directed by Frankie Shaw.
John Moore was named one of the 12 most influential theater critics in the U.S. by American Theatre Magazine in 2011. He has since taken a groundbreaking position as the Denver Center's Senior Arts Journalist.
Aurora Fox 2018-19 mainstage season at a glance
Sept. 14-Oct. 14, 2018: Songs for a New World
Oct. 31, 2018: Killer Wigs from Outer Space
Nov. 23-Dec. 23, 2018: Twist Your Dickens
Jan. 18-Feb. 10, 2019: Hooded, or Being Black for Dummies
Feb. 22-March 17, 2019: Life Sucks
March 8–March 24, 2019: The Happiest Place on Earth
April 5-May 12, 2019: Caroline or Change

The season in greater detail:
(Show descriptions provided by the Aurora Fox)

Songs for a New World
Sept. 14-Oct. 14, 2018
Written and composed by Jason Robert Brown
Directed by Helen R. Murray
Songs for a New World is the first produced musical by Jason Robert Brown, who has since become best known for The Last Five Years and The Bridges of Madison County. Brown and director Daisy Prince put together songs he had written for other venues and events, resulting in what he calls "neither musical play nor revue, it is closer to a theatrical song cycle — a very theatrical song cycle." The musical centers on the idea of life-changing decisions that land us in a place we never expected: A metaphorical and sometimes literal "new world."
Killer Wigs from Outer Space
Oct. 31, 2018
Written by prominent area Music Director David Nehls and Zac Miller
This is the story of Orville, a carnival handyman attacked by a galactic, brain eating parasite. This alien from another planet transforms Orville into a rock and roll prophet for peace with out of this world hair. Battling forces of evil with several colorful characters, we follow him on an epic operatic journey to save our world. This special event, is being planned as a benefit for The Denver Actors Fund.

Twist Your Dickens
Nov. 23-Dec. 23, 2018
Written by Second City alums and veteran Colbert Report writers Peter Gwinn and Bobby Mort
Directed by Matthew R. Wilson
After successful runs in Los Angeles, D.C., Portland and Chicago, the Aurora Fox brings Second City's irreverent and interactive, madcap (and adult) send-up of the holiday classic A Christmas Carol. Twist Your Dickens finds Scrooge, Tiny Tim and those know-it-all ghosts hopelessly mixed up in zany holiday sketches. Deemed by the Chicago Sun-Times as a "fresh and bountiful feast of funny."

Hooded, or Being Black for Dummies
Jan. 18-Feb. 10, 2019
By Tearrance Arvelle Chisholm
Directed by Betty Hart
The new year will bring us Chisholm's explosive, funny and searing look at being a young black teenager in America today. This new comedy was called "breathtakingly on-point" by The Washington Post and spurred rigorous discussion about the life-and-death issues dealt with in this insightful piece.
Life Sucks
Feb. 22-March 17, 2019
By Aaron Posner
This enlightening reworking of Uncle Vanya finds a group of old friends, ex-lovers, estranged in-laws and lifelong enemies as they gather to grapple with life's thorniest questions—and each other. Called "sassy yet heartfelt" by The Washington Post and "altogether wise, profoundly humane, and hilarious" by The Chicago Sun Times, this is not any Chekov you know.
The Happiest Place on Earth
March 8-24, 2019
By Philip Dawkins
Directed by Matt Bassett
One actor plays all the roles in this heartwarming play that takes us to the magical kingdom and one family's reckoning with life after the death of their beloved father and husband. Now, more than 50 years after their journey, Philip as the central character in his own true-life story retraces and illustrates how the women of his family grew up and moved on while asking if there really is a place where dreams can come true.

Caroline or Change
April 5-May 12, 2019
By Tony Kushner and Jeanine Tesori
This thought-provoking musical gives a grounded human context for the historical watershed that was America in 1963. Set in the heat of the civil-rights movement, the Tony-nominated "Caroline, Or Change" follows a black maid working for a middle-class Jewish family in Louisiana. When a small amount of money goes missing, buried tensions threaten to rip two families — and the struggling Caroline — apart. Loosely based on Kushner's own personal story, Caroline features a score that has been called a magical, show-stopping musical masterpiece.
https://www.denvercenter.org/wp-content/uploads/2018/04/featured-image-6264.jpg
533
800
John Moore
John Moore
2018-04-21 21:31:00
2018-09-26 14:59:00
Aurora Fox ushers in daring new era with 'Caroline, Or Change'