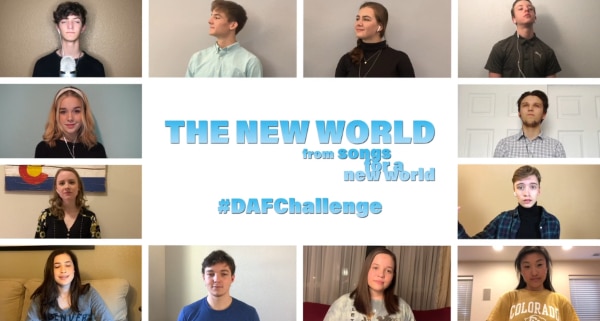 B+: Young Denver actors make music video to support area artists
B+ is an ongoing NewsCenter series offering positive news from around the Colorado theatre community throughout the COVID-19 shutdown. We will share ways people are helping each other, making virtual art, encouraging artistic collaborations or spreading joy and laughter.

Composer Jason Robert Brown gives permission for song to help Denver Actors Fund
In 2017, a group of 13 Denver teenagers and their parents came together to self-produce Jason Robert Brown's 13: The Musical, raising 13,000 in a single day for The Denver Actors Fund, a grassroots nonprofit that in six years has provided more than $500,000 to members of the Colorado theatre community in situational medical need.
Two years later, when the rapid spread of the COVID-19 pandemic sent Americans into their homes, the group of friends decided to reunite with a new plan to help: By recording a quarantined version of Brown's song "The New World" from Songs for a New World. Viewers are encouraged to donate to The Denver Actors Fund's new DEAR (Denver Emergency Artist Relief) fund.
"Everyone is facing difficult times right now because of the Coronavirus," the ensemble said in a group statement. "Some communities have been hit especially hard, including the theatre community. Here in Colorado, all shows have ether been put on hold or canceled. That puts a lot of financial stress on those working in the industry. This is why The Denver Actors Fund has created a COVID-19 relief fund to provide aid for those in the Colorado theatre community in need."
Brown gave his consent for the teenagers to perform the song royalty-free.
Each singer's part was recorded in their own homes, and the video was then edited and produced by Ray Bailey of RayBaileyTV, who also donated his time to the project. "Our hope is to create multiple videos with more Colorado performers in this effort," Bailey said. "If any cast from any show – past, present, postponed or canceled – wants to make one of these videos to support The Denver Actors Fund, contact me at raybaileytv@gmail.com."
Cast
Actors (moms in parentheses)
Joshua Cellar (Emily Cellar)
Conrad and Sydney Eck (Kristin Eck)
Macy Friday (Megan Friday)
Evan Gibley (Michelle Gibley)
Lorenzo Giovanetti (Carmela Giovanetti)
Kaden Hinkle (Shannon Gaydos-Hinkle)
Hannah Katz (Erin Katz)
Darrow Klein (Jennifer Klein)
Michelle Lee (Huwon Lee)
Gabe Legg (Angela Legg)
Rylee Vogel (Kristi Vogel)
Hannah Meg Weinraub (Michelle Weinraub)
Creative support
Jayln Courtenay Webb: Music direction
Robert Michael Sanders: Creative direction
Ray Bailey: Video editing and post-production
John Moore was named one of the 12 most influential theatre critics in the U.S. by American Theatre Magazine. He has since taken a groundbreaking position as the Denver Center's Senior Arts Journalist. He is also the founder of The Denver Actors Fund.
From 2017: Teen performers raise $13,000 for Denver Actors Fund
.
https://www.denvercenter.org/wp-content/uploads/2020/04/DAF-Challenge-featured.jpg
330
600
John Moore
John Moore
2020-04-02 13:00:46
2020-04-02 13:00:46
B+: Young Denver actors make music video to support area artists