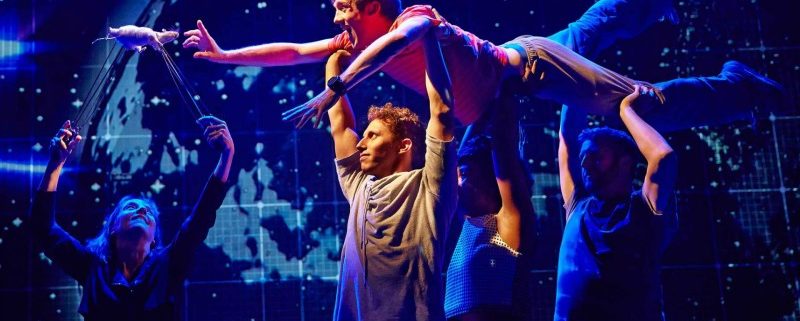 BETC moves up in class with ambitious 'The Curious Incident…'
The Broadway company of 'The Curious Incident of the Dog in the Night-Time.' Photo by Joan Marcus.
Boulder company will be first in Colorado to stage celebrated plays The Curious Incident and The Wolves

By John Moore
Senior Arts Journalist
The Boulder Ensemble Theatre Company's 13th season will include its most ambitious undertaking ever: Staging an enormously challenging play that was once thought to be unstageable. For the first time in its history, BETC will stage a Tony Award-winning best play before anyone else in Colorado when it caps its wildly aspirational 2018-19 season with The Curious Incident of the Dog in the Night-Time, the stage adaptation of Mark Haddon's 2003 best-selling novel.
Introducing Tony-winning best plays to Colorado audiences is a distinction that for the past two decades has generally been traded between the DCPA Theatre Company (All the Way, Vanya and Sonia and Masha and Spike) and Curious Theatre (Red, Clybourne Park, next year's The Humans). No one in Colorado has had the temerity to bite on Curious Incident since it won the Tony in 2015.
BETC steps into that company this year with the story of a socially awkward British teen who is a mathematical savant but falls somewhere on the autism spectrum. The story follows his quest to clear his name after the neighbor's dog is speared by a garden fork in the middle of the night.
The National Theatre's 2012 London production was a sensation for its ingenious technological advances that somehow helped communicate to its audiences what might be going on inside the young man's mysterious and often short-circuiting head. The staging used lighting and sound innovations that made the boy's sensory overload both harrowing and eminently understandable.
But the groundbreaking success of the play also seemed to confirm the presumed belief that it would be impossible to produce for small theatres around the country that, like BETC, do not have multimillion-dollar budgets. "Curious Incident is one of the most fully immersive works ever to wallop Broadway," the New York Times said. "So be prepared to have all your emotional and sensory buttons pushed, including a few you may have not known existed."
BETC co-founder Stephen Weitz was not scared off. He believes any good story is a stageable story. Somehow.
"At its heart, Curious Incident is a powerful story about a young boy," Weitz said. "People who encountered the play in New York or during the national tour may be expecting a particular production style. Ours will feature plenty of 'theatre magic,' but it will be our own BETC vision guiding the aesthetic with that story at its core."
BETC's season is also notable for The Wolves, an utterly original story that takes place on the sidelines of a high-school girls soccer team's games. It is not only Sarah DeLappe's first play, it was presented at New York's Lincoln Center — and was a finalist for the Pulitzer Prize.
"I'm thrilled that The Wolves has found its Colorado home at the Boulder Ensemble Theatre Company," DeLappe told the DCPA NewsCenter. The playwright, who grew up playing youth soccer in Reno, Nev., was tutored at Brown University by none other than Paula Vogel (How I Learned to Drive). DeLappe's characters are listed in the script not by their names but rather their jersey numbers. They are teammates, after all.
They play, which has surprisingly little to do with soccer, takes place in nine scenes, each while the girls are warming up for a match. "I was attracted to the idea of a stage where we were watching young women whose bodies were active throughout," DeLappe told the Lincoln Center's media office. She said she is hungry for narratives with strong female protagonists, and that she sees The Wolves as a story about women warriors. "I was inspired to think of these characters as a pack preparing for battle," she said.
Weitz calls The Wolves "possibly the most honest depiction of the lives of young women I've ever encountered," he said. "Not only is it a profound story, but if affords an incredible opportunity for nine young women in our acting community — part of our efforts to address equity in all facets of our art form."
The 13th BETC season is also notable for two Jane Austen adaptations — Pride and Prejudice (a rollicking new adaptation by Kate Hamill, who also wrote the Arvada Center's current Sense and Sensibility) and its modern sequel, Miss Bennet: Christmas at Pemberley by Lauren Gunderson and Margot Melcon. This makes the third straight BETC season with a title by Gunderson (Silent Sky, The Revolutionists), currently the most produced playwright in the world not named Shakespeare.
(Pictured at right: Zachary Andrews, Jessica Robblee, Emma Messenger, Abner Genece, Geoffrey Kent, Jessica Austgen, and Emelie O'Hara in the Arvada Center's 'Sense and Sensibility', running through May 6. BETC will stage a sequel penned by the same adaptor. Matt Gale Photography.)
2018-19 will also mark the 10th anniversary of BETC's holiday staging of David Sedaris' The SantaLand Diaries, the last seven in partnership with Off-Center at the DCPA's Jones Theatre.The complete season is listed below.
John Moore was named one of the 12 most influential theater critics in the U.S. by American Theatre Magazine in 2011. He has since taken a groundbreaking position as the Denver Center's Senior Arts Journalist.


Boulder Ensemble Theatre Company 2018-19 at a glance
Sept. 13-Oct. 7, 2018: Pride and Prejudice
Oct. 25-Nov. 18, 2018: The Wolves
Dec. 8-24, 2018: Miss Bennet: Christmas at Pemberley
Nov. 23-Dec. 24, 2018: The SantaLand Diaries
Feb. 7-March 3, 2019: The Rembrandt
April 25-May 19, 2019: The Curious Incident of the Dog in the Night-Time
A closer look at each play:
(Descriptions provided by BETC)

Pride and Prejudice
Sept. 13-Oct. 7, 2018
By Jane Austen, adapted by Kate Hamill
This is a playful and unconventional update Jane Austen's classic romance set in Regency, England, where marriage is a must for women. This clever comedy offers a decidedly progressive take on the trials of Lizzie, Mr. Darcy and the Bennet family — with a few dance breaks thrown in for good measure.
The Wolves
Oct. 25-Nov. 18, 2018
By Sarah DeLappe
In each scene of this stunning first play by Sarah DeLappe, a finalist for the Pulitzer Prize, nine girls warm up for their upcoming soccer game. But they must also tackle coming of age and all the confusion, awkwardness, joy and sorrow that comes with it. Along the way, these unforgettable young women make fierce choices, face their own fragility and ultimately grow into a team. The New York Times said: "The scary, exhilarating brightness of raw adolescence emanates from every scene of The Wolves."
Miss Bennet: Christmas at Pemberley
Dec. 8-24, 2018
By Lauren Gunderson and Margot Melcon
In this sequel to Jane Austen's Pride and Prejudice, the bookish middle child of the Bennett family is constantly overshadowed by her four sisters and longs for a large life.' As Mary searches for her identity, she unexpectedly discovers the possibility of true love.
The SantaLand Diaries
Nov. 23-Dec. 24, 2018
By David Sedaris, adapted by Joe Mantello
For the 10th consecutive year, BETC returns to the Macys department store for this delightfully devilish holiday hit, produced in partnership with Off-Center at the Denver Center's Jones Theatre. Michael Bouchard and Luke Sorge will again alternate as David, the desperate New Yorker who takes a job as a SantaLand elf named Crumpet.
The Rembrandt
Feb. 7-March 3, 2019
By Jessica Dickey
Inside a modern-day museum, two security guards and a painter find themselves compelled to touch a masterpiece. But soon, we are skipping through time; watching Rembrandt at work and listening to Homer discuss the nature of art. Dickey's play asks us to consider the longevity of art, and the brevity of life.
The Curious Incident of the Dog in the Night-Time

April 25-May 19, 2019
By Simon Stephens, adapted by Mark Haddon
Christopher Boone, a sweet 15-year-old Brit, has an extraordinary mind but is ill-equipped to deal with the challenges of everyday life. When falsely accused of killing his neighbor's dog, he sets out to find the true culprit. His journey across London leads to an earth-shattering discovery that will change his life forever. Winner of the 2015 Tony Award for Best Play.

Pictured above and right: Colorado native Gene Gillette in the recent national touring production of 'The Curious Incident of the Dog in the Night-Time.' Photo by Joan Marcus.)
https://www.denvercenter.org/wp-content/uploads/2018/04/featured-image-5795.jpg
469
800
John Moore
John Moore
2018-03-20 12:51:00
2018-06-15 09:56:18
BETC moves up in class with ambitious 'The Curious Incident…'