'Bite-Size' announces a big mouthful of local performers
The field of 12 Colorado actors includes familiar faces along with both local luminaries and fresh faces making their Denver Center debuts
Off-Center, the Denver Center's most unconventional line of programming, today announced casting for Bite-Size: An Evening of Micro Theatre.  Bite-Size is an evening of original short plays and performance pieces by Colorado artists performed off-site at Denver's BookBar and directed by Meridith C. Grundei.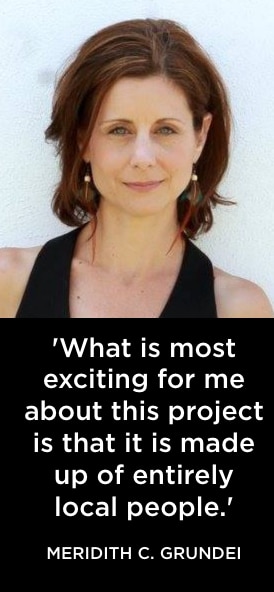 Bite-Size is a 360-degree experience where audience members will journey through a variety of spaces in and around BookBar, located at 4280 Tennyson St., encountering each new play in an intimate group of just 10 other audience members.
Bite-Size will run for 24 performances from October 23 through November 18. This event is conceived and led by Meridith C. Grundei, who performed in the DCPA Theatre Company's Frankenstein and was featured as one of Westword's 2017 100 Colorado Creatives.
Grundei said she is proud to be heading a project made up entirely of Colorado playwrights, directors and performers. While the local playwrights and directors were previously announced, today's list of 12 actors includes an array of familiar Denver theatre performers including Diana Dresser, who starred in the DCPA Theatre Company's The Giver, among others. Among other local actors making their Denver Center debuts with Bite-Size will be Phamaly Theatre Company Artistic Director Regan Linton, winner of the 2017 Colorado Theatre Person of the Year True West Award; Emma Messenger, who has won three Colorado Theatre Guild Henry Awards in the past five years; and Colorado Shakespeare Festival's Matthew Schneck, whose voice is prominently featured in Curious Theatre's current drama The Cake.
Read more: It's called 'micro-theatre,' and it's the next big thing
"I was incredibly thrilled not only to cast actors with great notoriety in the Colorado theatre community, but also many performers who will be new faces for Denver audiences," Grundei told the DCPA NewsCenter. "What is most exciting for me about this project is that it is made up of entirely local people and that it will showcase the diversity of voices within the Colorado theatre community."
Cast and creative teams

A Pocket Full of Dandelions
By Kristen Adele Calhoun and Theo E.J. Wilson
Directed by Ashley Hamilton
While rebellion thrashes outside, in the library of Denver's maximum security prison, two women struggle to decide if liberty and justice is indeed for all. Along the way, they find an unlikely accomplice in this powerful and poetic drama.
Featuring Alicia Starr Schomer in her Colorado theatre debut as Major and Kenya Fashaw (writer of 5280 Artist Co-Op's Henry Award-winning new play Colorism) as Arminta (a.k.a. Minty).
Holy Couch
By Edith Weiss
Directed by Geoffrey Kent
The face of none other than Jesus Christ appears on the couch of a well-to-do suburban couple in this hilarious and surprisingly relevant comedy.
Featuring Diana Dresser (Off-Center's The Wild Party) as Judy and Matthew Schneck (Colorado Shakespeare Festival's Love's Labour's Lost) as Jim.
Marginalia
By Jeffrey Neuman
Directed by Mare Trevathan
In this charming, intimate and sly play, a reticent customer at a used bookstore is confronted by the shop's manager when caught defacing some books.
Featuring Regan Linton (Phamaly Theatre Company's Into the Woods) and Emma Messenger (Curious Theatre Company's The Cake) alternating the roles of J and M.
Outside the Room
Created by Theatre Artibus (Buba Basishvili and Meghan Frank) and Grapefruit Lab (Julie Rada, Kenny Storms and Miriam Suzanne)
Conceived with writing by Larry Mitchell
A family struggles to find humanity and normalcy in a world made uncertain and strange after the transformation and "othering" of one of their own. This physical-theatre piece imagines what happens on the other side of the iconic room in Kafka's Metamorphosis.
Featuring Buba Basishvili, Meghan Frank (Theatre Artibus' Oops) and Julie Rada (Grapefruit Lab's Jane/Eyre)
Toxoplasmosis (or) High Strangeness
By Sean Michael Cummings
Directed by Meridith C. Grundei
After the (perhaps) accidental cremation of a cat and the discovery of a mysterious book, Ali and Hannah are thrust into quantum uncertainty. They'll have to bridge social, generational and metaphysical chasms if they want to escape this veterinarian's office intact.
Featuring Rakeem Lawrence (Colorado Springs TheatreWorks' A Raisin in the Sun) as Ali, Bernadette Sefic (Curious New Voices) as Hanna and K. Woodzick (Founder of the Non-Binary Monologues Project) as Veterinary Assistant.
About Bite-Size
This evening of micro theatre will feature five original short works by local artists. It will be performed environmentally at BookBar, with each piece performing in a different space simultaneously. The evening will accommodate 70 audience members; groups of 10 at a time will see each piece in different orders. During scheduled breaks between performances, audiences will have the ability to purchase wine or tapas and socialize.
"Micro theatre is a unique approach to performance that is popular internationally, and we are excited to produce it with local artists in Denver," said Charlie Miller, Off-Center Curator. "Meridith was inspired by the micro theatre she experienced in Mexico. Her passion was infectious and it was clear that this format would be a perfect fit for Off-Center as a different kind of site-specific theatrical experience.
"I'm looking forward to the ways that this project will engage the larger Denver artistic community. The idea of presenting these new works in a non-traditional setting also brought about a new partnership with BookBar, a local business that we admire. They regularly host literary events that bring the community together over food and wine and we can't wait to activate their spaces with new stories by Colorado creatives."
Bite-Size: An Evening of Micro Theatre:

Ticket information



Created and Directed by Meridith C. Grundei
Dramaturgy by Heidi Schmidt
Oct. 23-Nov. 18
At BookBar, 4280 Tennyson St.
Tickets: Call 303-893-4100, BUY ONLINE  or in person in the Helen Bonfils Theatre Complex at 14th and Curtis streets
About Off-Center
As the most unconventional line of programming of the Denver Center for the Performing Arts, Off-Center specializes in unexpected experiences such as Sweet & Lucky, the first large-scale immersive show in Denver and The Wild Party, a decadent 360° party set in the Roaring 20s. An Off-Center show is like no other theatre experience—by design. Off-Center focuses more on connecting people and upending expectations than on adhering to tradition. If you leave the show thinking "I've never seen anything like it," then Off-Center has done its job. We want you to lose yourself, to welcome surprise and to remember that life is better when you live it Off-Center.
About BookBar
BookBar is a community bookstore wine bar for the whole family, featuring a highly curated selection of titles for all ages. Enjoy many local and house crafted hors d'oeuvres, wine, beer, coffee, tea and desserts at our bar. We are proud to host hundreds of literary events per year including author readings, story times, and book clubs.
Follow the DCPA on social media @DenverCenter and at the DCPA's online News Center.
https://www.denvercenter.org/wp-content/uploads/2018/09/Bite-Size-casting.jpg
253
799
John Moore
John Moore
2018-09-20 16:06:11
2018-09-21 09:52:26
'Bite-Size' announces a big mouthful of local performers