Bobby G Awards Outstanding Orchestra nominee: Erie High School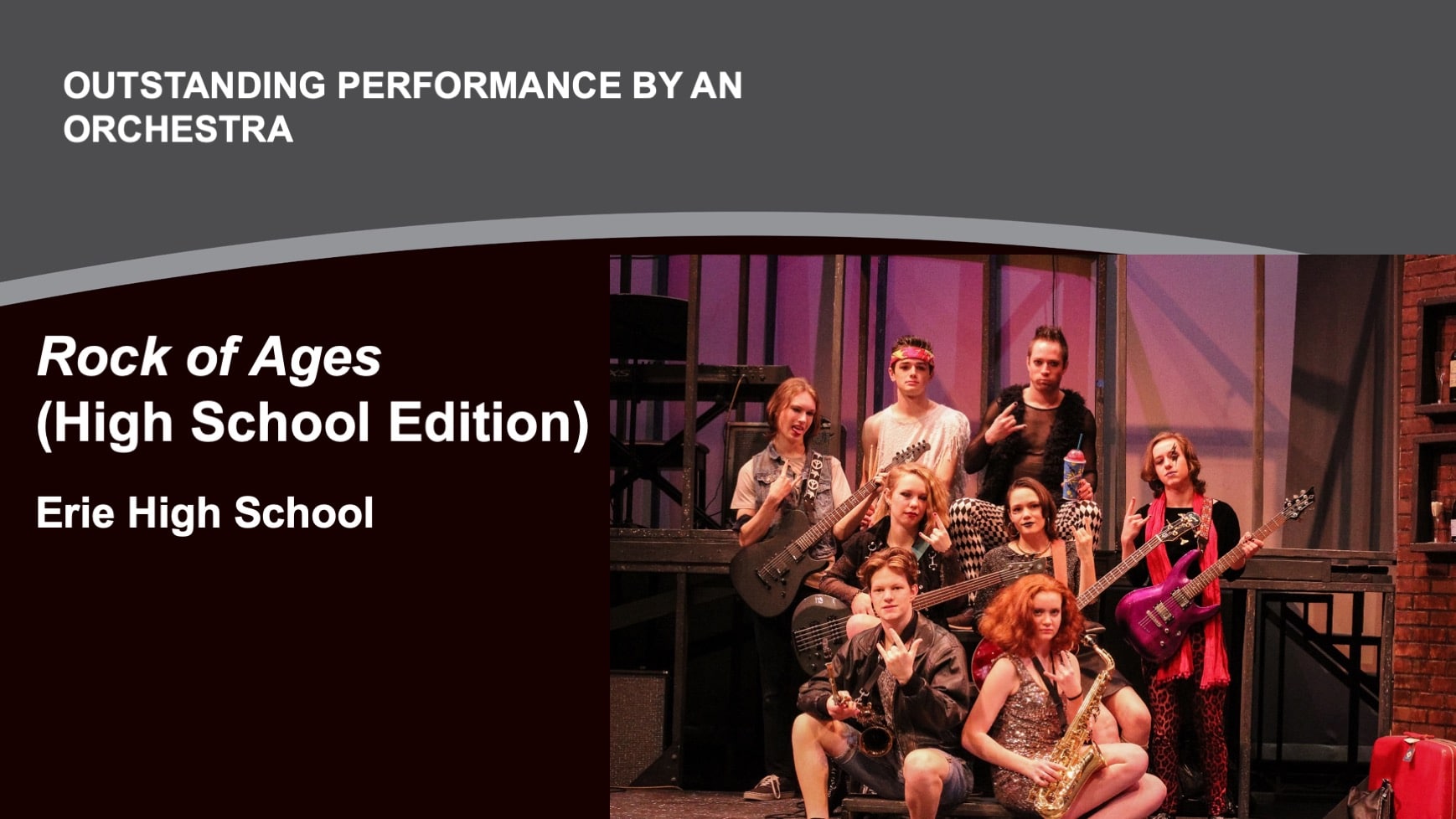 The Bobby G Awards celebrate outstanding achievement in Colorado high-school musical theatre. The seventh annual awards take place at 7 p.m. Thursday, May 23, at the Ellie Caulkins Opera House. (Reserve your seat here.) Each year, we single out one category for further recognition on the NewsCenter. This year, we are spotlighting the five schools nominated for Outstanding Performance by an Orchestra.
Erie High School
Rock of Ages: High School Edition
Benjamin Tyler
Orchestra Director
How does one become an Orchestra Director, anyway? I got my bachelor's degree in music education from Indiana Wesleyan University because my dad is a high-school choir teacher. I saw how much he loves music and how much of his life he dedicated to teaching. I moved to Colorado and started teaching band at Erie Middle School. They needed a pit-orchestra director at the high school and were asking for help, so I jumped in. This was my sixth show at Erie High School.
How much are you in charge of at your school? I tend to just be in charge of the musicians. We have a vocal director, Janay Bird, who does an amazing job of getting the vocalists prepared for the show.
Which musical players are hardest to find at your school? Good double-reed and French Horn players tend to be a tough one to find for our shows.
What is the value of a full, robust (and on-note!) orchestra to an overall production? A full, rich orchestra presence can certainly take a show to the next level. When the music, choreography, acting, set work and costume work are working together, it can take an audience member from saying, "Hey, this is a nice high-school musical," to really engrossing them in the story and making them forget they are watching a high-school production.
Shout out one of your kids: Our lead guitar player, Tyler Kellow (11th grade), was actually one of my beginning orchestra students back when I taught strings at Erie Middle School. He was a quiet, shy, pretty OK violin player. When I held auditions for Rock of Ages: High School Edition, I was surprised to see Tyler walk in carrying a mean-looking guitar, and even more surprised when he started to SHRED. He's really grown into a great, confident musician and he was an integral part of our show.
What does it mean to your students to be nominated for this Bobby G Award? My students and I were absolutely thrilled. To us, this is validation of how our music programs are growing in size and quality in Erie Middle School and Erie High School. My kids worked really hard on the show and we had a ton of fun as well, and I think that is what made us a really fun band to watch in Rock of Ages: High School Edition.
What is the greatest orchestra performance you have ever personally witnessed? Not sure if it counts as an "orchestra" performance, but my all-time favorite performance was The Bad Plus Joshua Redman at the Boulder Theater a few years ago. I've never been so engulfed in such high-quality, entrancing, challenging music in my life. A close second would be seeing Punch Brothers at Red Rocks this past year. Chris Thile has got to be the best musician on the planet right now.
What is the value of music education at your school? Seeing my students work hard, prepare, balance their other commitments, gain confidence, work as a team, and perform with integrity and professionalism shows the quality and the importance of music education in our schools. Few activities can hope to replicate the same balance of self and team; improvisation and rigid structure; exhaustion and invigoration.
Last words? Thank you for considering our show and for supporting the arts.
https://www.denvercenter.org/wp-content/uploads/2019/05/Erie-High-School.jpeg
978
1738
DCPA Press
DCPA Press
2019-05-22 10:26:15
2019-05-22 11:35:42
Bobby G Awards Outstanding Orchestra nominee: Erie High School