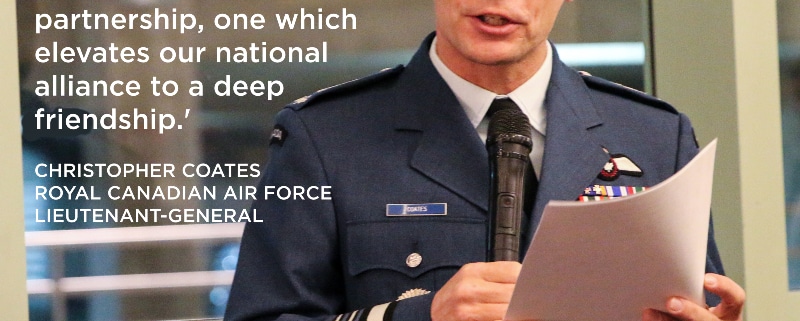 Canadian officer on 'Come from Away' and the importance of kindness in times of crisis
Video by DCPA Video Producer David Lenk.
Royal Canadian Air Force Lieutenant-General joins former Colorado Governor to celebrate vital partnership between U.S. and Canada on 9/11 and beyond
Editor's note: The following are remarks made by Royal Canadian Air Force Lieutenant-General Christopher Coates before the opening performance of the national touring production of the Broadway musical Come From Away on November 13 at the Buell Theatre in Denver. Coates is the Deputy Commander of North American Aerospace Defense Command (NORAD) in Colorado Springs. Among those also in attendance were Stéphane Lessard, Consul General of Canada in Denver; and former Colorado Governor Bill Owens.
It is my honor to welcome you this evening as we share in an experience that will remind us of the importance of kindness in times of crisis – and of Canadians and Americans working together.
For 60 years Canadians and Americans have worked shoulder-to-shoulder in the North American Aerospace Defense Command, or NORAD, with its Headquarters in Colorado Springs, to defend our two countries from the most significant threats confronting our nations … but nothing prepared us for the events we faced in the fall of 2001.
On September 11, 2001, the FAA ordered U.S. National Airspace closed for all civilian flights following the devastating attacks on the World Trade Center, while NORAD ordered fighter aircraft to battle stations and air patrols over major cities to prevent any further strikes.
Read our riveting interview with real-life Come From Away pilot Beverley Bass
These unprecedented decisions created a need to divert dozens of international flights with thousands of passengers to airports outside of the United States. Thirty-eight of these flights were landed at the airport in Gander, quickly doubling the population of this small Newfoundland town.
Come From Away is the story that followed this historic moment; a story of sacrifice and of community with strangers in the face of heart-breaking tragedy. Today, it is difficult to imagine what one would have felt as a passenger on one of these flights.
Without any knowledge of the attacks, to be indefinitely diverted to a 'Somewhere in the Middle of Nowhere' … with no knowledge of when you would reach your destination, to land on a tarmac that had several other aircraft parked in rank and file … such circumstances were previously unimaginable.
What follows is a testament to the compassion and generosity of spirit of Newfoundlanders. The residents and businesses of Gander opened their homes and their hearts to the 7,000 passengers and crew from the 38 flights diverted to their small town.
They came together to ensure everyone was safe, and to share in the overwhelming grief that is born of such brutal loss of life as what we saw on 9/11. To quell the rising fear and tensions, as passengers and crew tried to connect with family, often unsuccessfully, the Newfoundlanders invited them to partake in a unique initiation tradition where they would have to … well, you'll see tonight. I don't want to spoil the surprise.
Upon the reopening of the U.S. airspace, the unexpected guests left as quickly as they came, forever changing the history of this small Newfoundland town. In the wake of 9/11, NORAD also saw a permanent change in the way we conduct our missions in Aerospace Warning and Defense.
It's a somewhat little-known fact that a Canadian was in Command at NORAD during these attacks. NORAD now uses domestic radars to monitor Canadian and U.S. airspace, so that we know the exact location of any aircraft flying over our sovereign nations. We also developed intimate partnerships with the FAA, and its Canadian counterpart – NavCanada, in order to ensure our teams are always watching our skies and ready to respond.
As we face the future and assess the evolving threat, we find that our homelands are no longer a sanctuary. NORAD continues to evolve to meet its responsibilities in North American Defense. As we see advances in domains like space and cyber, we look to leverage our capabilities to detect and deter the next major attack on our people and values, so that we do not have to live through tragedies like 9/11 ever again.
On this year's 60th anniversary of NORAD we speak of the themes: Heritage, vigilance and innovation. However, I would like to highlight how these themes, which we strive to embody daily, can be seen in the hospitality that Newfoundlanders extended to the passengers and crews that were at their doorstep on 9/11.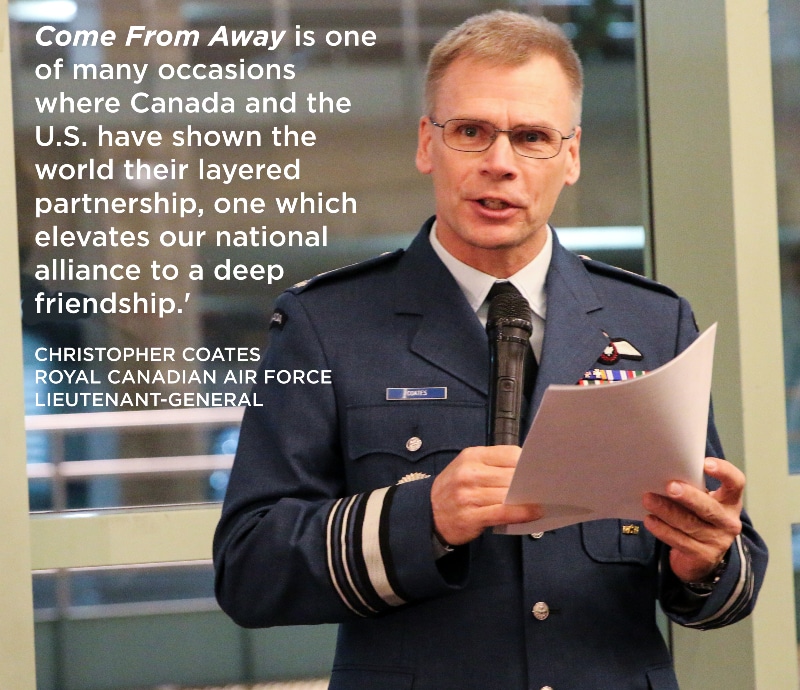 Gander, as a small town, was not equipped to support this surge of people that doubled their population. Necessity demanded they innovate with their resources available to them. They were vigilant in ensuring that nobody fell through the cracks despite the high tensions and duress facing the townspeople. And finally, they upheld a longstanding Canadian heritage of compassion and camaraderie as they stood shoulder-to-shoulder with their neighbors to the south.
Come From Away is one of many occasions where Canada and the U.S. have shown the world their layered partnership, one which elevates our national alliance to a deep friendship.
Please join me in welcoming this heartwarming musical to Denver.
Lieutenant-General Christopher Coates of the Royal Canadian Air Force officially assumed the duties as the NORAD Deputy Commander in July 2018. NORAD is the bi-national Canadian and American command that provides aerospace warning, aerospace control, and maritime warning for Canada and the United States. His predecessor, Lieutenant-General Eric Findlay, was the officer in charge of leading the grounding of the airplanes on September 11, 2001.
Come From Away Ticket information
Written by: Irene Sankoff and David Hein; Orchestrations by August Eriksmoen
Directed by: Christopher Ashley; Musical staging by Kelly Devine
Dates: Through November 25
Where: Buell Theatre, Denver Performing Arts Complex
Information: Call 303-893-4100 or BUY ONLINE
Groups: Call 800-641-1222
More Colorado theatre coverage on the DCPA NewsCenter
https://www.denvercenter.org/wp-content/uploads/2018/11/Come-Fro-Away-Opening-Night-Quote-800.-Photo-by-John-Moore.jpg
690
800
John Moore
John Moore
2018-11-20 14:00:17
2018-11-21 08:37:43
Canadian officer on 'Come from Away' and the importance of kindness in times of crisis