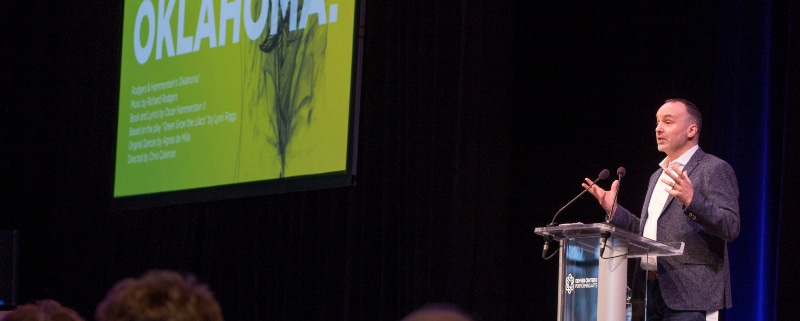 Cast and creatives for 'Oklahoma!' announced
Director Chris Coleman taps into an overlooked piece of American history when there were 50 all-black towns in the state.
DCPA Theatre Company Artistic Director Chris Coleman has announced an eclectic mix of Broadway performers and familiar favorites for his Denver directorial debut, a special 75th anniversary staging of Rodgers and Hammerstein's Oklahoma! on the Stage Theatre.
Coleman taps into an overlooked piece of American history: In 1906, there were 50 all-black towns in Oklahoma, and 137,000 African-Americans living there.
"This musical is such a quintessential expression of what it means to be American," Coleman said. "Oklahoma! is centered around a group of people on the verge of grabbing their part of the American dream and incorporating themselves into the fabric of the whole nation. Experiencing that drive and sense of possibility expressed by a community we haven't traditionally seen tell this story, opens up new windows on what it means to be a Westerner, what it means to be an American, what it means to 'stake your claim' in the land."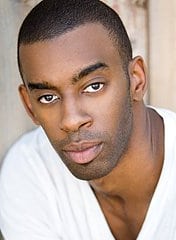 The production will be choreographed by Dominique Kelley (pictured right), a dancer in the film La La Land and Bring in 'Da Noise, Bring in 'Da Funk.
Tickets will go on sale starting Wednesday, July 18 (details below.) Tickets for the majority of other Denver Center productions will go on sale on Aug. 3.
Read more: Take a deeper dive into the DCPA Theatre Company's Oklahoma!
Oklahoma! cast:
Iman Barnes (Third Rail Projects' The Grand Paradise) as Gertie Cummings/Ensemble)
Neville Braithwaite (Fireside Theater's Footloose) as Dream Jud/Ensemble
Taylor Colleton (Midtown Arts Center's Memphis) as Virginia/Ensemble
Christian Mark Gibbs (BDT Stage's Motones vs. Jerseys) as Fred/Ensemble
Ta'Nika Gibson (Theatre Under the Stars' Dreamgirls) as Laurey
David Ginlet (The Babies Off-Broadway) as Ensemble
Shabazz Green (Lake Dillon Theater Company's current Top Dog/Underdog) as Cord Elam
Cooper Grodin (The Phantom of the Opera national tour) as Ali Hakim
Maurio Hines (Clay and Wattles' Zorba) as Ensemble
Bre Jackson (Broadway's The Color Purple, The Book of Mormon) as Ado Annie Carnes
Rashaan James II (South Pacific national tour) as Ike Skidmore/Ensemble
Sheila Jones (Theatre Under The Stars' Dreamgirls) as Ellen/Ensemble
Barrington Lee (Harlem Opera Theater's Voodoo) as Jud Fry
Sheryl McCallum (DCPA's The Wild Party) as Aunt Eller
Rennie Anthony Magee (The Muny's Tarzan) as Will Parker
Raven McRae Traoré (Cirque Du Soleil's Paramour on Broadway) as Dream Laurey/Ensemble)
Alia Munsch (Motown the Musical national tour) as Ensemble
Milton Craig Nealy (Broadway's Motown the Musical, Caroline or Change) as Andrew Carnes
Brandon O'Neal (Broadway's The Lion King) as Dream Curly/Ensemble
Jason Daniel Rath (Maltz Jupiter's Gypsy) as Slim/Ensemble
Antoine L. Smith (Broadway's Carousel) as Curly
Melissa Victor (Ford's Theatre's The Wiz) as Kate/Ensemble
Erin Willis (DCPA's The Who's Tommy) as Vivian/Ensemble
Creative team:
Director: DCPA Artistic Director Chris Coleman
Music Director: Darius Frowner
Choreographer: Dominique Kelley
Scenic Designer: Wilson Chin (DCPA's The Great Leap)
Costume Designer: Jeff Cone
Lighting Designer: Diane Ferry Williams
Sound Designer: Philip G. Allen
Voice and Dialect: Dawn-Ellin Fraser
Fight Director: Geoffrey Kent
Dramaturg: Heidi Schmidt
Casting: Harriet Bass, CSA
Stage Manager: Rachel Ducat
Assistant Stage Managers: D. Lynn Reiland and Kurt Van Raden
Oklahoma! was the first collaboration by Rodgers and Hammerstein and became a landmark musical for its rollicking music and stunning dance numbers, and this joyful presentation should make plain why it has stood the test of time.
"I am honored to be making my Denver directorial debut with Oklahoma!" said Coleman.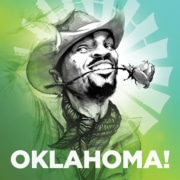 Oklahoma! Ticket information
Written by: Richard Rodgers (music) and Oscar Hammerstein II (book and lyrics). Based on the play Green Grow the Lilacs by Lynn Riggs. Original Dances by Agnes de Mille
Dates: Sept. 7-Oct. 14 (Opens Sept. 14)
Where: Stage Theatre, Denver Performing Arts Complex
Information: Tickets will go on sale starting Wednesday, July 18. Call 303-893-4100 or BUY ONLINE
Groups: Call  800-641-1222
More Colorado theatre coverage on the DCPA NewsCenter
https://www.denvercenter.org/wp-content/uploads/2018/07/Oklahoma-Lead-Art-Chris-Coleman-Oklahoma_Photo-by-Adams-VisCom.jpg
605
800
John Moore
John Moore
2018-07-16 15:27:54
2018-09-03 00:14:48
Cast and creatives for 'Oklahoma!' announced