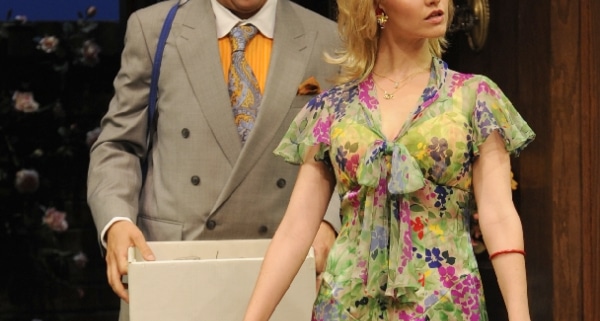 Casting announced: 'Anna Karenina' brings Kate MacCluggage back to Denver Center
Sweeping adaptation of Tolstoy's masterpiece will bring romantic backdrop of Tsarist Russia to life in heart-wrenching tale
The Denver Center Theatre Company has announced the cast and creative teams for its upcoming production of Anna Karenina, which will bring Kate MacCluggage back to Denver in the title role. She last performed for the Theatre Company in 2008-09.
Kevin McKeon's lush adaptation of Leo Tolstoy's masterpiece brings the romantic backdrop of Tsarist Russia to life in a heart-wrenching tale of passion and betrayal, dreams chased and lost, and a love that's worth risking everything. As a noblewoman and socialite, Countess Anna Karenina's glamorous lifestyle shrouds her unhappy marriage. But everything changes when she meets the dashing army officer Count Vronsky, and she risks her social status, marriage, friends and family for the thrill of forbidden love.
"We've seen time and time again that Denver audiences have a deep love and appetite for pieces that bring works of literature to life on stage," said Coleman. "Kevin McKeon's highly theatrical adaptation provides us with gorgeous language that engages the imagination of the audience in a really vivid way, sweeping us alongside this strong female character across aristocratic Tsarist Russia through ballrooms, ice-skating rinks and horse races."
MacCluggage, who appeared on Broadway in Aaron Sorkin's The Farnsworth Invention, played Brooke in the DCPA Theatre Company's 2008-09 production of Noises Off.  The Denver Post said of her performance: "Stealing the show is newcomer Kate MacCluggage as Barbie beauty Belinda Blair. Near-nudity is a staple of the British farce, and MacCluggage gives us that, and much more — winking line delivery, contortions and a riotous final scene in which her character is utterly incapable of acting on the fly, even when everyone around her has wandered miles from the script." She just completed an acclaimed off-Broadway revival of Kurt Vonnegut, Jr.'s 1970 play Happy Birthday, Wanda June.
Count Vronsky will be played by Patrick Zeller, star of the new indie movie Say Yes. As a man whose wife is dying of cancer, a San Diego film critic called Zeller's raw portrayal of the man's journey "pitch perfect."
The 20-actor Anna Karenina ensemble will bring back several actors with DCPA ties, including Diana Dresser (The Wild Party), Kate Gleason (Death of a Salesman), Heather Lacy (The Doyle and Debbie Show), Luciann Lajoie (Date), DCPA Education Head of Acting Timothy McCracken (Smart People), Chloe McLeod (This is Modern Art), Leigh Nichols Miller (Frankenstein), Alaina Beth Reel (Sarah Ruhl's Orlando), Gareth Saxe (Macbeth) and Brian Gregory Shea (Frankenstein).
Local actors making their DCPA debuts include Anastasia Davidson (Curious Theatre's The Humans, through December 22), Erik Fellenstein (Local Theater Company's Rape of the Sabine Women) and Cameron Varner (The Catamounts' Rausch).
Anna Karenina
Written by: Kevin McKeon, adapted from the novel by Leo Tolstoy; original music by Randall Robert Tico
Year: Original novel published in 1877; stage adaptation premiered in 2012
Director: Chris Coleman
Dates: Through February 24
Where: Stage Theatre
Genre: Adaptation of Tolstoy's classic story of love and marriage in Imperial Russia

Tickets: Start at $30 and can be purchased at denvercenter.org, 303-893-4100 or in person in the Helen Bonfils Theatre Complex at 14th and  Curtis streets.
Cast:
Kate MacCluggage (Hedda Gabler in the upcoming feature film; The Farnsworth Invention on Broadway) as Anna Karenina
Patrick Zeller (Feature film No Reservations; Comedy of Errors, New York Classical Theatre) as Vronsky/Ensemble
James Shanklin (AMC's "Hell On Wheels"; Julius Caesar, New York Shakespeare Festival) as Karenin/Ensemble
Allison Altman (Mother, Daughter, Sisterwife, St. Ann's Warehouse) as Kitty/Ensemble
Kyle Cameron (Pushkin, American Vicarious) as Levin/Ensemble
Anastasia Davidson (The Humans, Curious Theatre Company) as Dolly/Ensemble
Diana Dresser (The Wild Party, DCPA Off-Center) as Marya/Ensemble
Erik Fellenstein (Julius Caesar, Colorado Shakespeare Festival) as Ensemble
Brooks Garvey (DCPA debut) as Seriozha/Ensemble
Kate Gleason (The Pillowman on Broadway; Death of a Salesman, DCPA) as Mother Scherbatsky/Ensemble
Heather Lacy (I Love You, You're Perfect, Now Change, DCPA) as Ensemble
Luciann Lajoie (Date, DCPA Off-Center) as Ensemble
Ronan Oisin Marvin (DCPA debut) as Seriozha Understudy
Timothy McCracken (Smart People, DCPA) as Stiva/Ensemble
Chloe McLeod (A Christmas Carol, DCPA) as Female Understudy
Leigh Nichols Miller (Frankenstein, DCPA) as Ensemble
Alaina Beth Reel (The Cake, Curious Theatre Company) as Ensemble
Gareth Saxe (The Lion King on Broadway; Macbeth, DCPA) as Father Scherbatsky/Ensemble
Brian Gregory Shea (Frankenstein, DCPA) as Male Understudy
Cameron Varner (The Kentucky Circle, Vintage Theatre) as Ensemble
Additional creative team:
Choreography by Grady Soapes
Scenic Design by Tony Cisek
Costume Design by Jeff Cone (DCPA's Oklahoma!)
Lighting Design by Diane Ferry Williams (DCPA's Oklahoma!)
Sound Design by Matthew M. Neilson
Voice and Dialect by Kathy Maes (DCPA's A Christmas Carol)
Dramaturgy by Allison Horsley (DCPA's The Constant Wife)
Casting by Harriet Bass, CSA and Grady Soapes, CSA
Stage management by Kurt Van Raden (Stage Manager), Corin Ferris (Assistant Stage Manager), Emery Rockenfield and Jessica Steffen-Schepers (Apprentice Stage Managers).
https://www.denvercenter.org/wp-content/uploads/2018/12/AK-1.jpg
529
600
John Moore, Senior Arts Journalist
John Moore, Senior Arts Journalist
2018-12-14 19:33:04
2019-02-13 11:29:46
Casting announced: 'Anna Karenina' brings Kate MacCluggage back to Denver Center