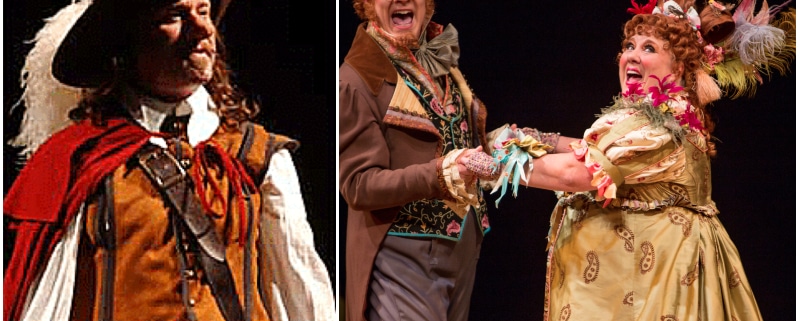 Casts announced for 'The Whistleblower' and 'Last Night and the Night Before'
The Whistleblower will reunite Denver Center Theatre Company stalwarts Bill Christ and Leslie O'Carroll
The Denver Center Theatre Company has announced the casts and creative teams for its upcoming world premieres of Donnetta Lavinia Grays' Last Night and the Night Before and Itamar Moses' The Whistleblower. While Last Night and the Night Before will gather a full slate of first-time Denver Center actors, The Whistleblower will mark the returns of two of the most longstanding actors in company history: Bill Christ and Leslie O'Carroll.
"Last Night and the Night Before is another testament to the amazing works that have come out of the Colorado New Play Summit," said Artistic Director Chris Coleman. "Donnetta Lavinia Grays is an incredibly special writer, and she has written a story that is beautiful and deeply human. I'm thrilled that we get to be the first to produce it."
The Whistleblower, meanwhile, stars Denver Center newcomer Karl Miller, who plays Devlin in the Golden Globe-nominated TV series "The Marvelous Mrs. Maisel." The comedy, about a Hollywood screenwriter who suddenly starts telling the hard truth to family and friends, will feature Christ and O'Carroll in multiple supporting roles.
Christ was a mainstay on DCTC stages from 1994-2006, appearing in 22 mainstage productions, ending with The Madwoman in 2006-07 season. Highlights include playing the title role in Cyrano in 2001-02.
O'Carroll, who graduated from the Denver Center's master's program in the 1980s, has been steadily performing at the Denver Center since 1995. She is one of only three actors to ever play the role of Mrs. Fezziwig in the DCTC's 26 seasonal productions of A Christmas Carol, which this year runs through December 26.
The Whistleblower playwright Itamar Moses, Coleman said, "is absolutely brilliant and an exciting voice to have on the season. His play is hilarious, thought-provoking and really kind of a spiritual journey. I read it and was absolutely knocked out. In The Whistleblower, Itamar takes us on a humorous exploration of our purpose and whether our actions have the power to affect others. I'm incredibly honored to produce it as a world premiere."
---
Last Night and the Night Before
Written by: Donnetta Lavinia Grays
Director: Valerie Curtis-Newton

Dates: Jan. 18-Feb. 24, 2019 (Opens Jan. 25)
Where: Ricketson Theatre
Genre: Family drama/mystery
The play at a glance: When Monique and her 10-year-old daughter Samantha show up unexpectedly on her sister's Brooklyn doorstep, it shakes up Rachel and her partner Nadima's orderly New York lifestyle in this poetic, powerful and remarkably touching drama. Monique is on the run from deep trouble and brings their family's Southern roots with her, grabbing hold of Rachel's life more ferociously than she could have ever imagined. This 2017 Colorado New Play Summit featured play explores the struggle between the responsibilities that are expected of us and the choices we actually end up making.
Cast:
Erin Cherry (The Siblings Play, Cherry Lane Theatre) as Nadima
Sharod Choyce (Rutgers University MFA) as Reggie
Bianca Laverne Jones (Ocean's Eight) as Rachel
Zaria Kelley (upcoming feature film Bad Hair) as Sam
Keona Welch (Romeo and Juliet, Shakespeare's Globe Theatre in London) as Monique
Additional creative team:
Matthew Smucker (Scenic Designer)
Melanie Burgess (Costume Designer)
Mary Louise Geiger (Lighting Designer)
Larry D. Fowler Jr. (Sound Designer)
Dwight Bacquie (Voice and Dialect)
Jacqueline E. Lawton (Dramaturg)
Harriet Bass, CSA and Grady Soapes, CSA (Casting)
Stage management by Randall K. Lum (Stage Manager), Kristen O'Connor (Assistant Stage Manager), Wayne Breyer (Apprentice Stage Manager)
---
The Whistleblower
Written by: Itamar Moses, author of The Band's Visit, which received 10 2018 Tony Awards including Best Musical
Director: Oliver Butler (What the Constitution Means to Me?, New York Theatre Workshop; Thom Pan, Signature Theatre)
Dates: Feb. 8-March 10, 2019 (Opens Feb. 15)
Where: Space Theatre
Genre: Contemporary comic drama
The play at a glance: For screenwriter Eli, an offer to finally create his own TV show should be the ultimate culmination of his goals, but instead shocks him into wondering why he had those dreams in the first place. Armed with a new sense of spiritual clarity, he sets out on a quest to serve up some hard truths to his co-workers, family, exes and friends. What could possibly go wrong? The Whistleblower will be a lively world premiere about the lies we tell to protect ourselves and how the tiniest gestures can have deep impact on those around us.
Cast:
Ben Beckley (Peter and the Starcatcher, first national tour) as Max
Bill Christ (Born Yesterday on Broadway; 12 seasons with the DCPA) as Richard/Joseph
Meredith Forlenza (Noises Off, Roundabout Theatre Company) as Allison/Lisa
Karl Miller ("Marvelous Mrs. Maisel," and The Liquid Plan, Signature Theatre) as Eli
Leslie O'Carroll (Pride and Prejudice, Boulder Ensemble Theatre Company; 22 Seasons at the DCPA) as Hannah
Allison Jean White ("The Blacklist") as Sophie/Rebecca/Eleanor
Landon G. Woodson (Intimate Apparel, Sierra Repertory Theatre) as Dan/Jed
Additional creative team:
Lisa Orzolek (Scenic Designer)
Jessica Pabst (Costume Designer)
Mark Barton (Lighting Designer)
Jorge Cousineau (Sound Designer)
Geoffrey Kent (Fight Director)
Harriet Bass, CSA and Grady Soapes, CSA (Casting)
Stage management by Heidi Echtenkamp (Stage Manager), D. Lynn Reiland (Assistant Stage Manager), and Danielle Keller (Apprentice Stage Manager)
Tickets for both productions start at $30 and may be purchased at denvercenter.org, 303-893-4100 or in person in the Helen Bonfils Theatre Complex at 14th and Curtis streets.
https://www.denvercenter.org/wp-content/uploads/2018/12/Bill-Christ-Leslie-OCarroll-casting-Whistleblower.jpg
504
800
John Moore
John Moore
2018-12-11 23:21:10
2018-12-15 10:03:27
Casts announced for 'The Whistleblower' and 'Last Night and the Night Before'