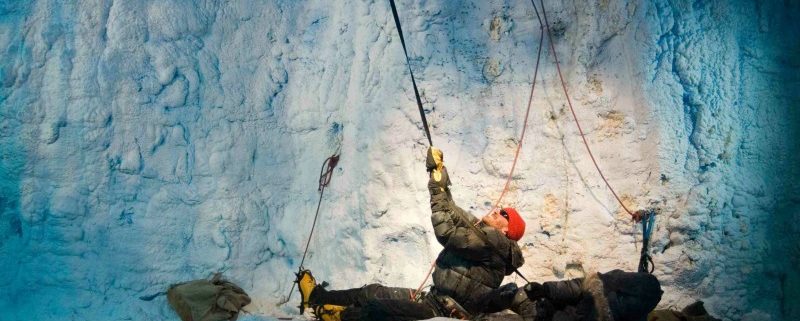 Charles Packard leaving Aurora Fox after 19 years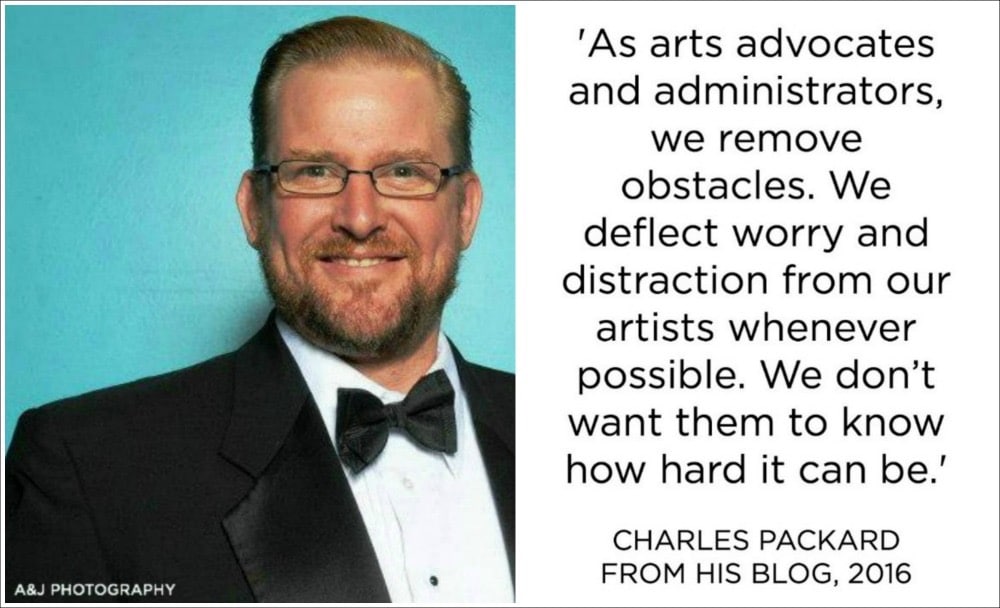 Longtime Executive Producer cited budget cutbacks, exhaustion and personal hurdles as ongoing difficulties
Charles Packard, Executive Producer for the Aurora Fox Arts Center since 2009, has resigned, both he and city officials confirmed today in joint statements.
Packard is resigning "to pursue other opportunities," said Abraham Morales, Senior Public Information Officer for the city of Aurora. In his own statement, Packard cited fatigue. "I have grown tired, then exhausted, and it has come time to close," he said.
Associates close to Packard, who was placed on administrative leave May 8, say his sometimes competing role as both an artist and arts administrator for a city-owned performing-arts facility had become increasingly more difficult to navigate. Reached at home 10 days ago, Packard said he was looking forward to visiting family in Michigan, and that "I am really thrilled for what's coming next in my life."
In today's statement, he elaborated: "I will be spending the next few months 'in the sandwich,' " he said. "My parents are aging, and my kids are growing fast. I will be with them while my artistic and public-servant batteries recharge.
"In the 19 years I've been at the Fox we have had a few failures, many successes and tremendous growth. The audience has changed and the neighborhood has changed. I have grown as an artist." (Read the full statement here.)
On the blog Packard regularly kept on the Aurora Fox web site, Packard wrote openly about the theatre's many artistic achievements, but also "unprecedented challenges including staff changes, budget crises, weather and other assaults, as well as intense personal hurdles."
The change comes at a tenuous time for the Fox, which has not yet announced its 33rd season beginning in September. Cultural Services Manager Gary Margolis, Packard's boss, will handle administrative duties while a national job search is conducted to find Packard's replacement. Margolis joined the city a year ago. When he moved to Aurora from San Diego, Packard described him as "Aurora's No. 1 arts advocate."
Packard's resignation also comes as the Fox has been enjoying a steady stream of artistic and box-office successes. Last July, the Fox received six Henry Award nominations, including Outstanding Season for a Theatre Company.
Local actor, director and former Aurora Fox employee Robert Michael Sanders said Packard has been one of the most impactful people in the local theatre community over the past two decades.
"In his years at the Fox, Charlie set himself and the theatre apart with a simple premise: 'Why not?' " said Sanders. "He set the bar high and brought people up around him."
Packard, a former president of the Colorado Theatre Guild, joined the Aurora Fox in 1999 as Production Manager and Associate Producer. He is also a multiple award-winning Scenic Designer known for elaborate sets including The Wedding Singer, Xanadu, Something Wicked this This Way Comes, Arabian Nights, K2 and Big Fish. He won the 2014 Henry Award for his design of the water-themed Metamorphoses in the Aurora Fox studio theatre.
Packard has long been known for openly sharing his talents with theatre companies throughout the metro area including Curious Theatre, Magic Moments and more. His scenic work is currently on display in Curious' The Luckiest People. His boxing-ring design for The Elaborate Entrance of Chad Deity, a co-production between Curious and Colorado Springs TheatreWorks, was nominated for 2013 True West and Henry awards. He is also an accomplished lighting designer, winning the 2006 Denver Post Ovation Award with Jennifer Orf for Phamaly Theatre Company's The Wiz.

Sanders said Packard has been one of the theatre community's strongest advocates for actors' rights. "He has always fought behind the scenes for actors to be paid a decent wage and have health insurance," Sanders said.
The Aurora Fox was built for $10,000 as an art-deco neighborhood movie theater in 1946. It was renovated in the 1980s as a community arts center with two performing spaces and has become an anchor of the Aurora Cultural Arts District, which stretches along East Colfax Avenue from Clinton Street to Geneva Street. That includes the nearby Vintage Theatre, which also sports two performing spaces less than a half-mile away. For years, city leaders have hoped to turn this iconic stretch of East Colfax Avenue into a cultural destination that might grow surrounding businesses, but the results have been mixed.
"Charles Packard has been the anchor of the Aurora Cultural Arts District for the better part of a decade," said Vintage Theatre Executive Director Craig Bond. "At the helm of the Aurora Fox he has directed, produced, supported and encouraged various groups of artists to achieve amazing theatrical successes within Aurora. His leadership will be missed within Aurora, but I am sure his amazing staff will continue to support great work within the 80010 zip code."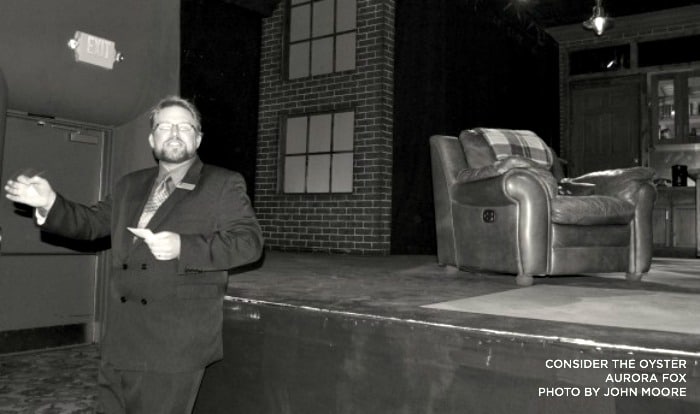 In his role at the Fox, Packard has overseen both the 245-seat mainstage theatre and the transformable studio theatre that seats about 90. The Aurora Fox typically produces five shows per year while making its theatres available for many other local theatres to rent. In recent years, Packard has blown open the Fox's doors to underserved voices and audiences with productions including the Pulitzer Prize-winning Anna in the Tropics, The Color Purple, Black Elk Speaks, Porgy & Bess and the current Priscilla Queen of the Desert.
Packard has also steered the Fox through several small controversies over the years. The Fox's partnership with Ignite Theatre, which staged 31 productions at the Fox, hit a hiccup in 2015 when Aurora city officials said the Fox could no longer present simultaneous shows in its two spaces until the backstage dressing-room space was expanded. That forced Ignite to move or cancel three upcoming productions. And in January, Ignite ceased production.
The Fox garnered much unwanted attention late last month when Priscilla Queen of the Desert, the finale of the current mainstage season, was beset with production problems, culminating with the last-minute decision to cancel the opening weekend of performances out of concern for the safety of the actors.
(Pictured above: Charles Packard's curtain speeches have been a staple at the Aurora Fox since 2009. Here: 'Consider the Oyster' in 2013. Photo by John Moore.)
While numbers for the current season are not complete (Priscilla closes out the season on May 28), 2015-16 was a banner year for Packard and the Aurora Fox. In his blog, Packard reported records for fundraising, ticket revenue and season subscriptions (up an astounding 26 percent over the previous season). "My goal for the year was to be up 10 percent, which in itself was a pretty bold promise to make my board of directors," Packard told the Aurora Sentinel. "But the increase probably just means that (Aurora Cultural Arts District Managing Director Tracy Weil's) efforts of image control for the neighborhood have been successful."
Part of Packard's job was "refining the theater's financial model," which proved to be an evolving and ongoing challenge with the city.
Back on his blog, Packard wrote: "I am very proud of our results this year. We achieved high and quantifiable artistic successes (despite budget cutbacks.) We pushed ourselves as individual artists and stretched the very definition of what it means to be a collaborative arts center. And, we had unprecedented challenges. We've had staff changes, budget crises, weather and other assaults as well as intense personal hurdles."
Beginnings in Michigan summer stock
Packard, a Michigan native, said in a 2012 Aurora Sentinel profile that his first gig was working in "the creative chaos of summer-stock festivals after dropping out of Western Michigan University. Packard worked as a stage manager for a musical workshop in New Bedford, Mass., helping to create new works as creative egos clashed and backers pulled out.
Packard arrived in Colorado in 1997 and quickly found work as a freelance stage manager and designer. His duties at the Fox evolved to season selection, design, administration and a long list of other small jobs necessary for running a theater. He stepped into the executive producer role in early 2009, just after the full effects of the economic collapse of 2008 started to hit the local theater community.
(Photo at right: Charles Packard showed off his playful side by performing a number from 'La Cage Aux Folles' for Miscast, a 2007 benefit performance. Photo by John Moore.)
"About every day, I was on the phone with my grandfather and my great aunt, begging for them to tell me stories about the Great Depression," Packard said, laughing. "I wanted to know — how bad can this get?"
Aurora Chamber of Commerce Vice President George Peck said of Packard's hiring in 2009: "Charlie reaches out and creates networks. He understands that arts are not narrowly focused. We were very impressed with Charlie's facility to wear both of those hats. He still has that very creative side that is necessary to be successful running a theater. But he understands the business aspects as well."
Packard's reach into the community often exceeded theater. In 2007, Packard helped with the defense in a gruesome federal death-penalty case. Rudy Sablan, an inmate in the U.S. Penitentiary in Florence, Colorado, was charged with murder for helping his cousin eviscerate a third man in the 7-by-14-foot cell the three shared. Packard was hired to meticulously re-create the jail cell in the U.S. District courtroom.
"I don't really care whether the person being defended is a good guy or a bad guy," Packard said at the time. "I am proud to be part of giving him a rigorous defense."
For the Fox season that is ending May 28, Packard adopted the theme "Life on the Margins of Polite Society." The intent of the season, he wrote on his Fox blog, "was to examine ourselves and the groups we form for safety and comfort. We have reflected on those tight-knit groups of like-minded people we hold dear. Our polite society. We have been introduced to others. To those left on our margins, the different, the foreign, the newcomer. We have seen that those individuals are at the center of their own hard spheres."
He signed off, as he often did, " I will see you at the theater."
In today's closing statement, Packard wrote: "No arts organization should become dependent on the presence of any single mind. That is true of The Fox … Dozens of artists are still here working hard on the 33rd season. Soon a new producer will emerge, and he or she will build on our accomplishments."
Said Sanders: "Whether it was choosing shows, directing, designing or running the business of theatre, Charlie always asked the same question: 'Does it have heart?'
"He does."
An excerpt from Charles Packard's blog:
"As arts advocates and administrators we remove obstacles. We deflect worry and distraction from our artists whenever possible. We don't want them to know how hard it can be. When you have gifted painters living in your community the last thing you want them to worry about is how to buy paint or where to hang their finished work. You want them to create art for all of our benefit. That is my job and the job of other administrators and advocates for The Fox."
John Moore was named one of the 12 most influential theater critics in the U.S by American Theatre Magazine in 2011. He has since taken a groundbreaking position as the Denver Center's Senior Arts Journalist.
https://www.denvercenter.org/wp-content/uploads/2018/04/featured-image-4999.jpg
522
800
John Moore
John Moore
2017-05-23 12:27:00
2018-12-23 09:40:55
Charles Packard leaving Aurora Fox after 19 years