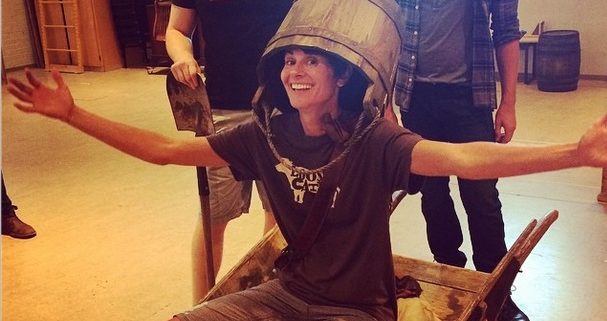 Click: Peek in on 'Molly Brown' cast's Instagram photos
@kevenq: "#aintdownyet #shesqueen #DCPAMollyBrown"
Follow along backstage and beyond with the cast of The Unsinkable Molly Brown through the photos they are posting from Denver on various social media channels. Here are a few of the photos cast members have been posting in their first month in Denver, including rehearsals and a field trip to Leadville, Colorado.
To follow cast members' posts on Twitter all in one handy place, click here and subscribe to this list
Some helpful handles and hashtags to use and follow on Instagram on Twitter:
@DenverCenter
#DCPAMollyBrown
We'll post more of these photos here at Denver CenterStage once a week throughout the run.
Enjoy the show … from the cast's-eye view!
@kevenq: "#frozen #unsinkable #whitewaterrafting #DCPAMollyBrown"
​
@kristiekerwin: What an incredible day! #DCPAMollyBrown field trip to Leadville CO. Thank you, #Dick Scanlan
@karljosefco: "Fantastic Day Off Field Trip to Leadville & The Matchless Mine with Dick Scanlan and the #DCPAMollyBrown Cast!"
@constatineroman "JJ Brown & Vincenzo outside Leadville, CO. elev. 11,500 feet"
@cameronadamsnyc "Rehearsal w/ @stephmartignetti & @finkestagram. #unsinkablemollybrown #dcpamollybrown"

@kevenq "#dont #DCPAMollyBrown"
@kevenq "#gobroncos!!! Our very own Beth Malone is singing the national anthem at the game today representing "The Unsinkable Molly Brown" #dcpamollybrown #unsinkable"
@cameronadamsnyc "Awesome rehearsal shot from the amazing #RonnieShutterbug, AKA @kevenq. #unsinkablemollybrown #dcpamollybrown"

@kristiekerwin: "1st day of #Tech! #DCPAMollyBrown @DenverCenter"
@cameronadamsnyc "These guys are VERY serious about mining and stuff…#Tech #dcpamollybrown"
@karljosefco: "It's Sitzprobe Day for #DCPAMollyBrown! Favorite rehearsal day! #Unsinkable #MollyBrown"
@kevenq "Our director, music director, writer, associate director and orchestrator…#makingmusicals #dcpamollybrown"
The Unsinkable Molly Brown: Ticket information
Performances begin Sept. 12
Stage Theatre
Runs through Oct. 26.
303-893-4100, or go to the Denver Center's web site at www.denvercenter.org
Previous Molly Brown coverage on Denver CenterStage:

https://www.denvercenter.org/wp-content/uploads/2018/04/featured-image-1408.jpg
615
607
John Moore
John Moore
2014-09-07 10:52:00
2014-09-07 10:52:00
Click: Peek in on 'Molly Brown' cast's Instagram photos