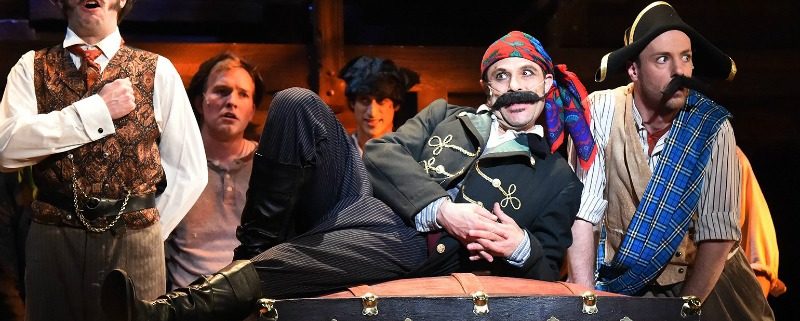 Colorado College, Fine Arts Center enter historic partnership
Colorado Springs Fine Arts Center's 'Peter and the Starcatcher.' Photo by Jeff Kearney.
Colorado College will dedicate more than $20 million of its endowment for the ongoing support and long-term sustainability of the Colorado Springs Fine Arts Center under a historic partnership announced today by Colorado College President Jill Tiefenthaler.
The goal of the alliance goes beyond merging the two Colorado Springs institutions. "It seeks to create something new, groundbreaking and forward-looking," Tiefenthaler said. "The partnership will support the missions of both organizations while expanding learning opportunities, arts programming and cultural resources for the greater Colorado Springs community."
The agreement calls for a four-year transition period before full implementation. The Colorado Springs Fine Arts Center will retain its current name until July 1, 2017, when it will become known as the Colorado Springs Fine Arts Center at Colorado College. By July 1, 2020, the Fine Arts Center entity will be fully transferred to the college.
Officials say the partnership will result in expanded community arts programming and enriched student experiences.
"The Colorado Springs Fine Arts Center is a cultural gem, and I'm excited about the immense possibilities this alliance presents for all involved," Tiefenthaler said.
Added Colorado Springs Fine Arts Center President and CEO David Dahlin: "I'm thrilled to help create a strong and vibrant future for the Fine Arts Center that will enable it to thrive and build upon its legacy for another 100 years. This is truly a win-win-win agreement benefiting the FAC, CC and the entire community."
Colorado Springs Mayor John Suthers said the partnership "is something we should all look to as an example of innovative, collaborative future-building."
The Fine Arts Center's year-round theatre operation is expected to continue uninterrupted. Scott RC Levy, who served on the merger's performing-arts subcommittee, will continue on as Producing Artistic Director, according to Media Relations Manager Amanda Weston. By next July, it is anticipated that most FAC staff will become employees of Colorado College. The FAC's next theatre production is Shear Madness, opening Sept. 22.

FAQ: What you need to know about the partnership

Kathy Loo and Jim Raughton, local philanthropists and long-term patrons of the Colorado Springs Fine Arts Center, have pledged an undisclosed amount to build the endowment to support the Fine Arts Center into the future. "We have a deep love for the Fine Arts Center, its past, its present and its future," Loo said. "We are excited about the sustainability that this alliance has created for our community's signature arts institution and we are committed to see it succeed."
Alliances between institutions of higher education and nonprofit cultural institutions are an increasingly common model, most notably the nearby University of Colorado at Colorado Springs' affiliation with TheatreWorks, and the the University of Colorado at Boulder's partnership with the Colorado Shakespeare Festival. What makes this alliance more substantial is that in addition to supporting in in-house theatre company, the Fine Arts Center includes a museum and arts school.
Alliances between colleges with museums and professional theaters allows for additional cultural programming and educational resources, new avenues of fundraising and greater community impact and outreach, Tiefenthaler said. Additionally, cultural institutions can cut costs as part of the affiliation with the college or university through shared services.
"Arts institutions around the country are finding that alliances with institutions of higher education create great programming synergies and long-term sustainability," said Thayer Tutt, President of both El Pomar Foundation and the Colorado Springs Fine Arts Center Foundation. "This alliance will allow the Fine Arts Center to build upon its nearly 100-year legacy as the center of our arts community and to develop new initiatives that serve the academic mission of the college, all for the betterment of our region."
The Colorado Springs Fine Arts Center Foundation will continue as a separate supporting foundation managing the existing FAC $13 million endowment for the mission of the Fine Arts Center at Colorado College.

The bulk of the content for this report was provided by Leslie Weddell, Director of News & Media Relations for Colorado College. More information is available at coloradocollege.edu/csfac and csfineartscenter.org/ccalliance
Learn more about it:
A series of three listening sessions, open to the community, are planned:
Sept. 8, 7:30 a.m. to 9 a.m., Fine Arts Center Music Room
Sept. 14, 4:30 p.m. to 6 p.m., Colorado College's Packard Performance Hall
Sept. 26, 7 p.m. to 8:30 p.m., Fine Arts Center Music Room
https://www.denvercenter.org/wp-content/uploads/2018/04/featured-image-3794.jpg
482
800
John Moore
John Moore
2016-08-25 12:59:00
2016-08-25 12:59:00
Colorado College, Fine Arts Center enter historic partnership