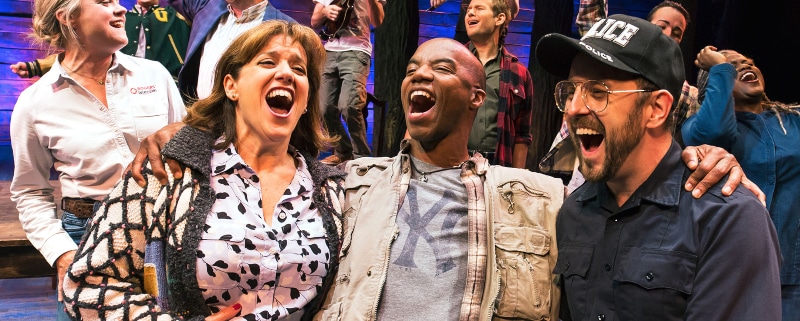 'Come From Away': The happy success of an unlikely Broadway musical
Pioneering pilot Beverley Bass says emphatically the Denver-bound musical Come From Away is not the story of 9/11. 'It is the story of 9/12.'
Beverley Bass didn't pay much mind
when she heard a theatre company was workshopping her remarkable story into a possible Broadway musical. She didn't know what "workshopping" meant.
"Before we had kids, we used to go to the theatre," Bass said of her busy, pioneering life with husband Tom Stawicki. "But it had been years since we had gone because we were in the middle of raising a family."
Bass was the first female captain of an American Airlines aircraft. She was piloting a Boeing 777 from Paris to Dallas when terrorists attacked America on September 11, 2001. When US airspace was immediately locked down, Bass was one 
of 38 commercial pilots ordered to land on the island of Newfoundland to wait out the confusion. What happened next in the small Canadian town of Gander became the basis for the Denver-bound, Tony Award-winning musical Come From Away.
"We were certainly not major theatre people then," Bass said with a laugh.
She is now.
"I've now seen Come From Away 101 times," she said on a recent visit to Denver.
And that now makes her a proud groupie.
"It does," she said. "When my husband and I are home for three or four weeks and we haven't seen it, we get on an airplane and go to New York. We can't stand being away from it for very long."
'Come from Away is not
 the story of 9/11. It is the story of 9/12. It is a cathartic reminder of the capacity for human kindness even in the darkest of times.' — Beverley Bass, American Airlines pilot whose 9/11 story helped to inspire Come From Away
The reason, perhaps incongruously to those unfamiliar with Come from Away, "is that it is such a happy show," she said. "There are obviously a couple of sad moments, but the beautiful thing is they never allow you to stay in those sad moments very long."
At a 10th anniversary commemoration
in Gander, Bass was interviewed by the creative team that would make Come from Away. Four years later, she got a call inviting her to the premiere performance at the La Jolla Playhouse in California.
"So off we went, not knowing one thing about the show," she said. "There we are on opening night, front row center, having no idea what we're getting ready to watch. And five minutes into the show this actor rolls out in her chair and she's wearing my uniform jacket, and she picks up the phone and says, 'Tom, I'm fine.' Well, my husband buries his head in his hands. We probably missed 75 percent of the show because we were sobbing."
Not because Come from Away is in any way a difficult story to watch, Bass said. "We were crying because it was so well done, and we couldn't believe how true it was."
Read more: Beverley Bass recounts the harrowing events of September 11, 2001
Come From Away, Bass says emphatically, is not the story of 9/11. It is the story of 9/12. It is not the story of the terrorism 
that was unleashed on America that day. "It is instead the story of the kindness and generosity that was bestowed upon us when we descended into the beautiful town of Gander," she said. "It is a cathartic reminder of the capacity for human kindness even in the darkest of times."
When Bass first left Gander in 2001, she wanted to tell her story to anyone who would hear it. But she could only reach so many people. "The greatest gift of Come From Away is that now the whole world gets to learn about the people of Gander — and they deserve every minute of it," she said.
John Moore was named one of the 12 most influential theater critics in the U.S by American Theatre Magazine in 2011. He has since taken a groundbreaking position as the Denver Center's Senior Arts Journalist.
Come From Away Ticket information
Written by: Irene Sankoff and David Hein; Orchestrations by August Eriksmoen
Directed by: Christopher Ashley; Musical staging by Kelly Devine
Dates: November 13-25
Where: Buell Theatre, Denver Performing Arts Complex
Information: Call 303-893-4100 or BUY ONLINE
Groups: Call 800-641-1222
More Colorado theatre coverage on the DCPA NewsCenter
https://www.denvercenter.org/wp-content/uploads/2018/10/2_The-cast-of-COME-FROM-AWAY-Photo-by-Matthew-Murphy-2016.jpg
526
800
John Moore
John Moore
2018-10-15 15:45:55
2018-11-12 16:15:06
'Come From Away': The happy success of an unlikely Broadway musical