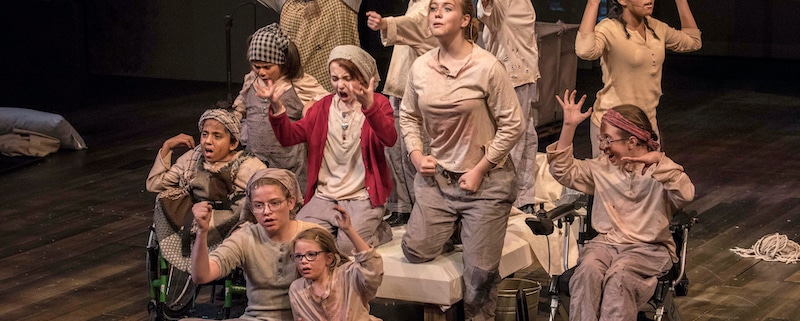 Phamaly Theatre Company Takes Programming Online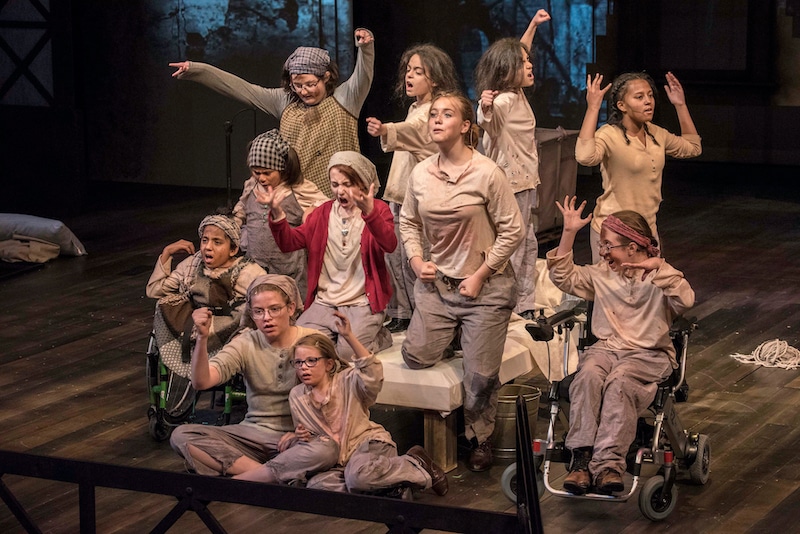 The cast in Phamaly's production of Annie. Photo by Michael Ensminger
If any theatre company knows about perseverance, it's Phamaly Theatre Company (PTC). 
Founded in 1989 to provide theatrical opportunities for people living with disabilities, Phamaly was near the brink of closure just three years ago. Through fierce determination by Company leadership and an outpouring of community support, it rebounded and was poised to offer a four-show lineup in its 2020 season. 
Then COVID-19 hit. 
But Phamaly was not to be sidelined.
"This is an extraordinarily difficult time for so many, said Regan Linton, Artistic Director of Phamaly. "In 'typical' times, theatre would provide a sacred space to connect, engage, and process with fellow humans. A place for conversation. Understanding. Empathy. Connection. Action. While the opportunity to gather in person isn't available to us at the moment, the need is still there…especially for many in the disability community who are uniquely isolated during this time." 
Phamaly Theatre Company quickly set about staying relevant and connected to the community by moving its programming online. "As theatre artists, we felt it was important to be creative and morph our method of delivery to meet the need," Linton continued. "Phamaly always strives for adaptation, and right now our skills of adaptation are not only appropriate, but vital."
In a newly-announced season, Phamaly features:
Alice in Wonderland Development Workshop

|  Now – June 20, 2020
A virtual exploration of the script and music in preparation for a future production
Getting the Dirt Series

|  June – December 2020
An insider's look at what makes Phamaly a family. Available by email.
Play Salon Readings

|  July 2020
A participatory exploration of classic and contemporary plays.
Disability Topics in Theatre

July – August 2020
A virtual discussion with Queens Theatre (NY) around the topics of casting, aesthetics and inclusive narratives
A web series that re-envisions classics through a disability lens
But perhaps most crucial to Phamaly is the decision to move its annual fundraiser online. With the continued closure of Colorado's indoor venues, this decision was at once difficult yet necessary.
"Phamaly had to cancel our summer production of Alice in Wonderland. Between Alice and our annual fundraiser, we had budgeted to bring in $180,000," said Linton. 
Instead, the Company will host "The Show Must Go On Webathon" on October 18, a tongue-in-cheek homage to the Jerry Lewis Telethon featuring music, comedy and eclectic acts by Company members.
"We hope the Webathon will provide an opportunity for audiences far and wide to still enjoy Phamaly's unique brand of artistry this summer (in a safe way!), and hopefully raise funds to alleviate the financial impact that Phamaly and so many arts organizations will experience over the next year and beyond."
Tune in to "The Show Must Go On Webathon" to support Phamaly's artistic mission. To learn more about Phamaly Theatre Company, its online programs and "The Show Must Go On Webathon," visit phamaly.org.
https://www.denvercenter.org/wp-content/uploads/2020/06/The-cast-in-Phamalys-production-of-Annie.-Photo-by-Michael-Ensminger.jpg
534
800
DCPA Press
DCPA Press
2020-06-23 10:09:27
2020-09-01 08:40:34
Phamaly Theatre Company Takes Programming Online