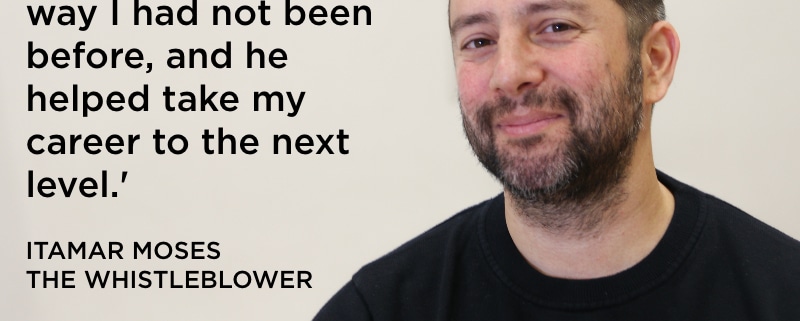 DCPA artistic leader was among first to toot 'Whistleblower' scribe's horn
Chris Coleman was on to Itamar Moses' talent long before the playwright took Broadway by storm with The Band's Visit
The theatre world took notice of playwright Itamar Moses when he won the Tony Award for writing the book to the 2018 Best Musical winner The Band's Visit. But DCPA Theatre Company Artistic Director Chris Coleman was on to him almost two decades before.
"I think of Chris as one of my major early champions and collaborators," Moses said. "He took me seriously in a way I had not been before, and he helped take my career to the next level."
Coleman staged the world premiere of Moses' play Outrage at Portland Center Stage back in 2003 and the premiere of his play Celebrity Row in 2006. When Coleman was hired by the Denver Center a year ago, he knew he wanted to champion Moses' work here.
"Itamar Moses is an absolutely brilliant playwright and an exciting voice to have on the season," Coleman said. "I'm incredibly honored to produce the world premiere of The Whistleblower. When I read it, I was absolutely knocked out."
The Whistleblower is about a screenwriter named Eli who realizes his dream when he is given the chance to create his own TV show — but immediately starts to question why he had that dream in the first place. Armed with a new sense of spiritual clarity, he sets out on a quest to serve up some hard truths to his co-workers, family, exes and friends. The playwright describes writing Eli to be like "firing a character out of a cannon," he said.
"I thought: Wouldn't it be funny if there were a character who just drops a grenade into the middle of every scene he walks into?" Moses said.
Coleman said the resulting play is "hilarious, thought-provoking and really kind of a spiritual journey," he said. "When this man recognizes that there is a discord between his inner self and his authentic self, he begins telling the truth about the relationships in his life. And the people around him think he's lost his mind. But he comes to a place that I think is very hopeful at the end."
While a Denver date has not yet been announced, the first national touring production of The Band's Visit will launch later this summer. Based on the eponymous 2007 Israeli film, it's the story of a stranded Egyptian police orchestra that arrives by mistake in a small village in Israel's Negev Desert and are taken in by the locals. Moses calls it a simple, understated and rule-breaking musical.
"It's about the little connections and interactions that happen between these Egyptian musicians and these Israeli townspeople over the course of the one night they spend together," Moses said.
While local Broadway fans await the possibility of an eventual Denver visit by The Band's Visit, they know The Whistleblower bows February 8. That will be full circle for the play, which was first workshopped by the South Coast Repertory Theatre at the 2014 Perry-Mansfield New Works Festival in Steamboat Springs. And Moses has Coleman to thank for it.
"It can take six months for your play to find a home or it can take six years, you never know," said Moses, 41. "I just remember that when Chris called me to say he was going to premiere it, I thought, 'Getting a call from Chris Coleman just makes my month.' That he's going to premiere my play makes me feel like I'm 24 again."
The Whistleblower: Ticket information

Written by: Itamar Moses, author of The Band's Visit, which received 10 2018 Tony Awards including Best Musical
Director: Oliver Butler (What the Constitution Means to Me?, New York Theatre Workshop; Thom Pain, Signature Theatre)
Dates: February 8-March 10 (Opens February 15)
Where: Space Theatre
Genre: Contemporary comic drama
Tickets: Call 303-894-4100 or
Photo gallery: First rehearsal for The Whistleblower
Go to our full photo gallery on the making of The Whistleblower
Video bonus: The Band's Visit on The Tonight Show
https://www.denvercenter.org/wp-content/uploads/2019/02/Itamar-Moses-The-Whistleblower-Quote.-Photo-by-John-Moore.jpg
592
800
John Moore
John Moore
2019-02-06 12:31:54
2019-02-09 16:25:13
DCPA artistic leader was among first to toot 'Whistleblower' scribe's horn