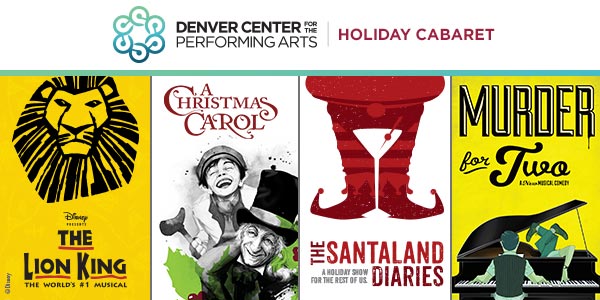 DCPA casts will cabaret for a cause Nov. 23
The Denver Center for the Performing Arts is partnering with the downtown Hard Rock Cafe for a night of holiday hits, rock 'n roll and showtunes featuring cast members from all of the productions currently on stage at the DCPA: Disney's The Lion King, A Christmas Carol, Murder for Two and The Santaland Diaries.
This special event on Monday, Nov. 23, will mark the first time in history that all DCPA shows performing at the same time will share a stage for a benefit concert.
One-hundred percent of ticket sales will equally benefit The Denver Actors Fund and DCPA Education's "send a child to a Theatre Company student matinee" program. Tickets are $25 and are available for purchase now.
The Denver Actors Fund is a source of immediate relief when members of the Denver metro theater community (on or off stage) find themselves in situational medical need. Most recently, the DAF raised $3,600 to help actor Daniel Langhoff offset
expenses after having been diagnosed with colon cancer. Langhoff, who starts a 24-week round of chemotherapy next week, is returning for his second straight appearance in the DCTC Theatre Company's A Christmas Carol.
To date, The 2-year-old Denver Actors Fund has distributed about $25,000 to help actors, directors, stage managers and more with medical bills, co-payments, supplies and other services. Volunteer action teams have logged more than 200 hours of service, delivered nearly 50 meals and about 15 bags of groceries. They also run errands, provide rides, child or pet care, personal company and more.
In 2014, DCPA Education served 611 schools in 59 counties with 638 events that reached more than 58,000 students.
Hard Rock Cafe Denver General Manager John Lindsay is donating the use of his venue as well as equipment to make the concert happen. The director of the cabaret performance is Denver Actors Fund event coordinator Ronni Gallup, who recently starred as Anita in Town Hall Arts Center's West Side Story and has worked extensively in event management.

Tentative lineup of performers:
Napoleon M. Douglas: A Christmas Carol
Blaine Krauss: Disney's The Lion King
Daniel Langhoff: A Christmas Carol
Ian Lowe: Murder for Two
Emma C. Martin: A Christmas Carol
Tonoccus McClain: Disney's The Lion King
Tiffany Hobbs: Disney's The Lion King
Tricia Hofacker: Disney's The Lion King
Gerald Ramsey: Disney's 'The Lion King'
James Michael Reilly: A Christmas Carol
Luke Sorge: 'The SantaLand Diaries'
Scott Swallen: Disney's The Lion King
John Wascavage: Murder for Two
Jake Williamson: A Christmas Carol
And … The Lion King Cubs (Young Simba and Young Nala)!
The full band of live musicians will include Neal Dunfee, Tag Worley, Jason Tyler Vaughn and Eli Acosta. The director of the DCPA Holiday Cabaret is Ronni Gallup. Special thanks to Denver native Aaron Quintana, company manager of Disney's The Lion King national tour.
The night also includes exclusive auction opportunities such as two tickets to opening night of the DCPA Theatre Company's Sweeney Todd featuring DeVotchKa with access to the opening-night party; two orchestra tickets with a backstage tour to Disney's The Lion King and more.
DCPA Holiday Cabaret: Ticket information
Where: Hard Rock Cafe, 16th Street Mall at Glenarm Place
5:30 p.m.: Happy Hour and Dinner
7-8:30 p.m.: Showtime
Tickets: $25; click here to order online
Previous NewsCenter coverage of The Denver Actors Fund
How Denver Actors Fund is helping the local theatre community
Denver School of the Arts students make remarkable donation to Denver Actors Fund
Denver Actors Fund success stories
To apply for Denver Actors Fund aid, click here
Editor's note: DCPA Senior Arts Journalist John Moore is the founder and Executive Director of The Denver Actors Fund.
https://www.denvercenter.org/wp-content/uploads/2018/04/featured-image-2941.jpg
300
600
John Moore
John Moore
2015-11-10 01:38:00
2015-11-10 01:38:00
DCPA casts will cabaret for a cause Nov. 23