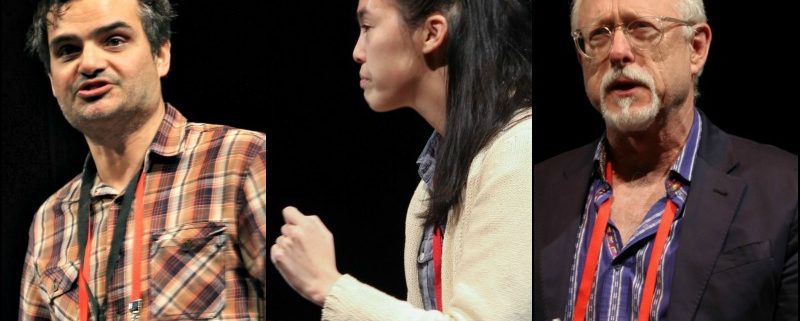 DCPA completes field of five New Play Summit playwrights
The DCPA Theatre Company has announced the five playwrights whose works will be featured at the 2017 Colorado New Play Summit next Feb. 18-26. The 12th annual festival will feature readings of new works by Donnetta Lavinia Grays, Rogelio Martinez, Eric Pfeffinger, Robert Schenkkan, and Lauren Yee.
The Colorado New Play Summit presents readings of new plays over two weeks as the playwrights continue to craft their developing works alongside a full creative team of actors and crew. Audiences also are offered the opportunity to see two fully staged world premiere productions that have emerged from the previous year's Summit. The featured full stagings in February will be The Book of Will by Lauren Gunderson and Two Degrees by Tira Palmquist.
(Pictured above, from left: Rogelio Martinez, Lauren Yee and Robert Schenkkan at the 2016 Colorado New Play Summit. Photos by John Moore for the DCPA NewsCenter.)
The Colorado New Play Summit has introduced 48 new plays in its history, more than half of which returned to the stage as full Theatre Company productions. Recent Summit world premieres have included Matthew Lopez's The Legend of Georgia McBride (which made its Off-Broadway debut at New York's MCC Theater), Samuel D. Hunter's The Whale, Theresa Rebeck's The Nest, Tanya Saracho's FADE, Eric Schmiedl's adaptation of Kent Haruf's Benediction, Marcus Gardley's black odyssey, Karen Zacarias's Just Like Us, Jeffrey Haddow and Neal Hampton's Sense and Sensibility The Musical, and Dick Scanlan's reimagined version of The Unsinkable Molly Brown.
2017 NEW-PLAY READINGS
Last Night and the Night Before
By Donnetta Lavinia Grays
When Monique and her 10-year-old daughter Samantha show up unexpectedly on her sister's Brooklyn doorstep, it's the beginning of the end for Rachel and her partner Nadima's orderly New York lifestyle. Monique is on the run from deep trouble, and her husband Reggie is nowhere to be seen. The family's deep Southern roots have a long reach, and they grab hold of Rachel's life stronger than she could have ever imagined. The play was featured in the 2015 National New Play Network's National Showcase of New Plays and won the Todd McNerney National Playwriting Contest the same year.
Blind Date
By Rogelio Martinez
A DCPA Theatre Company commission
Before the advent of Match.com and eHarmony, Ronald Reagan and Mikhail Gorbachev try to build a relationship old school when they sit down to open up channels between the U.S. and the Soviet Union. Though members of their cabinets try their hardest to keep them on track, the leaders steer the conversation to pop culture and films. While the men chip away at the mistrust between their countries, Nancy Reagan and Raisa Gorbachev play out a passive-aggressive tango that mirrors their husbands' negotiations in this conclusion to Martinez's Cold War trilogy where "edgy comedy and sudden sorrow intertwine" (American Theatre).Martinez previously wrote the DCPA Theatre Company's world premiere of When Tang Met Laika.
Human Error
By Eric Pfeffinger

Madelyn and Keenan are NPR-listening, latte-sipping, blue-state liberals, while Heather and Jim are NRA-cardholding, truck-driving, red-state conservatives. After an unfortunate mix-up by their blundering fertility doctor, Heather is mistakenly impregnated with the wrong child. Now the two couples face sharing an uproarious nine-month's odyssey of culture shock, clashing values, changing attitudes and unlikely – but heartfelt – friendships. American Theatre has said, "Pfeffinger's social conscience is matched by his amazing comic sensibilities" and his new play is no different.
Hanussen
By Robert Schenkkan
A DCPA Theatre Company commission
In 1930s Berlin, the brilliant mentalist Eric Jan Hanussen captivates German audiences with his ability to read minds and his uncanny predictions of the future. His reputation brings him to the attention of avid occultist Adolph Hitler. While his star seems to be on the rise, the consequences of his next major prediction (and his own true identity) may break his spell. A new drama from Tony and Pulitzer Prize-winning playwright Robert Schenkkan (All the Way, The 12). Based on true events.
Manford From Half Court, or The Great Leap
By Lauren Yee
DCPA Theatre Company Commission
When an American college basketball team travels to Beijing for a "friendship" game in the post-Cultural Revolution 1980s, both countries try to tease out the politics behind this newly popular sport. Cultures clash as the Chinese coach tries to pick up moves from the Americans and Chinese American player Manford spies on his opponents. Inspired by events in her own father's life, Yee "applies a devilishly keen satiric eye to…her generation (and its parents)" (San Francisco Chronicle).
Check out our Colorado theatre coverage on the DCPA NewsCenter

2017 FULLY STAGED WORLD PREMIERES

The Book of Will
By Lauren Gunderson
Developed at the 2016 Colorado New Play Summit
Without William Shakespeare, we wouldn't have literary masterpieces like Romeo and Juliet. But without Henry Condell and John Heminges, we would have lost half of Shakespeare's plays forever! After the death of their friend and mentor, the two actors are determined to compile the first Folio and preserve the words that shaped their lives. They'll just have to borrow, beg and band together to get it done. Lauren Gunderson weaves a hilarious and heartfelt story inspired by the true story of Shakespeare's First Folio.
---
Two Degrees
By Tira Palmquist
Developed at the 2016 Colorado New Play Summit
The smallest changes can lead to the biggest impact, and no one knows that better than Emma, a scientist studying climate change in Greenland. Still grappling with the unexpected death of her husband, she is invited to the nation's capital to share her findings at a Senate hearing that could define her career and her cause. But if she can't overcome her tumultuous inner struggle, her dedication and sacrifices may not be enough to make the difference in the world that she's always wanted.
The 12th Annual Colorado New Play Summit
Launch Weekend: Feb. 18-10, 2017
Festival Weekend: Feb. 24-26, 2017
More details: denvercenter.org/summit
https://www.denvercenter.org/wp-content/uploads/2018/04/featured-image-3618.jpg
470
800
John Moore
John Moore
2016-11-03 11:01:00
2018-06-14 13:43:26
DCPA completes field of five New Play Summit playwrights