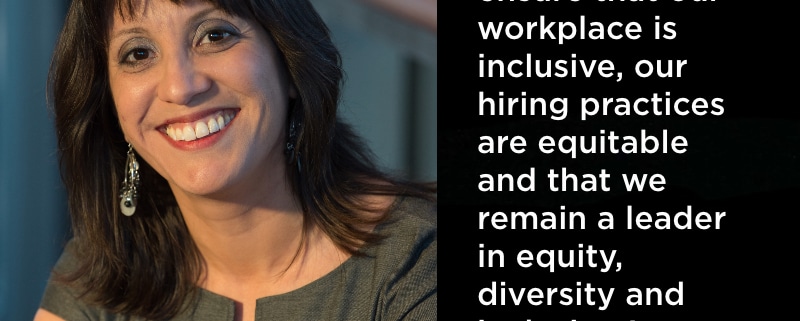 DCPA hires Lydia Garcia to newly created equity leadership position

'It is imperative that we reflect the increasing diversity of our region,' chairman says in announcing groundbreaking executive role
While many companies have stated an intended desire to make their workplaces more diverse, the Denver Center for the Performing Arts took a major step toward turning intention into action today when it announced the appointment of Lydia Garcia as its first-ever Executive Director of Equity and Organization Culture.
"As our community has grown and our industry has changed, it is imperative that we reflect the increasing diversity of our region not just through our performances, but also throughout our hallways, rehearsal studios and production shops," said DCPA Chairman Martin Semple. "Lydia's expertise will help us to ensure that our workplace is inclusive, our hiring practices are equitable and that we remain a leader in equity, diversity and inclusion into the foreseeable future."
As a core facilitator for artEquity,  an organization dedicated to supporting equity-based arts initiatives, Garcia has helped reshape the national conversation about equity, diversity and inclusion (EDI) in the American Theatre. She believes her appointment to this newly created executive-level position sends an important message to DCPA employees, to the people of Colorado and to the national theatre community that the DCPA is putting its words into practice.
"For the DCPA to devote its resources to a full-time position, especially one at the executive level, is the DCPA saying, 'Not only is this really important to us for the well-being of our organization,' this is the DCPA saying, 'We really need this,' " Garcia said. "I think this is a major leap forward."
'I see my hiring at the DCPA as an important invitation to our peers and our community to hold us accountable.' – Lydia Garcia
Garcia believes the DCPA's local and national prominence will make its dedication to "walk the EDI talk" resonate with other arts organizations currently searching for EDI models. Garcia, a graduate of both Harvard and the Yale School of Drama, sees her hiring as "a powerful and highly visible example of the DCPA stewarding the field," as well as, she said, "an important invitation to our peers and our community to hold us accountable."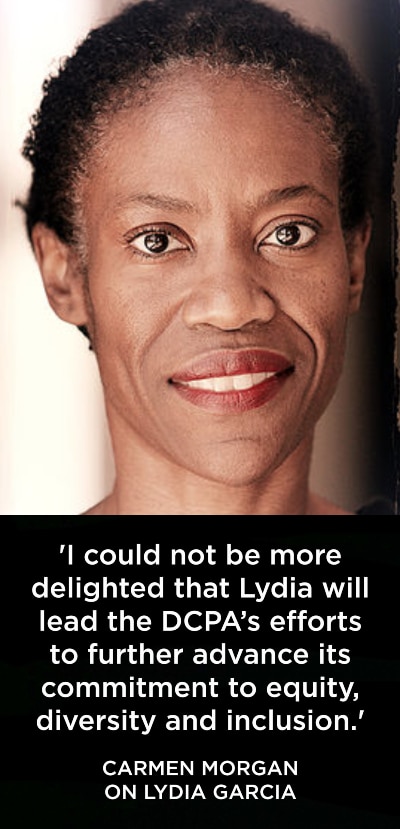 Garcia said a commitment to EDI only begins with hiring more people who have been historically marginalized or outright excluded from full-time employment. The next step, she said, "is really taking a hard look at how companies are still unintentionally excluding people through their historical employment patterns and everyday workplace cultures."
The DCPA has become a field-wide leader in EDI over the past few years, Garcia said, starting with its public embrace of EDI advancement as a core company value in 2015. Since then, the DCPA has joined a national cohort of arts practitioners committed to EDI, diversified its Board of Trustees and hired artEquity to provide in-house EDI training, all while continuing its longstanding tradition of presenting theatre productions that reflect a wide variety of underserved voices and communities of color.
With the addition of Garcia to the DCPA Executive Team, the DCPA will continue to foster an environment that celebrates diversity and embraces inclusion for team members, audiences and students, CEO Janice Sinden said.
"Lydia has been instrumental in our internal training sessions and inspirational in our national cohort meetings," said Sinden. "We are excited to further our work under her guidance."
And there remains much work to be done.
"One of the things artEquity teaches that is both simple and yet incredibly profound is that if you want to change ­– you actually have to change," Garcia said. "And that can oftentimes be very challenging."
'One of the things artEquity teaches that is both simple and yet incredibly profound is that if you want to change ­– you actually have to change.' – Lydia Garcia
Sinden said Garcia is uniquely qualified to lead the DCPA's EDI efforts in part because, in addition to her experience as a facilitator, she is a lifelong theatre practitioner who has spent 25 years working primarily as a dramaturg – that's a person who researches the world and history of any given play and provides context to the cast and creative team.
The immigrant family story
Garcia, who is bilingual, was born in Los Angeles to Mexican immigrants and later briefly lived with them in Guadalajara. "So I actually have the experience of being a native-born American who is also an immigrant," she said.
Her first encounter with the arts was a school production of Romeo and Juliet at Bonita High School in La Verne, California. "I went to see that play and there was no turning back," said Garcia. "I still remember that the student playing Juliet sat behind me in Algebra II class. I was absolutely mesmerized by her scene in the crypt. I was wondering, 'How did she stab herself and yet not really stab herself?' I just had to know how she did it. That just really captured me, and I have not stopped asking questions about theatremaking ever since."
Garcia studied literature at Harvard, where, "I can't remember a time when I didn't have at least one book on hand, and sometimes as many as three and four," she said. It was also at Harvard where Garcia learned every theatre discipline first-hand, from acting to stage-managing to choreography to hanging lights to stitching costumes. "I was even the master electrician for a while," said Garcia, who went on to earn her master's degree in Dramaturgy and Dramatic Criticism from the Yale School of Drama in 2008.
Garcia has since worked with some of the most prestigious theatres in the country, including Center Theatre Group in Los Angeles; CalArts in Santa Clarita, California; the Shubert Theatre in New York;  and the Oregon Shakespeare Festival in Ashland, where she served as both Resident Dramaturg and Literary Manager. In Oregon, she dramaturged more than 20 plays including the world premieres of The Yeomen of the Guard, Fingersmith and Octavio Solis's Quixote, while also contributing to the company's groundbreaking EDI efforts.
Garcia left the Marin Theatre Company in Mill Valley, California, to join Founder and Director Carmen Morgan at artEquity, which has worked extensively with Theatre Communications Group (the national service bureau for the theatre industry) to normalize EDI values as a priority at its nearly 500 member organizations. For the past 2½ years, Garcia has presented artEquity's nationally recognized EDI training to employees, staff and trustees of performing-arts organizations throughout the country, including the DCPA.
"I could not be more delighted that Lydia will lead the DCPA's efforts to further advance its commitment to equity, diversity and inclusion," said Morgan. "The pairing of a theatre professional who possesses a deep passion for social justice with a theatre organization that is at the cusp of a transformation is the ultimate goal of this work."
Putting words into practice
Garcia's primary responsibilities at the DCPA will include:
Identifying and removing internal policies and practices that are barriers to equity.
Facilitating employee EDI training.
Helping to assess the equity and inclusion competency of potential staff hires.
Fostering a unified culture throughout the DCPA where all team members feel welcomed and valued.
But to start, Garcia, said, her primary duty will be to listen.
"One of my hopes is to get to know on a real personal level every single member of the staff at the DCPA," she said. "Part of my work is going to be to find patterns in the experiences that people are able to share with me about their day-to-day experiences, and then link those back to the DCPA's values and policies."
Garcia is well aware that only a handful of performing-arts organizations in the country have had the resources to create a position like hers, which makes the territory ahead of her in Denver largely uncharted.
"One of the challenges for all of us in EDI is that we are trying to imagine a world that hasn't yet existed," she said. "For us to do that, we really have to push past what we've always known."
Garcia was chosen from among a field of 178 candidates identified through a national search headed by ZRG Partners. She joins an Executive Leadership team at the DCPA that also includes:
Chris Coleman: Artistic Director, Theatre Company
John Ekeberg: Executive Director, Broadway
Gretchen Hollrah: Chief Operating Officer
Lisa Mallory: Vice President, Marketing and Sales
Yovani Pina: Vice President, Information Technology
Janice Sinden: President and CEO
Shelley Thompson: Vice President, Development
Charles Varin: Managing Director, Theatre Company
Allison Watrous: Executive Director of Education and Community Engagement
John Moore was named one of the 12 most influential theater critics in the U.S. by American Theatre Magazine. He has since taken a groundbreaking position as the Denver Center's Senior Arts Journalist.
https://www.denvercenter.org/wp-content/uploads/2019/07/LYDIA-GARCIA-QUOTE.jpg
561
800
John Moore
John Moore
2019-07-10 23:50:02
2019-07-13 11:47:00
DCPA hires Lydia Garcia to newly created equity leadership position