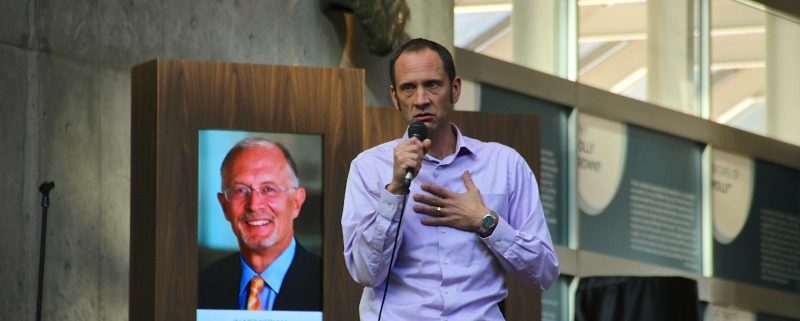 DCPA to celebrate Randy Weeks' life on Nov. 3
On Oct. 10, one day after the death of Randy Weeks, a tribute throughout the Denver Performing Arts Complex included dimmed lights, pre-show announcements, a moment of silence and visual displays. Video by John Moore, David Lenk, Heidi Bosk, Hope Grandon, Emily Lozow, Chelley Canales and Emily Kent.
The Denver Center for the Performing Arts will host a celebration of President Randy Weeks' life starting at 4 p.m. on Monday, Nov. 3, in the Buell Theatre, it was announced today.
"This gathering will be a true celebration of life – with an emphasis on 'celebration' – that reflects Randy's joyful and playful spirit," said DCPA Director of Programming John Ekeberg.
Weeks died last week in his sleep in a London hotel room. He was 59.
The Nov. 3 program will include performances and a variety of reflections from friends and family from various parts of Weeks' life.
Meantime, poignant tributes have continued to come in from around the world, both directly to the DCPA and through social media.
Here is one post from Kriss Anderson, whose outrageous Dixie Longate character has performed at the DCPA's Garner Galleria Theatre four times:
"The theatrical world is a little worse off for losing such a pioneer and champion of the arts. Randy Weeks was the top dog at the DCPA and ended up bringing the Tupperware Party to Denver. It was through his guidance and enthusiasm of his entire team that I have had the opportunity to create my new show Never Wear a Tube Top…. Randy saw in this little gal from the trailer someone with something to say and he gave me the stage where I could say it.
"What set Randy apart from many of the other presenters that I have met was not just his golf sweaters that he wore around his shoulders like he was a guest star on an old episode of The Love Boat but also his genuine excitement about how we were going to make each engagement even more fantastic than the last. He was not only a good friend, but he was also a visionary who constantly worked to develop new artists and cultivated impressively supportive audiences. He was instrumental in pushing me to be more creative and take more risks than even I was comfortable doing. I will always be indebted to him for seeing something in me that was worthy of being part of the Denver Center family.
"He truly lived the way I talk about in my show. He was always looking for a way to make things better, to have a positive effect, to "Bump A Duck." Even now, I know he will be up there looking down and making sure that everyone he knew goes out and keeps sharing something truly beautiful with the world.
"Take a moment to do that today. Go out and do something that is exciting or daring or breath taking. If someone needs a little help in life or a little chance to shine and feel special, be like Randy and give them the opportunity. Go out there and Bump a Duck."
At an employee meeting on Tuesday, Director of Marketing Jennifer Nealson told DCPA staff that Weeks' unexpected death would not change the timing of the DCPA's ongoing search for a new CEO to replace the retiring Daniel L. Ritchie, who is staying on as chairman of Trustees.
"That is moving forward," Nealson said.
Memorial gifts can be made to The Randy Weeks Memorial Fund for the Bobby G Awards, which supports the advancement of musical theatre for Colorado high school students. Please make checks payable to Denver Center for the Performing Arts and mail to: DCPA Development Office, 1101 13th Street, Denver, CO 80204.
For updated news, comments, condolences, a photo gallery and more, visit the Denver Center's NewsCenter
Director of Programming John Ekeberg addresses employees at a DCPA company meeting on Tuesday to discuss the death of Randy Weeks. Photo by John Moore.
Our previous coverage of the death of Randy Weeks:
DCPA president Randy Weeks dies at London conference
Video: Randy Weeks honored with dimmed lights, moments of silence
Photo gallery
Revisiting Randy Weeks and the Colorado theatre community's "It Gets Better" video"
https://www.denvercenter.org/wp-content/uploads/2018/04/featured-image-1300.jpg
533
800
John Moore
John Moore
2014-10-15 15:45:00
2014-10-15 15:45:00
DCPA to celebrate Randy Weeks' life on Nov. 3