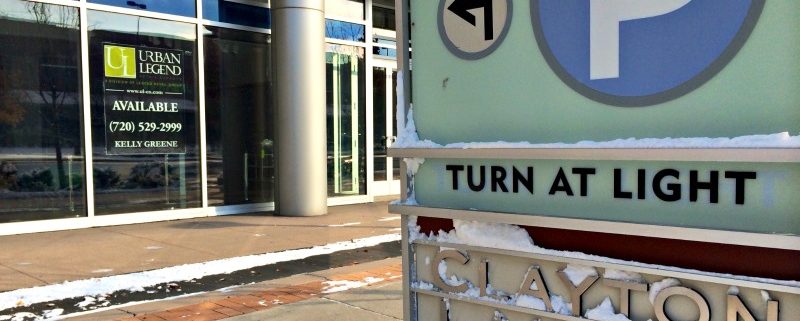 DCPA to open interactive holiday storefront in Cherry Creek North

The DCPA's new, temporary holiday box-office store is located at 2771 E. First Ave.
For 35 years, audiences have come to the Denver Center for the Performing Arts for world-class performances, academy instruction and cultural engagement.
This holiday shopping season, the DCPA is coming to them. Well, to Cherry Creek North, to be specific.
For the first time, the DCPA is opening up a Holiday Box Office in an off-premises storefront. But the temporary "pop-up store" located between Detroit and Clayton streets on First Avenue will do much more than just sell tickets and gift certificates (with all handling fees waived).
The 4,000-square-foot space opens Nov. 21 and runs through Dec. 23 — about the length of a typical theatre production. But this unique bit of enterprise in Cherry Creek will include a stage for free performances, free activities for kids and plentiful information about the wide variety of activities available at the DCPA.
During non-performance times, a trunk filled with props and costumes will be available for kids who want to go up on the stage and play around. Anytime craft-making activities will include " "Origami Santa" and a "Make Your Own Ornament."
The store shares space in a building anchored by an Orvis fishing-gear store on the Clayton Street side, and Bose on the Detroit Street side. The storefront directly faces Nordstrom, separated by First Avenue.
The store is being designed by DCPA Scenic Designer Lisa Orzolek to include displays that will give browsers an up-close look at DCPA Theatre Company costumes, props and miniature set designs from recent or current productions including The Unsinkable Molly Brown and A Christmas Carol. The Denver city skyline from Molly Brown will line the back wall of the store.
"We will be giving visitors a high-level view of everything we do," DCPA Creative Director Rob Silk said, "and a really fun place to hang out."
Programming will include appearances by DCPA actors, holiday storytelling, and free class demonstrations for both kids and adults covering everything from instant character creations to juggling and circus skills. Cast members from Jersey Boys, A Christmas Carol, The Grinch Who Stole Christmas and The SantaLand Diaries are scheduled to appear.
DCPA staffers will be on hand to help potential audiences match interests with specific upcoming shows such as the national touring production of Cinderella or the searing Theatre Company play One Night in Miami, which puts Cassius Clay, Jim Brown, Sam Cooke and Malcolm X in the same hotel room right after Clay won the world heavyweight boxing title from Sonny Liston 50 years ago.
​
The goal, Silk said, is to create a "theatrical holiday experience" that will create a respite from a shopper's typical retail experience.
"Think about it," Silk said. "If you are tired of shopping, you can go sit on a bench and freeze, or you can bring your kid in to the store, let them run around on the stage with angel wings or a king's crown … and just have some fun."
And while Silk hopes to introduce shoppers to plenty of entertaining and innovative gift-buying ideas, such as classes offered by the DCPA's award-winning Education Division that already serves more than 50,000 area residents a year, the greater intent "is to change people's perception of who we are."
The daily mission at the DCPA is to make theatre more of an everyday experience, said Silk. But to reach and inform a new audience, you have to get out into the community you serve. One that may not know the DCPA hosts a regular the Kids Nights on Broadway series, or that wedding receptions are held in the Seawell Ballroom.
A Christmas tree will be lined with small donation envelopes. Shoppers will be encouraged to give the gift of theatre to underprivileged children. A $20 donation will send one young person to an upcoming play.
"By creating a place for people that is outside where we normally are, we're putting ourselves out there in a whole new way," he said. "Hopefully by going to those people who might not know who we are, and not waiting for them to come to us, we exposing what the DCPA has to offer to new people."
The DCPA has been an institution in the Colorado community for 35 years. "And that is great," Silk said, "but that doesn't mean you can't do something new.
"We fully realize that we create and present great theatre, and that we deliver amazing classes for kids and adults. But we also realize that if we wait around for people to come to us, we're not being active member of the community. By doing this, we are putting a lot more focus on our community and on our customers.
"There are people who come to the DCPA once a year for a holiday show or another tradition, and we appreciate that. But we want to reinforce the idea that there are great things happening at the DCPA every day."

DCPA Holiday Box Office: At a glance
2771 E. 1st Ave. between Clayton and Detroit streets in Cherry Creek North
Open Nov. 21-Dec. 23
Hours: 11 a.m.-7 p.m. Fridays and Saturdays, plus Dec 22 & 23; 1-5 p.m. Sundays
No handling fees on any in-store ticket purchases
https://www.denvercenter.org/wp-content/uploads/2018/04/featured-image-1228.jpg
536
800
John Moore
John Moore
2014-11-13 17:24:00
2014-11-13 17:24:00
DCPA to open interactive holiday storefront in Cherry Creek North