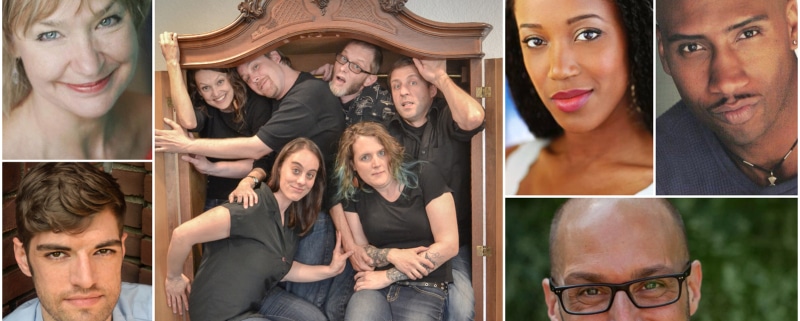 DCPA's Off-Center names Colorado writers selected for micro-theatre project
Five 'Bite-Size' selections will be presented at BookBar along with a reading series featuring 12 additional finalists
A whole mouthful of bite-sized theatre is coming to northwest Denver.
Off-Center, the Denver Center's most unconventional line of programming, today announced its selections for Bite-Size, an evening of original short plays and performance pieces by Colorado artists — all with bookish twists — to be performed environmentally this fall at BookBar, an independent book store and wine bar in the Tennyson Street Arts District.
Each of the five selected works will be awarded $1,000 and produced as part of a full evening of micro-theatre that will run for 24 performances from Oct. 23-Nov. 18 at 4280 Tennyson St.
"Micro-theatre is essentially short pieces with incredibly intimate audiences of 10 to 15 people," said Off-Center Curator Charlie Miller. "It is a unique approach to performance that is popular internationally, and we are excited to produce it with local artists in Denver."
Bite-Size is conceived and will be directed by 2017 True West Award winner Meridith Grundei, also one of Westword's 2017 Colorado Creatives.

"This was an incredibly competitive process with 213 eligible submissions from 101 Colorado zip codes," said Miller. "Every script was read by at least three different readers in a blind process that ensured the works were judged on their own merits, with the identity of the playwright hidden. The reading and selection committees were impressed with the depth of talent and quality of work that has come out of our vibrant creative community."
Still, several prominent members of the local theatre community emerged from the anonymous selection process, including award-winning actor and director Edith Weiss; 2016 True West Award winner Jeffrey Neuman; poet and actor Theo E.J. Wilson, who recently starred in the Emancipation Theatre's Honorable Disorder; 2016 True West Award winner Miriam Suzanne; Kristen Adele Calhoun of Curoius Theatre's In the Red and Brown Water; and Sean Michael Cummings, currently performing in Miners Alley Playhouse's District Merchants.
"Choosing only five for production was heartbreaking, so we have selected 12 additional pieces to be part of a post-show reading series at BookBar," Miller said. "This gives our finalists the opportunity to hear their work out loud and share their wonderful pieces with the community."
In addition to Colorado-based playwrights and creators, Off-Center also plans to hire all performers and other collaborators locally, Miller said.
Each evening of Bite Size will feature the five selected original works performed in a different indoor or outdoor space simultaneously. Groups of 10 will see each piece in different orders. During scheduled breaks between performances, audiences will drink wine, eat tapas and socialize. In all, each evening will accommodate around 70 audience members.
BookBar is located at at 4280 Tennyson St. Photo courtesy BookBar website.
The selected plays
A Pocket Full of Dandelions
By Kristen Adele Calhoun and Theo E.J. Wilson
Directed by Ashley Hamilton
While rebellion thrashes outside, in the library of Denver's maximum security prison, two women struggle to decide if liberty and justice is indeed for all. Along the way, they find an unlikely accomplice in this powerful and poetic drama.
Holy Couch
By Edith Weiss
Directed by Geoffrey Kent
The face of none other than Jesus Christ appears on the couch of a well-to-do suburban couple in this hilarious and surprisingly relevant comedy.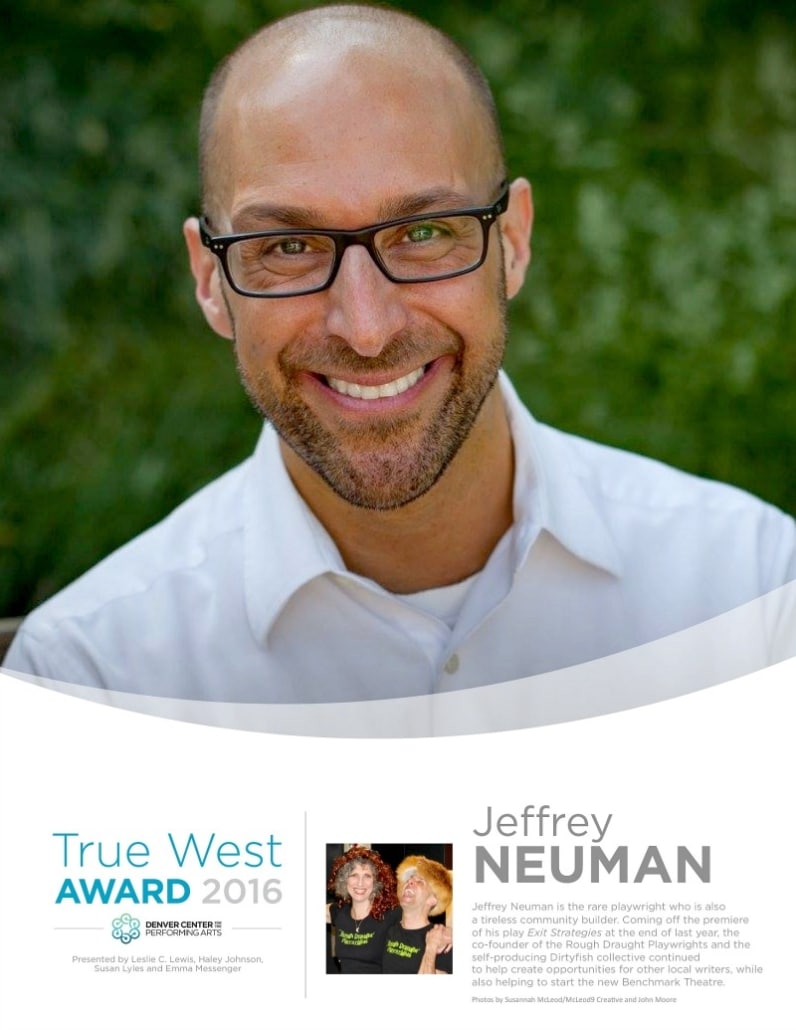 Marginalia
By Jeffrey Neuman
Directed by Mare Trevathan
In this charming, intimate and sly play, a reticent customer at a used bookstore is confronted by the shop's manager when caught defacing some books.
Outside the Room
Created by Theatre Artibus (Buba Basishvili and Meghan Frank) and Grapefruit Lab (Julie Rada, Kenny Storms, and Miriam Suzanne)
Conceived with writing by Larry Mitchell
A family struggles to find humanity and normalcy in a world made uncertain and strange after the transformation and "othering" of one of their own. This physical theatre piece imagines what happens on the other side of the iconic room in Kafka's Metamorphosis.
Toxoplasmosis (or) High Strangeness
By Sean Michael Cummings
Directed by Meridith C. Grundei
After the (maybe) accidental cremation of a cat and the discovery of a mysterious book, Ali and Hannah are thrust into quantum uncertainty. They'll have to bridge social, generational and metaphysical chasms if they want to escape this veterinarian's office intact.
The finalists
These 12 additional plays will be featured as part of a post-show reading series on Fridays and Saturday nights through the run. Specific dates and times to be announced:
Malum by Ashley Rice
Antiquarian by Jeff Carey
Help – Not Just Anybody by Leslie C. Lewis
Impact by Lorraine Carter-Larocque
Rats Who Eat Butterflies by Katherine Millett
Reindeer Cupcakes by Jennifer Faletto
Something to Read at the End of the World by Maureen Biermann
The F Word by Claire Caviglia
The Lotus Eaters by Travis Duncan
The Missing Piece by Christina Miller & Addie Levinsky
The Playdate by Rachel Hecker
This Side of the Room by Dakota C. Hill
The semi-finalists
Allegory of a Library by Kenzie Kilroy
Alice by Michael Bouchard
Another Day by Kenneth Wajda
Easy Slow Cooker Recipes for the Whole Family by Colette Mazunik
Finally by Pamela Nocerino
Happy Birthday by Tara Rynders, Lia Bonfilio, and Elizabeth Carena
Mommy Digital by Warren Epstein
More Than Daisy Dares by Ethelyn Friend
Once Upon a Time There Was a Children's Book Author by Lucy Wright
Once Upon a Midnight Dreary by Katy Williams
Primordial Soup(ish) by Peter Nemenoff
Roach by Regan Linton
The Black Square She Wears by Eddy Jordan
The Distance, in Five Parts by Anne Penner
The Forgetful Storyteller by Royce Roeswood
The Interview by Robert Garner McBearty
Bite-Size: An Evening of Micro Theatre:

Ticket information



Created and Directed by Meridith C. Grundei
Dramaturgy by Heidi Schmidt
Oct. 23-Nov. 18
At BookBar, 4280 Tennyson St.
Tickets can be purchased later this summer at denvercenter.org, 303-893-4100 or in person in the Helen Bonfils Theatre Complex at 14th and Curtis streets
More about the selected writers:
Kristen Adele Calhoun (A Pocket Full of Dandelions) is an actor, writer and organizer. She is currently co-writing Canfield Drive, a play about Ferguson, Missouri under the commission of 651 ARTS and The St. Louis Black Repertory Theatre through the support of the National Performance Network. Other writing credits: "Aint Gonna Let Nobody: Songs and Stories of the Civil Rights Movement" under the commission of the NAACP; and "With These Hands – The Dr. Justina Ford Story" under the commission of Denver's Black American West Museum. A native of Dallas, Texas, she is a graduate of the University of North Texas and Rutgers University. www.KristenAdele.net
Sean Michael Cummings (Toxoplasmosis (or) High Strangeness)  is a playwright, actor, director, juggler, comedian and native of Colorado. Sean's plays have been produced by Colorado State University, Seattle Repertory Theatre, Zing! Theatre Company, Poudre High School, Denver Academy and Noco Arts Alliance. Recent acting credits include District Merchants, The 39 Steps, (Miners Alley Playhouse) White Rabbit Red Rabbit (Pipedream Productions, True West Award), and Tommy Wiseau's The Room (Alamo Drafthouse Littleton). Sean is a proud alumnus of the KC/ACTF Playwriting Intensive and the Orchard Project Core Company, and was the 2017 recipient of the Orchard Project Fellowship for Playwriting.
Grapefruit Lab (Outside the Room) is the combined vision of long-term collaborators Julie Rada, Kenny Storms, and Miriam Suzanne — creating cross-media and community-embedded performance. Grapefruit Lab made its debut in February 2018 with Jane/Eyre— a queer adaptation of the classic novel, featuring music by Teacup Gorilla and members of Artibus. Previous works (performed as Vicious Trap) include: The In-Between (2016), Glass (And Other Imponderables) (2011), Missa Populi (2010), and A Murder One Less(2009).
Jeffrey Neuman (Marginalia) is an award-winning playwright whose work has been performed at theaters and festivals across the United States, Australia and the United Kingdom. His plays have been produced and/or developed by Emerging Artists Theatre, LaMaMa, National Public Radio, Edinburgh Fringe, FUSION Theatre Company, and the Samuel French Off-Off Broadway Festival, among others. He is a Heideman Award Finalist, cofounder of Rough Draught Playwrights, and a member of the Dramatists Guild of America. www.theaterbyjeff.com.
Theatre Artibus (Outside the Room), founded in 2017 by Meghan Frank and Buba Basishvili, is an international team of theatre makers dedicated to strengthening community through the experience of live performance. Through laughter, wonder and curiosity, Artibus strives to dissolve barriers and create connection. Current original works include: Oops, a family show about the glories of failure, and Tea Time, an absurdist comedy that explores power and the folly of hope.
Edith Weiss (Holy Couch) was hired in the 1982/83 season as a writer and actor for the original show produced by the Denver Center, Is Denver Burning? No need to do the math, who's got time for that?  Suffice it to say that from then to now she has been acting, directing, and writing in theaters all over Denver. She's done improvisation professionally in Denver and around the country, and toured with her stand up around the country and internationally for the military. Her plays for children, for educational theater, and for community theaters have been published by Dramatics, Pioneer, Brooklyn, Heuer, Eldridge, and Big Dog Publishers.  Her short plays have been produced in competitions in New York, Chicago, Kansas City, and Boston.
Theo E.J. Wilson (A Pocket Full of Dandelions) is a founding member of the Denver Slam Nuba team, who won the National Poetry Slam in 2011. Theo attended Florida A&M University, where he obtained his B.A. in Theater Performance. He returned to Denver and is now the Executive Director of Shop Talk Live, Inc. In 2013, Theo began speaking with "Rachel's Challenge." In 2015, Theo went undercover online in the Alt-Right to investigate the roots of racial hatred in millennials. His TED talk on the topic has since received more than 11 million views.
About Off-Center
As the most unconventional line of programming of the Denver Center for the Performing Arts, Off-Center specializes in unexpected experiences such as Sweet & Lucky, the first large-scale immersive show in Denver and The Wild Party, a decadent 360° party set in the Roaring 20s.  An Off-Center show is like no other theatre experience—by design. Off-Center focuses more on connecting people and upending expectations than on adhering to tradition. If you leave the show thinking "I've never seen anything like it," then Off-Center has done its job. We want you to lose yourself, to welcome surprise and to remember that life is better when you live it Off-Center.
About BookBar
BookBar is a community bookstore wine bar for the whole family, featuring a highly curated selection of titles for all ages. Enjoy many local and house crafted hors d'oeuvres, wine, beer, coffee, tea and desserts at our bar. We are proud to host hundreds of literary events per year including author readings, story times, and book clubs.
Follow the DCPA on social media @DenverCenter and at the DCPA's online News Center.
https://www.denvercenter.org/wp-content/uploads/2018/05/featured-image-9354.jpg
446
800
John Moore
John Moore
2018-05-22 09:53:00
2018-11-26 15:12:42
DCPA's Off-Center names Colorado writers selected for micro-theatre project