'Dear Evan Hansen' helps Denver students find their own voices
Video by John Moore and David Lenk for the DCPA NewsCenter.
Broadway League grant allows DCPA Teaching Artists and visiting actors to encourage low-income high-school students 'to use art to make art'
One by one, students from Kunsmiller Creative Arts Academy were asked to put their feelings into words after seeing and studying the touring Broadway musical Dear Evan Hansen in Denver last fall. Said one: "Even if you haven't done anything remarkable yet, you still mean something." Said another: "It is not weak to ask for help." And another: "Not only will you be found – you are not alone."
The circle eventually ended at visiting Dear Evan Hansen cast members Phoebe Koyabe and Stephen Christopher Anthony, who were visibly moved by the exercise.
"That just grips your heart a little bit," said Koyabe, herself only 17 years old. "We love this show so much, and it is nice to see that it is affecting other people, and giving them hope."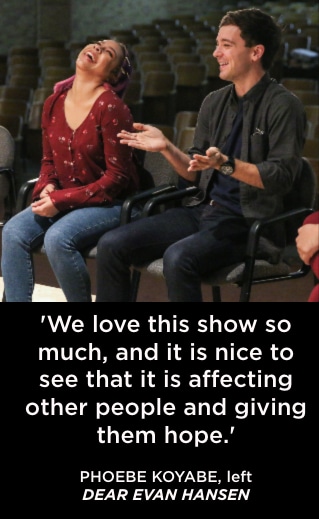 One of the main themes of the 2017 Tony Award-winning Best Musical is the importance of young people finding their own authentic voices. Backed by a grant from the New York-based Broadway League, Denver Center Teaching Artists crafted a year-long residency to help low-income students from Kunsmiller find theirs.
Through this unique program, dozens of students who may never find their way into an actual Broadway theatre not only got to see the brand-new touring production of Dear Evan Hansen in their own city, they then got to dig deeper into the themes in the story and what it means to them, culminating in a recent classroom visit from cast members.
But the experience did not end there. The students then used what they learned as an impetus to write their own one-act plays that were entered into the Denver Center's annual statewide high-school playwriting competition.
"We are using Dear Evan Hansen as a stimulus to jump-start the students' ideas and unleash their own inner playwright," said DCPA Education Teaching Artist Andre Rodriguez. "We are using art to create art. We think all of these students have an important story to tell, and that this is a really great way for them to tell them."
In 2017, the Denver Center was chosen to launch the first North American tour of Dear Evan Hansen, which is the story of a high-school student with crippling social anxiety who finds himself propelled into an overwhelming vortex of sudden and unearned popularity. Soon after, the Denver Center was named one of 10 national recipients of The Broadway League's 23rd annual National Education and Engagement Grants, which support educational programs that deepen students' experience with a touring Broadway musical.
The winning organizations each received $5,000 to engage their local communities in a variety of theatre-related programs that celebrate culture, develop creativity and support access to arts-based learning. Each of the 10 winning cities is being paired with a different Broadway touring production, ensuring that every residency will tailored both to each show's themes and each school's needs.
The Denver Center used its grant to partner with Kunsmiller, a K-12 public magnet school with a study body that is 88 percent non-white and where up to 90 percent of families are considered low-income.
"This is an arts integrated school, which means we try to have performing or visual art somehow involved with all of our core classes," said theatre teacher Nicole Hudson, who has grown her theatre classes from just six students two years ago to a whopping 40 last fall.
The DCPA's Rodriguez crafted the year-long Kunsmiller residency, which he titled Sincerely Me: One-Act Playwriting in Response to Dear Evan Hansen. It involved four classroom visits to Kunsmiller – two before and two after the students attended the first-ever performance of the Dear Evan Hansen tour in Denver last September 25. During that initial school visit, students were introduced to the concept of playwriting as an effective and healthy means for exploring personal feelings or responding to difficult real-life events. They learned about foundational storytelling concepts such as setting, characters, conflict, turning point and resolution. Paralleling a crucial plot point in Dear Evan Hansen, students were asked to write letters to themselves that might boost their self-esteem. They later discussed ethical questions that come up in the musical, such as the unchecked power of social media, and whether it is ever OK to let a lie remain unexposed.
The overall point of playwriting, Rodriguez told the students, "is to tell your truth and make the people watching feel something."
The second classroom visit dug deeper into the themes in Dear Evan Hansen, including self-esteem, bullying, alienation, loneliness, deception, overmedication and the complex idea of a flawed hero.
Next the students dressed up and took a coach bus to the Denver Performing Arts Complex to see Dear Evan Hansen. Hudson estimated about a quarter of her students were attending a professional play for the first time that night. "They were ecstatic," Hudson said. "The best part was watching as they walked into the Buell Theatre and said, 'Wow, this is amazing.' "
Hudson said the importance of exposing young people to art at the highest level cannot be underestimated. "It is important so they can see the possibilities that are out there," she said. "It tells them to dream big. And that big things can happen for them."
Kunsmiller senior Mercy Haymaker said it took several days for her to process her feelings after seeing Dear Evan Hansen. "Because the story is set in modern-day, it was really relatable and applicable to a lot of teenagers," she said. "We know the world of this play. We can see ourselves in those characters." Fellow senior Adrian Reyes said he cried … a lot. "I've seen many shows before," Reyes said, "but this time I saw myself exactly through Evan. He just really connected to me."
The third session brought the two Dear Evan Hansen cast members to Kunsmiller. The students were encouraged to talk to the actors about how the show affected them, and to ask clarifying questions.
"I am 17 myself, so I am the same age as those students," said Koyabe, who grew up both performing and watching live theatre. "Just the thought of never having seen theatre at this age breaks my heart. I am so grateful that these kids are having the opportunity to see our show – and then write their own plays, too."
Hudson said many of her students already had started work on their own one-act play submissions. "They are so excited by everything they have been doing that several of them couldn't wait to get started," she said.
Anthony, who plays Evan at least once a week in the touring production, said he wishes a musical like Dear Evan Hansen – and a residency like this one made possible by the Broadway League – had existed when he was a teenager.
"I remember feeling so isolated in high school and thinking, 'I will never get out,' " he said. "Even to have just a little bit of a connection and a little bit of insight – I just remember that making me feel like I could keep going and keep trying."
Since it was founded in 1996, The Broadway League's Education and Engagement Grants program has awarded $1.25 million to support the education efforts of Broadway and touring Broadway presenting organizations.
"We are proud to support organizations from around the country that are doing the important work of engaging local communities in the arts," said Broadway League President Charlotte St. Martin. "These Broadway-based programs consistently have a significant impact on underserved populations by encouraging art curriculums, offering performance arts-based school field trips, promoting inclusion and providing life-long learning. Our member organizations' dedication to bringing Broadway to communities from coast to coast ensures that the magic of live theatre reaches everyone."
Other touring Broadway shows participating in this year's program include A Bronx Tale, Anastasia, Come From Away, Les Misérables, Miss Saigon, School of Rock: The Musical and The Play That Goes Wrong. Other organizations that have received grants are from Appleton, Wisconsin; Baltimore, Maryland; Des Moines, Iowa; East Lansing, Michigan; Greenville, South Carolina; Nashville, Tennessee; Proctors – Schenectady, New York; Sioux Falls, South Dakota; and Tampa, Florida.
Hudson predicted that the Denver Center residency will have a lasting impact on her students. And she still can't quite believe her small school was singled out for the honor.
"All the students are telling me that now they feel worthy, that they can have nice things and that their dreams can happen," she said. "A lot of them have told me they can't go to college because there is no money or they have never felt good enough."
But this experience has given them new confidence, she said. "Now they are saying: 'Yeah, I am good enough. People will pay attention to me.' "
It was impossible not to pay attention to a smiling student named Moudji Alassani after the visit from Dear Evan Hansen cast members. For one thing, she already was sporting a twirling black-ink mustache for a school performance of Peter and the Starcatcher coming up later that night.
"The thing I took away from this above all else was a new perspective on who you are, ­and showing that to other people," Alassani said.
John Moore was named one of the 12 most influential theater critics in the U.S by American Theatre Magazine in 2011. He has since taken a groundbreaking position as the Denver Center's Senior Arts Journalist.
Dear Evan Hansen photo gallery:
https://www.denvercenter.org/wp-content/uploads/2019/03/7-Gallery-Dear-Evan-Hansen.-Kunsmiller.-Photo-by-John-Moore.1.jpg
805
1000
John Moore
John Moore
2019-03-08 13:32:25
2019-03-20 23:11:01
'Dear Evan Hansen' helps Denver students find their own voices