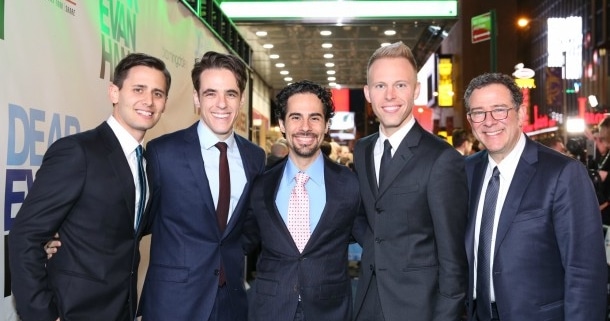 'Dear Evan Hansen' tickets will be found in Denver starting Friday
The 'Dear Evan Hansen' creative team members, from left: Benj Pasek, Steven Levenson, Alex Lacamoire, Justin Paul and Michael Greif. Photo by Chad Kraus.
The Denver Center will launch first national tour in September; tickets go on sale at 11 a.m. Friday, June 8

By John Moore
Senior Arts Journalist
Dear Evan Hansen, winner of the 2017 Tony Award for Best Musical, will launch its first national touring production in Denver in September, and single seats will go onsale at 11 a.m. Friday, June 8, it was announced today.
Dear Evan Hansen, which was nominated for nine Tony Awards and won six, is the story of a lonely boy who perpetuates a lie that earns him Internet fame. Director Michael Greif, who also helmed the groundbreaking musicals Rent and Next to Normal, says Dear Evan Hansen "is a cathartic story about a kid who comes to love himself. And it's about a grieving family that gets healed."
And Greif could not be happier that the show's hopeful message will be going out into the heartland, starting in Denver.
"This show has such a beautiful and generous and important message," Greif said in an exclusive interview with the DCPA NewsCenter. "I am thrilled that the universal appeal of this story is going to continue to touch and move people throughout the country. It's going to give people the opportunity to talk about some really important and healing things, and I can't wait to share that with as many people as possible."
Dear Evan Hansen, which will open DCPA Broadway's 2018-19 season in the Buell Theatre, was greeted by overwhelming critical and box-office success when it opened in December. The New York Times called it "a gorgeous heartbreaker of a musical for anyone with a beating heart." The Washington Post called it historic.
The plot turns when a misunderstanding over a teenager's death inadvertently turns Evan into a social-media celebrity. Greif says he knew the unlikely story would work on a Broadway stage before he even finished reading the earliest draft of Obie Award-winner Steven Levenson's script. The score is written by the songwriting team of Benj Pasek and Justin Paul, who won 2017 Academy Awards for La La Land.
"I knew right away — which I don't often say, and I don't often believe," said Greif. "As soon as I got to talk to these three brilliant writers, I knew that this was a very special project. I knew it because of the incredible, complicated way they were going at this material. I just think it's so smart and beautifully crafted. I love it because the real theme of the play is not lying or fabrication — it's actually generosity."
The score is built around a celebrated anthem called "You Will Be Found." And as was the case when he directed Rent and Next to Normal, Grief is being reminded nightly of live theatre's power to save lives.
"It's really unbelievable what we are hearing from kids and from parents and from families in crisis," Greif said. "They are telling us that they are seen. They are telling us that things they didn't feel they could talk about – yes, they can talk about them. They are telling us that the redemption and the catharsis and the forgiveness in Dear Evan Hansen is helping them to get through whatever they are going through, and to forgive and to accept themselves.
"Evan coming to terms with himself in our story is a proxy for our audiences being able to come to terms with their own issues."
Listen to the anthem 'You Will Be Found'

The Associate Director of Dear Evan Hansen is Adrienne Campbell-Holt, who in 2016 directed the world premiere of the DCPA Theatre Company's The Nest, by Theresa Rebeck. The producer is Stacey Mindich.
The original Broadway cast recording of Dear Evan Hansen was released on Atlantic the past 50 years.
This is just the latest coup for Denver, which is quickly rising among the country's elite touring cities. The Dear Evan Hansen tour launch continues a trend that has recently included Denver premieres of If/Then, Pippin and The Book of Mormon. Denver also last year hosted the pre-Broadway run of Disney's Frozen.
"I am thrilled and honored the Dear Evan Hansen team has chosen Denver for their upcoming tour launch," said John Ekeberg, Executive Director for DCPA Broadway. "Bringing new voices and artistically powerful work to the stage is a primary goal of the DCPA, and this compelling new musical embodies all of these qualities and more."
Please be advised that the Denver Center for the Performing Arts – denvercenter.org – is the only authorized ticket provider for Dear Evan Hansen tickets in Denver. Ticket buyers who purchase tickets from a ticket broker or any third party run the risk of overpaying or purchasing illegitimate tickets.
Here's more from John Moore's interview with Michael Greif:
John Moore: Do you think we've ever seen a protagonist quite like Evan Hansen in a Broadway musical before?
Michael Greif: When I first met this play and started to get to know it, it felt like we were doing the Natalie and Henry story from Next to Normal. It was really profound for me to be able to think, 'Oh, what's so wonderful here is that the focus has shifted, and this here is a musical about Henry.'
(Pictured right: Fans line up outside the Music Box Theatre in New York City for Dear Evan Hansen Fan Day on Broadway. Photo courtesy of Dear Evan Hansen .)
John Moore: I think with the advent of social media, we have created a generation of teenagers who are both more connected and more isolated than ever before. Now that you have been through this experience, what do you think are the pros and cons of growing up in the world of today's social media?
Michael Greif: I have a 22-year-old and an 18-year-old, so I have really watched it through the eyes of a parent, which has been very helpful in developing this musical with these three fantastic writers. What's remarkable about our story is how organically the role of social media informs both plot and characters. This particular story could only take place because the mechanism of Evan's fame is so credible to us in this moment. The germ of Benj's original idea had to do with how one high-school kid's identity changes through the various things that people say about him on social media. From the very beginning, the interaction of a very domestic plot in relation to access to the bigger world has always been a really, really important part of this musical. Like everything, my thoughts about social media relate to monitoring and understanding. It would be backward and conservative and wrong for me to say that it's not wonderful to be able to be in touch with the world the way social media allows us today. It's spectacular to have that kind of access to the rest of the world.
(Pictured above, from left: 'Dear Evan Hansen' writers Justin Paul, Steven Levenson and Benj Pasek. Photo by Jenny Anderson.)
John Moore: Why are you particularly attracted to the kind of theatre like Rent, Next to Normal and Dear Evan Hansen that can have such a profound impa
ct on the lives of their audiences, as opposed to the safer escapism of other musicals?
Michael Greif: I think everyone is attracted to great stories. I am really fortunate that I have some sort of a track record, so that I actually get the opportunities to work on these kinds of projects. The opportunity to recognize yourself, or someone you know, or some of the pain or struggles that you feel or have felt, in someone else's acting, is both powerful and profound. And I think all three of those terrific musicals you mentioned share that. All three have incredible music and compelling characters and great stories. But what I think Dear Evan Hansen has that Next to Normal and Rent do not is an extraordinary duality. You are able to completely give your heart over to Evan and to the grieving Murphy family. And at the same time, your mind is racing because there is this whole other level of mistrust about the whole thing. So while your heart is feeling one thing, your head is feeling another. I think that's just remarkable.
More Colorado theatre coverage on the DCPA NewsCenter

John Moore: Are you watching 13 Reasons Why, which also addresses similar issues?
Michael Greif: Brian Yorkey (Next to Normal, If/Then) wrote that, and so I am very interested in it, but I have not yet had the opportunity to watch it. I have a great regard for Brian Yorkey, as you know, and I am excited to be able to dive into that series when I have a little more time.
John Moore: Speaking of If/Then, which also began its national tour in Denver, what are your thoughts about Denver as the launch pad for Broadway touring productions?
Michael Greif: I am looking forward to spending time in Denver again because I had such a wonderful time there with If/Then. It's a great walking town, and that is fantastic for me. The audiences are open and interested and interesting, so I think Denver is a wonderful place to launch it.
John Moore: Several years ago, producer David Stone told me it was the encouragement he got from late Denver Center Broadway President Randy Weeks that even got him thinking that a national touring production of Next to Normal might work.
Video: Watch the NBC News report on Dear Evan Hansen

Michael Greif: I know that there was the concern about touring that show. I feel so happy about the great success of that tour. I think the Fun Home tour also tells us that these are great stories and people around the country are hungry for them. I think it's wonderful when you can really integrate the play-going and the musical-going audiences. I don't think they should be two different kinds of audiences. I always love it when people who say, 'I generally prefer plays,' get so much out of musicals like Dear Evan Hansen and Rent and Next to Normal.
John Moore: Speaking of Rent, the 20th anniversary tour is also coming to Denver, in November. After two decades, do you feel this is now a nostalgia piece for the original fans, or can Rent still be a musical for the Dear Evan Hansen generation?
Michael Greif: It's certainly a wonderful opportunity for a new generation of people who love Dear Evan Hansen to see an ancestor. I think Rent remains profound because it's a musical about a group of people who learn to take care of one another. And they have seen both the cost and the reward of taking care of one another.
John Moore was named one of the 12 most influential theater critics in the U.S by American Theatre Magazine in 2011. He has since taken a groundbreaking position as the Denver Center's Senior Arts Journalist.
Dear Evan Hansen: Denver ticket information
•
Sept. 25-Oct. 13, 2018
• The Buell Theatre
• Single seats go on sale at 11 a.m. MDT on Friday, June 8
• Call 303-893-4100 or BUY ONLINE

• Note: Please be advised that the Denver Center for the Performing Arts – denvercenter.org – is the only authorized ticket provider for Dear Evan Hansen tickets in Denver. Ticket buyers who purchase tickets from a ticket broker or any third party run the risk of overpaying or purchasing illegitimate tickets. Patrons should be aware that the DCPA is unable to reprint or replace lost or stolen tickets and is unable to contact patrons with information regarding time changes or other pertinent updates regarding the performance. Patrons found in violation of the DCPA Ticket Purchase and Sale Terms and Policies may have all of their tickets canceled.
Dear Evan Hansen: Creative team
• Book by Steven Levenson
• Score by Benj Pasek and Justin Paul
• Directed by Michael Greif
• Music direction by Ben Cohn
• Choreography by Danny Mefford
• Scenic design by David Korins
• Lighting design by Japhy Weideman
• Costume design by Emily Rebholz
• Sound design by Nevin Steinberg
• Projection design by Peter Nigrini
• Hair design by David Brian Brown
• Music supervision, orchestrations and additional arrangements by Alex Lacamoire
• Vocal arrangements and additional arrangements by Justin Paul

Video Bonus: 'You Will Be Found' performed at 2018 Bobby G Awards:
At last month's Bobby G Awards celebrating achievements in Colorado high-school musical theatre, 86 students from 43 schools sang 'You Will Be Found' from 'Dear Evan Hansen' as the opening number. Photo by John Moore.

https://www.denvercenter.org/wp-content/uploads/2018/06/featured-image-10530.jpg
487
610
John Moore
John Moore
2018-06-06 12:37:00
2018-06-14 10:20:45
'Dear Evan Hansen' tickets will be found in Denver starting Friday