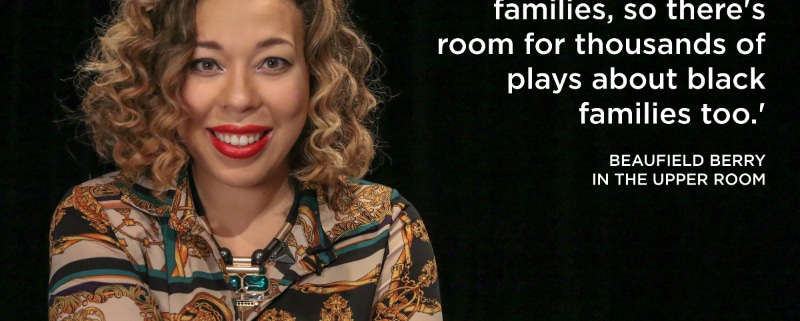 Deeper Dive: A closer look at 'In the Upper Room'
Note: In this daily series, we are taking a deeper dive into the nine titles recently announced on the DCPA Theatre Company's 2020-21 season. Today: 'In the Upper Room.'
'There are thousands of plays about white families, so there's room for thousands of plays about black families, too'
Written by: Beaufield Berry
Year written: 2018
Director: Gregg T. Daniel
Dates: January 22-February 28, 2021 (Opens January 29)
Where: Space Theatre
Genre: Family drama
The play at a glance: Meet the Berrys, a multi-generational African American family living under one roof in the 1970s. Their lives orbit around Rose, a strong-willed matriarch whose superstitions and secrets drive her relatives to distraction. Fed up, the aunties, in-laws and granddaughters of the household make their own plans to break away so they can finally live in peace. But by standing their ground, they may lose what has held them together all along. Loyalty, spirituality and colorism are all at play in this dramatic dark comedy, based on the real family history of the playwright.
About the author: Beaufield Berry is an Omaha-based playwright, novelist and arts-education professional. Her work has been performed across the country. She is a guest artist with the Inge Fest in Independence, Kansas, and an educator with Omaha Performing Arts. In the Upper Room was a finalist for the O'Neill Theatre Center's 2018 National Playwrights Conference. Last September, the Bluebarn Theatre in Omaha staged the world premiere of her play Red Summer, the true story of William Brown, a 40-year-old factory worker who was tortured and lynched for a crime he could not have physically committed.
Summit Spotlight: Beaufield Berry on how every family is every family
From the playwright: "Ultimately, In the Upper Room is a play about family. It's about belonging. It's about tradition and generations all meeting together in one home. It's about the things we learn from each other, and the things we do to hurt each other, even when we don't mean to."
Says Artistic Director Chris Coleman: "In the Upper Room was a big audience favorite at the 2019 Colorado New Play Summit. But one of the questions I have been thinking about a lot since I came here is, 'What's the right incubation period for a new play so that it comes out nicely baked?' So this year we will be doing two plays from the 2019 Summit that will have had two years to bake, In the Upper Room and Rattlesnake Kate. What I love about In the Upper Room is the mystery around the matriarch of this family, Rose, who is a very strong, ferocious and somewhat intimidating personality. There are a lot of questions about what her history is; what her relationship to the rest of the family is; and what her relationship is to spirituality and the occult. Most of the characters in the play are trying to figure out how to keep from being swallowed up by her."
Rose: I really don't know what ch'all looking at each other like that for. Like your eyes about to fall out your heads. Ya'll better get right with the Lord while you wanna be gambling and drinking on a Saturday night. Specially you – while you tryna raise my grandbabies, little miss light skin.
Have we ever seen a family like the Berrys on the American stage before? In a word: No. "We tend to think that the Black Experience is a monolith, and it's not," Berry said. "There are a million different ways to be in a family, to be black, to be white. The ranges in black families are just as high and low and up and down as the ranges in white families. There are thousands of plays about white families, so there's room for thousands of plays about black families. too. I think we just have to get back to the idea that theatre is for everyone."
Fun fact: Berry lived lived in Colorado for two years – in Crested Butte and Telluride. In fact, she says, "I've got a Colorado State University tattoo on my side."
John Moore was named one of the 12 most influential theater critics in the U.S. by American Theatre Magazine. He has since taken a groundbreaking position as the Denver Center's Senior Arts Journalist.
Video bonus: Chris Coleman talks about In the Upper Room
Photo gallery: Colorado New Play Summit photos of In the Upper Room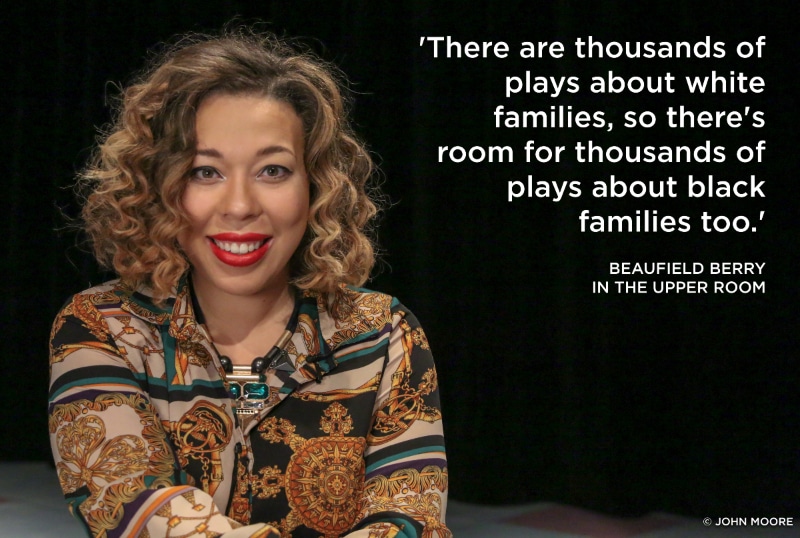 Photos by John Moore for the DCPA NewsCenter
Our 'Deeper Dive' series to date:
https://www.denvercenter.org/wp-content/uploads/2019/02/800-Beaufield-Berry-Quote.jpg
538
800
John Moore
John Moore
2020-03-20 18:26:49
2020-03-20 18:26:49
Deeper Dive: A closer look at 'In the Upper Room'