Deeper dive: A closer look at 'Indecent'
Paula Vogel's season-opening Indecent pays heartfelt tribute to a stage scandal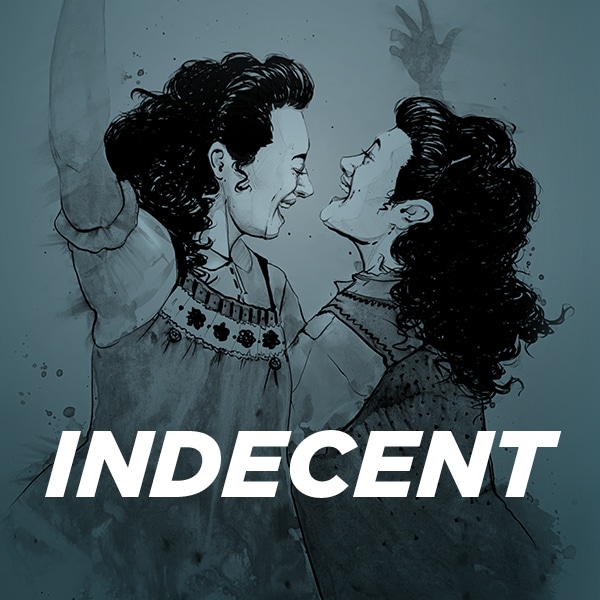 Written by: Paula Vogel
Year written: 2015
Broadway debut: 2017
Genre: History play with music

Director: Nancy Keystone
Choreographor: Dominique Kelley (most recently of DCPA Theatre Company's Oklahoma!)
Dates: August 30-October 6 (Opens September 5)
Where: Space Theatre
The play at a glance: Indecent, which was Tony-nominated for Best Musical, tells the emotional true story of Sholem Asch's groundbreaking 1906 play God of Vengeance and the passionate artists who risked everything to share it. Many European productions of the provocative Yiddish story were highly successful in the early 1900s – even with a same-sex romance at its center. But when its Broadway debut was deemed "indecent" in 1923, it begged the question of who gets to decide what is considered art and what deserves to be censored. Follow the explosive tale through scandals, war and rewrites as a defiant, dedicated few refused to let it be silenced. Indecent evokes the Jewish experience through traditional songs and dancing, this stirring production will leave you with a deeper appreciation for the art and experiences we often take for granted.
Quote from the script: "God forbid the goyim think ladies who work the street are human beings!"
About the author: Vogel, who won the Pulitzer Prize for How I Learned to Drive in 1998, is a member of the American Theatre Hall of Fame. As an academic, she is considered the godmother of countless young American playwrights, having led the playwriting programs at Brown and Yale universities. Vogel ranked sixth in a 2017 DCPA NewsCenter survey of national industry leaders asked to name America's greatest living playwrights. In 2015, Vogel became the first female playwright to be included in Yale's Beinecke Rare Book and Manuscript Library, a repository that includes the papers of Eugene O'Neill, Thornton Wilder. A. R. Gurney and John Guare.
Says new DCPA Artistic Director Chris Coleman: "I wanted to kick off the season with a show that would be a big, expansive event. Paula Vogel has been an incredible visionary and voice in American theatre for decades, and what she created with Indecent is a powerful story about who gets to decide what is beautiful and what is indecent. Audiences can expect folk music, folk dancing and a play that is going to provoke conversation in a very positive way."
From the author: "I read God of Vengeance when I was 23 years old, and I was astonished by it. In 1907, Sholem Asch was brave enough to write that Jews are no different than Catholics or Buddhists or people of any religion in terms of having people in the tribe who may sell religion for a profit, or who are hypocrites. That's a very hard thing for a man to do, especially in a time of burgeoning anti-Semitism. Then add in the play's compassionate understanding of the powerlessness of women in that time and place — Asch is a young married man, in a very early work, writing the most astonishing love story between two women — and it makes a pretty compelling play to read and perform." (From the Vineyard Theatre web site.)

What the critics have said about Indecent: "Indecent is, above all, decent, in the most complete sense of the word. It is virtuous, sturdily assembled, informative and brimming with good faith. The territory it covers in its one hour and 45 minutes is immense." Ben Brantley, The New York Times. … "This play deeply touches so much rich emotion about history and the theater, anti-Semitism, homophobia, censorship, world wars, red-baiting and, oh, yes, joyful human passion." Linda Winer, Newsday. … "Indecent explains how most arts teachers get out of bed in the morning. Chris Jones, Chicago Tribune.
Fun facts: Vogel was a featured guest at the 2015 Colorado New Play Summit, where she conducted her signature playwriting bootcamp. … Vogel was one of 10 writers who contributed to Curious Theatre's ambitious 2015 devised piece The War Anthology – 10 short plays about war based on single photographic images. Her director was Bonnie Metzgar, whose own play, You Lost Me, also will be presented on the DCPA Theatre Company's 2019-20 season. For three years, Metzgar and Vogel ran Brown University's New Plays Festival together.
John Moore was named one of the 12 most influential theater critics in the U.S. by American Theatre Magazine in 2011. He has since taken a groundbreaking position as the Denver Center's Senior Arts Journalist.
Video bonus: Chris Coleman introduces the 2019-20 Theatre Company season:
https://www.denvercenter.org/wp-content/uploads/2019/03/Indecent.com_.jpg
546
970
John Moore
John Moore
2019-03-22 17:47:28
2019-03-26 14:25:54
Deeper dive: A closer look at 'Indecent'