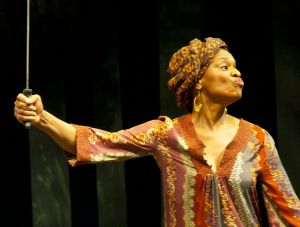 Deeper dive: A closer look at 'Sweat'
In the video above, playwright Lynn Nottage and Broadway director Kate Whoriskey talk about connecting to the human experience with 'Sweat.'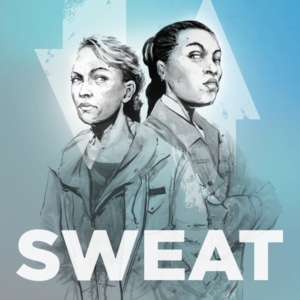 Sweat
Written by: Lynn Nottage

Year: 2015
Director: Rose Riordan

Dates: April 26-May 26, 2019 (Opens May 3)
Where: Space Theatre
Genre: Drama
About the author: Nottage is a two-time Pulitzer Prize-winning playwright and screenwriter from Brooklyn. In a national survey conducted by the DCPA NewsCenter following the 2017 death of Edward Albee, Nottage placed third as the leading, living voice in American playwriting, behind only Tony Kushner and Sam Shepard (who has since passed away). "Lynn Nottage, like August Wilson before her, spotlights the marginalized without sentiment, sensationalism or a victim mentality," The Denver Post wrote in 2011. Sweat won the Pulitzer, an Obie Award, the Susan Smith Blackburn Prize and was nominated for a Tony Award. Ruined, which also won a Pulitzer, is set amid civil war in the Democratic Republic of the Congo, based on the playwright's interviews with Congolese women, exposing largely unknown radical and violent injustice that happening in Africa. That made for one of the most remarkable productions in DCPA Theatre Company history in 2011. Nottage's Intimate Apparel has been presented at the Arvada Center and, just last month, at the Colorado Springs Fine Arts Center at Colorado College. Nottage is currently an artist-in-residence at the Park Avenue Armory. (Pictured above: Kim Staunton in the DCPA's 'Ruined.' Photo by Terry Shapiro.)
The play at a glance: For the people of poverty-stricken Reading, Pa., work is  much more than a paycheck – it's the glue that has held the town together for generations. The floor of their central factory is where lifelong friendships are made, where love blossoms and where family members work side-by-side. But as layoffs become the new norm and a cheaper workforce threatens the viability of the local union, the threads that once kept the community together begin to fray. Using warm humor and deep empathy, Nottage paints a moving portrait of today's working-class America in decline.
Says the playwright: "I very much wanted the play to be a conversation starter. I feel my role as an artist isn't to come up with solutions but to ask the right questions at the right moment."
Says new DCPA Artistic Director Chris Coleman: "One of the things I love the most about Lynn Nottage is the way she takes an idea and makes it human. Lynn is a significant voice in the American theatre, and I'm thrilled we get to experience her work again. We're also incredibly lucky to have a powerhouse director like Nataki Garrett at the helm of this important drama, and I look forward to taking the questions this play asks and diving deeper into conversations with the Denver community."
The author's influence: Nottage began working on the play in 2011 by interviewing residents of Reading, which at the time was, according to the U.S. Census Bureau, officially one of the poorest cities in America, with a poverty rate of 41 percent. Nottage was particularly influenced by a New York Times article reporting on that city. "Reading is a city that's sort of hopelessly fractured along racial and economic lines," Nottage told the Village Voice. "When you're there, you feel it."
What the critics have said about Sweat: The New York Times called Sweat "an extraordinarily moving drama that powerfully contrasts life's happiest highs with the heart-wrenching struggles of survival." The play's characters have  been described as the same kind of disenfranchised blue-collar workers who voted for Donald Trump in 2016. Michael Schulman of The New Yorker called Sweat "the first theatrical landmark of the Trump Era —  a tough yet empathetic portrait of the America that came undone." He also said Nottage's play "harks back to the working-class naturalism of Clifford Odets." Wrote Jeremy Gerard of Deadline: "No play in recent memory has shed more light on the crises and tribulations of America's great retrenched working middle class than Sweat."
Notes on the play: Sweat was first performed by the Oregon Shakespeare Festival in 2015. It moved to to Broadway after a sold out off-Broadway run at The Public Theater. The Broadway cast included , who made an indelible turn in the DCPA Theatre Company's Lydia in 2008 (pictured right. … The action takes place in a fictional bar. The story tells of two meetings: One between a parole officer and two ex-convictl the other three women who were childhood friends working in the same factory. Switching scenes from the present with eight years before, Nottage shows how events take these characters on divergent pathways … Lower education generally means higher poverty.  Just 8 percent of Reading residents have a bachelor's degree. The national average is 28 percent.
https://www.denvercenter.org/wp-content/uploads/2018/04/featured-image-5741.jpg
227
300
John Moore
John Moore
2018-04-09 07:57:00
2019-03-18 15:35:35
Deeper dive: A closer look at 'Sweat'