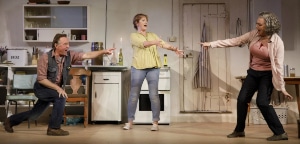 Deeper Dive: A closer look at 'The Children'
Note: In this daily series, we are taking a deeper dive into the nine titles recently announced on the DCPA Theatre Company's 2020-21 season. Today: 'The Children.' In the video above, Artistic Director Chris Coleman talks about the play.
'Eco-thriller' explores catastrophic results of human meddling in the natural world
Written by: Lucy Kirkwood
Year written: 2017

Director: Pesha Rudnick
Dates: January 8-February 14, 2021 (Opens January 15)
Where: Jones Theatre
Genre: "I heard it called an 'eco-thriller,' and that makes total sense to me," said Artistic Director Chris Coleman
The play at a glance: In a remote cottage on England's rocky coast, a couple of retired nuclear engineers are living a very quiet life. But outside, the world is in chaos following a series of devastating environmental calamities. The couple, who used to work at the plant, have been displaced

from their farmhouse and  are now living in a shabby apartment when an old friend turns up unexpectedly at their door. Soon their reminiscing and small talk turns to shock as the pair discover the real reason for  the woman's visit. This sly and suspenseful contemporary drama was a 2018 Tony Award nominee for Best Play. Balancing deepening dread with moments of love and laughter. The New York Times said the 2017 Broadway production "bristles with chills and suspense."

About the author: Lucy Kirkwood, 36, was born and raised in east London. She has a degree in English Literature from the University of Edinburgh, where she performed as part of improvisational comedy troupe called The Improverts and wrote for the Edinburgh University Theatre Company.
About the director: Pesha Rudnick is the founding artistic director of Boulder's Local Theater Company in Boulder, where she pursues the company's mission to discover and develop new American plays.  She directed The True-West Award-winning play Paper Cut by Andrew Rosendorf.
Says Artistic Director Chris Coleman: "This is a really finely crafted story that juxtaposes the tension of this environmental catastrophe going on outside with the interior relationships of these three individuals. You don't always see plays about mature, seasoned folks who still exploring their romantic selves. I think people will find this play to be intriguing and surprising."
Hazel: Poor love. Not fair, is it? Men are supposed to grow into their looks, aren't they? It's the women who go to seed.

Rose: Whereas Robin's got a face like a haunted house.
From the playwright: "I'd been trying to find a way to write about climate change for a very long time, but I was struggling to find a story through which to talk about that. Then an event similar to the one depicted in the play happened in Fukushima in 2013. I found that to be a horrendous event, but when I heard that there was a retired nuclear task force going back to help clear it up, that lit a little fire in my brain, and the rest of the play came quite quickly after that."
So is this a social activism play? "I think any play that considers itself first and foremost social activism is probably going to be a really dreadful play," Kirkwood said with a laugh. "This play has nothing to do with nuclear power whatsoever. It is a larger metaphor for human intervention into the environment and what the consequences of that are. To me, the most important element of any kind of theater is metaphor."
Why is this the right play at the right time? "I think we're all asking questions about the future of our planet and what is our responsibility to climate change?" said Coleman. "And this play doesn't ask those questions in a didactic way but rather in a very human way."
John Moore was named one of the 12 most influential theater critics in the U.S. by American Theatre Magazine. He has since taken a groundbreaking position as the Denver Center's Senior Arts Journalist.
Video bonus: Lucy Kirkwood talks about The Children
Our 'Deeper Dive' series to date:
https://www.denvercenter.org/wp-content/uploads/2020/03/Ron-Cook-Deborah-Findlay-and-Francesca-Annis-in-the-Broadway-production-of-The-Children.-Photo-by.jpg
144
300
John Moore
John Moore
2020-03-18 14:32:59
2020-03-18 14:32:59
Deeper Dive: A closer look at 'The Children'