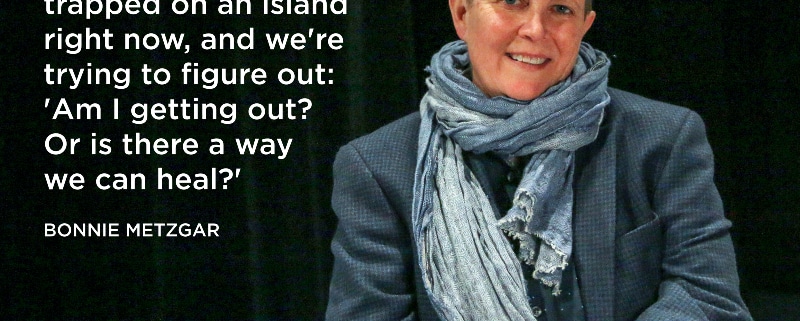 Deeper Dive: A closer look at 'You Lost Me'
In the video above, Bonnie Metzgar talks about 'You Lost Me' at the recent Colorado New Play Summit. Video by John Moore and David Lenk for the DCPA NewsCenter.
Famous shipwreck anchors first of Theatre Company's 2019-20 world-premiere productions

Written by: Bonnie Metzgar
Year written: World premiere
Director: Margot Bordelon
Dates: January 17-February 23, 2020 (Opens January 24)
Where: Ricketson Theatre
The play at a glance: In 1828, 17-year-old Ann Harvey helped save more than 160 Irish immigrants from the wreck of a ship called "Despatch" off Newfoundland's Shipwreck Coast, making her an instant hero. Almost 200 years later, the Harvey family homestead has become the Shipwreck Inn, where present-day proprietress Ann Harvey attempts to leave her own mark (and get some new customers) with a tourist blog. Her nephew Joe-L, on the other hand, would do anything to get off the island and start a new life somewhere else. Freely flow through time as unexpected guests and echoes of the past leave their indelible mark on the people who hold vigil along their remote and rocky shore. A memory house for all those lost at sea, this Eugene O'Neill National Playwrights Festival finalist is a poetic, wistful and bright new drama that reminds us that every moment holds the opportunity to change everything.
Quote from the script: "Yes, this is the Shipwreck Coast. Many, many people died. But in this one spot a brave young woman saved hundreds of people off a rock with her little brother and a dog, I want to stay right in the spot where all those people were saved. There's hope in that. And that's here, eh? Right where I'm standing now."
About the author: Metzgar is a Chicago playwright, director, dramaturg and producer who is best-known in Colorado as the Associate Artistic Director at Curious Theatre Company from 2004-2007. It was there she directed The War Anthology – 10 short plays about war based on single photographic images. That was the first known theatrical writing collaboration that included three Pulitzer Prize-winners among its contributing writers: Tony Kushner, Paula Vogel and Suzan-Lori Parks, along with other national and local writers. It was at that time Metzgar and Parks came up with the idea for 365 Days/365 Plays, which grew to become the largest theatrical collaboration in U.S. history. Metzgar previously served as associate producer at New York's Public Theater, where she founded the internationally renowned venue Joe's Pub. Metzgar went on to serve as Artistic Director for the About Face and American theatre companies in Chicago.
Summit Spotlight: Bonnie Metzgar on the timeless search for safe harbor
Says Artistic Director Chris Coleman: "You Lost Me is a beautiful, poetic, layered story about finding love in unusual places, and it's about trying to figure out a way to express your full passion when there's not an easily apparent way to do so. I am thrilled that we will have the world premiere and debut it here in Colorado."
From the author: "In some ways, we are all kind of trapped on an island right now, and we're trying to figure out: 'Am I getting out? Am I going to Canada? Is there a way we can heal and we are together? Can I encounter this divide we are having as a nation and meet this other person who is really different from me? Is that possible, or am I just going to bail?' That really is the central question of the play. Even though all these people are stuck, there's a moment where the play is just asking: 'Do we all get another chance? Is there something else that's possible here?' "
Fun facts: Metzgar wrote the first draft of You Lost Me as her thesis project while obtaining her master's degree from the University of Iowa. … The real Ann Harvey was known as  "Grace Darling of Newfoundland." … Assisting Ann in the remarkable shipwreck rescue were her father, 12-year-old brother and the family dog, named Hairy Man. … Believe it or not, 10 years after the wreck of the "Despatch," a ship sailing from Glasgow to Quebec ran aground near the same spot. This time, Ann helped save the lives of 25 more people.
John Moore was named one of the 12 most influential theater critics in the U.S. by American Theatre Magazine in 2011. He has since taken a groundbreaking position as the Denver Center's Senior Arts Journalist.
Video bonus: Artistic Director Chris Coleman talks about You Lost Me
Photo gallery: You Lost Me at the Colorado New Play Summit

Photos by John Moore for the DCPA NewsCenter
https://www.denvercenter.org/wp-content/uploads/2019/02/Bonnie-Metzgar-Quote-800.jpg
563
800
John Moore
John Moore
2019-03-26 14:00:42
2019-12-20 15:27:18
Deeper Dive: A closer look at 'You Lost Me'