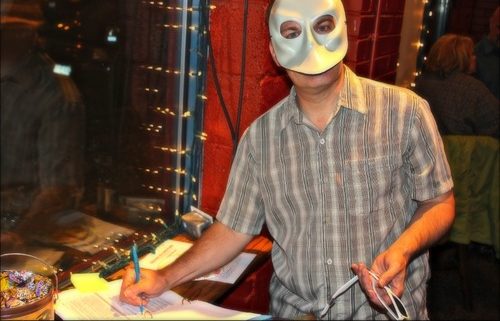 Denver Actors Fund now taking applications for aid
On Monday night, executive director John Moore signed the IRS papers that allow the Denver Actors Fund to immediately start to distribute aid. He's wearing a Halloween mask that was provided to him as an audience member of the Off-Broadway production "Sleep No More."

As of today, the new Denver Actor's Fund is officially accepting applications for aid, executive director John Moore announced at a fundraiser on Monday night. The simple application form is downloadable right here. It can be completed electronically and returned via email to denveractorsfund@gmailcom.
Moore, former longtime theatre critic at The Denver Post, is now working for the Denver Center as its new Associate Director of Content Strategy. He started the Denver Actors Fund in May as a means for building funds and building community.
[[MORE]]
The Denver Actors Fund is a modest source of immediate, situational relief for when members of the local theater community find themselves in sudden medical need. It is available to most anyone, on stage or off, who has participated in the making of theatre in the Denver metro area in the past five years. Here's a link to donate.
As of Monday, all of the organization's papers have been filed to the Internal Revenue Service, meaning that all donations to date will become retroactively tax-deductible, board president Christopher Boeckx said. And that the fund can now legally begin to distribute aid.
The fund is the epitome of a grassroots operation. It has raised just more than $4,000 in its first five months. The board of directors — made up of attorney and actor Boeckx, Sarah Hom of the Colorado Symphony Orchestra, and Amy Betzler of Loops Media (a local source of disability news) — has decided the fund must never dip below 70 percent of its highest balance. That means the fund has about $1,200 available for initial grants. No one serving the fund is being paid.
The spirit of the fund is to help members of the local theatre community in small ways in their time of unexpected need. The fund will not be able to tackle large expenses such as hospital bills, but may be able to help solve small problems, such as prescriptions, co-pays or medical supplies.
The fund is mobilizing teams to help in ways beyond just financial. It hopes to provide meals and meal delivery; transportation to medical appointments; errand-running; construction of ramps or rails; or even simple companionship. Anyone interested in joining one of the fund's "Actor Angel" teams is encouraged to write to volunteer coordinator Shannon McAndrews at denveractorsfund@gmail.com.
Every application will be considered on a case-by-case basis.
The fund hopes to be immediately responsive to all requests. The goal is to mobilize volunteers or make aid decisions within 24 hours of receipt of application.
To maintain an grow the fund, organizers will throw creative, quarterly fundraising parties that are all centered in some way around fun and social entertainment. So far, those have included a karaoke night, where audience members paid to have professional volunteer singers sing songs of the payer's choosing. That was followed by an all-theatre trivia night. Last night was "The Actor's Nightmare Halloween Party," which featured the 12-year local improv comedy team called Monkey's Uncle, whose members donated their time and talent to the cause. The space was donated by the Avenue Theater, and food was provided by Chris Silberman, executive director of the Phamaly Theatre Company. Costumes for the improv games were donated by several companies including Buntport, Equinox and the Betsy Stage.
Combined with online fundraising, the Denver Actors Fund has raised $481 in the past week.
The fund also has launched the "Tap Shoe Initiative," which asks every local theater company to use their imaginations in coming up with a shoe that reflects the spirit of their company — and then put that shoe to work collecting change. The project is just getting started, but participating companies already have generated $411 in donations. Here's more information on that.
Here are pertinent downloadables:
Denver Actors Fund application form
Photos from Monday night's fundraiser at The Avenue Theater:
Denver Actors Fund board of directors president Christopher Boeckx and his wife, Natalie.
Actor Kristen Adele, second from left, agreed to be a volunteer in the improv games. She's starring as Mrs. Jacke Robinson in the Denver Center Theatre Company's upcoming "Jackie & Me," opening Nov. 15. Below, she shows off her cotume, inspired by the 5-year-old girl named Hushpuppy in the hit 2012 movie, "Beasts of the Southern Wild."
Shannon McAndrews (left) and Gloria Shanstrom joined in on the improv games.
The Betsy Stage unveiled its entry into the Denver Actors Fund's "Tap Shoe Initiative," which calls on local companies to collect spare change. Here's more information on that.
Winnie Wenglewick, founder of Denver's Dangerous Theatre, came dressed as Connie Mae, the character she is currently playing in "Bridges to Nowhere" for Dangerous.
A "Goofy" Kathi Wood is currently performing in "The Legend of Sleepy Hollow" at the Aurora Fox.
https://www.denvercenter.org/wp-content/uploads/2018/04/featured-image-849.jpg
348
500
John Moore
John Moore
2014-07-13 10:37:00
2018-04-11 16:33:14
Denver Actors Fund now taking applications for aid