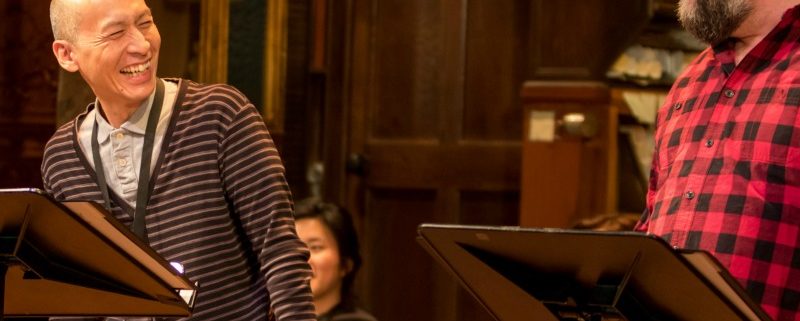 Lauren Yee's 'The Great Leap,' which was introduced as a reading at the 2017 Colorado New Play Summit, will premiere at the Denver Center next February, then re-open at the Seattle Rep just 12 days after closing here. Photo by John Moore for the DCPA NewsCenter.
Companies are now jumping on new Denver Center works before they have even been fully staged here.
By John Moore
Senior Arts Journalist
The Denver Center is taking a major step forward in its development of new work for the American theatre in 2017. And one major reason is a hip new term in the theatrical lexicon: "Co-Pro."
For the first time, the DCPA Theatre Company will stage two new plays next season that will immediately transfer to major theatres around the country as essentially continuing world premieres. They will quickly re-open in their second cities with their Denver Center directors and casts intact.
The Theatre Company opens José Cruz González's American Mariachi on Jan. 26, 2018. Less than a month after it closes in Denver, the production will re-open at the Old Globe Theatre in San Diego. Lauren Yee's The Great Leap, which bows in Denver on Feb. 2, will re-open at the Seattle Rep just 12 days after closing here.
By virtue of these unique partnerships, both stagings are considered "co-productions." Or, as the kids say, "Co-Pros." Coincidentally, the re-opening nights in San Diego and Seattle will both take place on March 23.
(Pictured above right: 'American Mariachi' was introduced as a reading at the 2016 Colorado New Play Summit. Photo by John Moore for the DCPA NewsCenter.)
For 12 years, artistic leaders from around the country have come to the Denver Center's Colorado New Play Summit each February to see readings of developing new works, then come back the next year to see the subsequent fully staged world-premiere productions before scheduling some of the plays themselves. Among the popular titles that have expanded through this slow growth plan have been Jason Grote's 1001 and Samuel D. Hunter's The Whale.
But now companies are coming here to see readings and committing to scheduling them even before they are fully staged at the Denver Center for the first time.
All this comes at a time when Denver Center-born works are proliferating on national stages like never before. In 2017, Matthew Lopez's The Legend of Georgia McBride will become the most-produced new Denver Center work since Quilters in 1982. Ten companies this year are presenting the story of a straight man who explores the world of drag to feed his family in cities stretching from Los Angeles to Key West, Fla., with four more already slated for 2018. Lopez's newest work, Zoey's Perfect Wedding, will debut at the DCPA's Space Theatre next Jan. 19.
(Pictured above right: Matt McGrath in the Denver Center's 2014 world premiere of 'The Legend of Georgia McBride.' Photo by Jennifer M. Koskinen.)

How Georgia McBride has evolved since Denver

Since former Artistic Director Kent Thompson launched the Colorado New Play Summit in 2006, the DCPA has given 27 new plays their world-premiere stagings. At least 32 productions of 13 DCPA-born works are being presented around the country this year and next, most notably a high-profile return of the reimagined The Unsinkable Molly Brown, which plays from July 21-27 at The Muny in St. Louis. The Muny is America's largest outdoor musical theatre. After that, star Beth Malone said, the goal is Broadway.
"That is absolutely the intention of putting it up at The Muny," Malone said. "There is no other reason than for it go to Broadway. Everyone involved with it feels very strongly that we are completely on track."
(Pictured at right: The cast of the DCPA Theatre Company's 'The Unsinkable Molly Brown.' Photo by Adams VisCom.)
Last week, two recent Colorado New Play Summit readings landed on The Kilroys, a curated list of the 31 most promising new plays by women: Yee's The Great Leap and Donnetta Lavinia Grays' Last Night and the Night Before.
Even older new plays like Octavio Solis' Lydia (2008) are still making an impact. "Lydia is a blast-furnace drama now in its Seattle debut in a blistering, urgent staging from Strawberry Theatre Workshop," Misha Berson of the Seattle Times wrote last month of a "forcefully directed ensemble of visceral power." Last year, the Aurora Fox became the first company to stage the Denver Center's Native American premiere of Black Elk Speaks since 1996.
All of this proliferation is not only changing the way the nation looks at the Denver Center, said Associate Artistic Director Nataki Garrett. It is changing how the Denver Center looks at itself.
"The Colorado New Play Summit is a nationally renowned place where theatre companies from all over the United States come to see those playwrights who are moving up in the ranks and becoming the clarions for the future of playwriting," she said. "But I think this is where it was always heading. The most important part of the work we do as theatre artists is to foster and develop new work, and I think this is that idea coming to full fruition."
(Story continues after the video)
Video spotlight: American Mariachi

What makes for a successful Co-Pro, Garrett said, is the continuation of the Denver Center's commitment to the playwright once the new play reaches its immediate second destination.
"What I am really focused on with these companies is, 'Are you willing to make space for that writer to keep writing?' " Garrett said. "The whole point is to for them to be able to keep evolving their piece after they leave Denver, if that's what the piece needs."
The Theatre Company's commissioning program is one reason the pipeline stays stocked. At any given time, the company has a number of renowned and emerging playwrights under commissions. That essentially binds the playwright to write a new work of his or her choice, and the DCPA Theatre Company then has the right of first refusal to stage it. The playwrights with commissions in progress are:
Kemp Powers
Anne Garcia-Romero
Aleshea Harris
Mary Kathryn Nagle
Tony Meneses
David Jacobi
Regina Taylor
John Moore was named one of the 12 most influential theater critics in the U.S by American Theatre Magazine in 2011. He has since taken a groundbreaking position as the Denver Center's Senior Arts Journalist.
DCPA AROUND THE COUNTRY: 2017-18
The Unsinkable Molly Brown, by Dick Scanlan and Meredith Willson: The 1960 musical that tells the rags-to-riches tale of Colorado's greatest heroine is infused with new songs and a new script.

The Muny, St. Louis, July 21-27, 2017
---
The Book of Will, By Lauren Gunderson: The untold story of the race to publish Shakespeare's First Folio before half his canon was lost to history.
Hudson Valley Shakespeare Festival, June 9-July 28, 2017
Northlight Theatre, Skokie, Ill., Nov. 9-Dec. 17, 2017
Round House Theatre, Bethesda, Md., Nov. 29-Dec. 24, 2017
Oregon Shakespeare Festival, Ashland, Ore., June-October, 2018
---
The Great Leap, by Lauren Yee: An American college basketball team travels to Beijing in 1989.

American Conservatory Theatre New Strands Festival, San Francisco (reading), May 19, 2017
DCPA Theatre Company, Feb. 2-March 11, 2018
Seattle Rep, March 23-April 22, 2018 (co-world premiere)
---
The Legend of Georgia McBride, by Matthew Lopez: A young Elvis impersonator turns to drag to feed his growing family.

Geffen Playhouse, Los Angeles, April 4-May 14, 2017
GableStage, Coral Gables, Fla., May 27-June 25, 2017
Marin Theatre Company, San Francisco, June 8-July 9, 2017
ACT Theatre, Seattle, June 9-July 2, 2017
Theatre Nova, Detroit, June 9- July 9, 2017
Dorset Theatre Festival, Vermont, Aug. 3-19, 2017
Northlight Theatre, Skokie, Ill., Sept. 14-Oct. 22, 2017
Hippodrome State Theatre, Gainesville, Fla., Oct. 13-Nov. 5, 2017
B Street Theatre, Sacramento, Calif.,Nov. 6-Dec. 9, 2017
Uptown Players, Dallas, Dec. 1-17, 2017
Guthrie Theatre, Minneapolis, March 23-April 22, 2018
Key West Players, Key West, Fla., May 2-19, 2018
Stoneham Theatre, Stoneham Mass., May 3-20, 2018
Round House Theatre, Bethesda, Md., June 8-July 1, 2018
---
American Mariachi, by Jose Cruz Gonzalez: The musical tale of an all-female mariachi band in the 1970s.

DCPA Theatre Company, Jan. 26-Feb. 25, 2018
Old Globe (San Diego), March 23-April 29, 2018 (co-world premiere)
---
Just Like Us, by Karen Zacarías: Documentary-style play follows four Latina teenage girls in Denver – two are documented, two are not.

Visión Latino Theatre Company, Feb. 24-March 12, 2017

---
Dusty and the Big Bad World, by Cusi Cram: When a popular children's TV show spotlights a family with two daddies, it sparks a conservative outcry.
Martha's Vineyard Playhouse, July 6-19, 2017
---
Appoggiatura, by James Still: A trip to Venice brings love, loss, pain and joy to three weary travelers in search of healing and happiness in a magical story filled with music and amore.
Indiana Repertory Theatre, March 7-31, 2018
---
FADE, by Tanya Saracho: When Mexican-born Lucia is hired to write for a Latina TV character, she finds an unexpected muse in the Latino studio custodian.
Cherry Lane Theatre, New York, Feb. 8-March 5, 2017
TheatreWorks, Hartford, June 1-30, 2017
---
Lydia, by Octavio Solis: A maid cares for a border family's near-vegetative teenage daughter who was left in a coma after a mysterious accident.

Strawberry Theatre Workshop, Seattle, June 1-24, 2017
---
Almost Heaven: The Songs and Stories of John Denver: The songwriter's life story is told through anecdotes and 21 songs.

Rocky Mountain Repertory Theatre, Grand Lake, Sept. 1-30, 2017
---
The Whale, by Samuel D. Hunter: An oversized, homebound and dying man struggles to reconcile with his estranged teenage daughter before it's too late.

Verge Theatre Company, Nashville, June 2-14, 2017
---
black odyssey, by Marcus Gardley: An imagination of Homer's epic lens through the lens of the black American experience.

California Shakespeare Theatre, Orinda, Calif., Aug. 9-Sept. 3, 2017
---
Quilters, by Molly Newman: A series of vignettes performed in song and spoken word that chart the joys and sorrows of the frontier journey West.
Ferndale (Calif.) Repertory Theatre, March 9-April 2, 2017

More Colorado theatre coverage on the DCPA NewsCenter



Video spotlight: The Great Leap
https://www.denvercenter.org/wp-content/uploads/2018/04/featured-image-4937.jpg
670
800
John Moore, Senior Arts Journalist
John Moore, Senior Arts Journalist
2017-07-02 03:12:00
2018-06-14 13:43:23
Denver Center taking new plays to new level in 2017-18