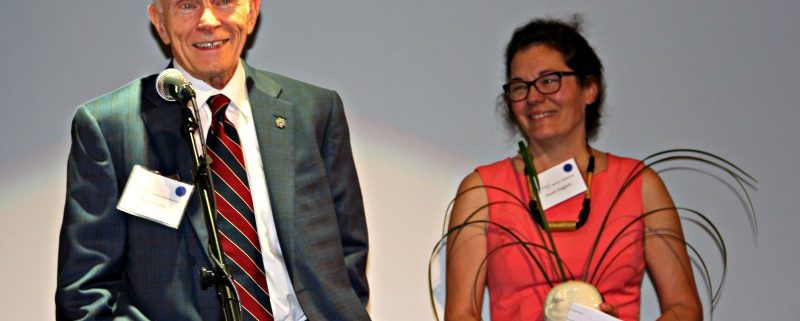 Denver School of the Arts honors DCPA's Daniel L. Ritchie

Denver School of the Arts Friends Foundation Board Member Susan Daggett presents DCPA Chairman and CEO Daniel L. Ritchie with its Friends Foundation Award. Photo by John Moore.
The Denver School of the Arts' Friends Foundation presented its annual Community Arts Leadership Award on Saturday to Daniel L. Ritchie, retiring CEO of the Denver Center for the Performing Arts — and continuing Chairman of the Board of Trustees.
The award honors those in the community who have supported arts and education.
Ritchie was chancellor at the University of Denver in 2000 and personally facilitated the sale of the college's former Lamont School of Music property to the Denver Public Schools so that it could serve as the new home for Denver School of the Arts. The school, located at 7111 E. Montview Boulevard, re-opened there in 2003.
DSA is committed to fostering a lifelong love of the arts in a culturally diverse, academically challenging environment. It first opened in 1991 with only four dedicated arts teachers. At its present location, DSA now has ample classroom space, a 550-seat theatre, 320-seat recital hall, 120-seat dance theatre, black box theatre, a film and video sound stage and music rehearsal rooms. It is a comprehensive secondary arts magnet school that serves 1,000 students in grades 6-12 majoring in 11 arts programs.
"Very personally, Dan was responsible for our being able to procure this incredible facility," said Friends Foundation board member Susan Daggett. "It is an incredibly wonderful place for us to be."
Daggett presented Ritchie with a handmade award created by DSA art students. It was a vase themed after the all-school fall musical, Hairspray.
"I am truly honored by this award, and so thrilled to see that this school has become world-class," Ritchie said at the school's annual gala. Ritchie said the arts teach students all the best things that sports teach athletes — like teamwork and collaboration — but also offers other valuable life lessons, such as how to be creative person.
"And you don't have the concussions," he said to laughs.
Ritchie told the students in the audience that he performed in his own high-school play, Arsenic and Old Lace, 65 years ago next month. If their ambitions are to perform professionally, then Ritchie encouraged them to pursue them.
"We have a great example right now at the Denver Center for the Performing Arts in the star of The Unsinkable Molly Brown, Ritchie said of his Theatre Company's world premiere staging running through Oct 26. "Beth Malone is a Colorado girl who graduated from Douglas County High School and the University of Northern Colorado, and she is going to be a superstar, you will see. That just goes to show it can be done. And it will be done even more as a result of what you are doing here at Denver School of the Arts."
But "whether you go into an arts profession or not," Ritchie added, "the arts education you are getting here is so much more valuable than anybody used to ever think."
Ritchie joined the DCPA in 2007. Since then, he has expanded the Theatre Company's new-play development program, launched four national Broadway touring premieres, conducted two successful matching gift fundraising campaigns, and made it possible for the Education Division to serve more than 400,000 students.
Ritchie is now 82, and told the audience his favorite activity remains hiking.
A tribute video that played as part of the awards transportation noted: "In a career lasting more than half a century, Dan Ritchie has climbed innumerable mountains for the Denver arts community. … May he keep climbing for years to come."

More photos by John Moore:

(From a tribute video produced by Denver School of the Arts.)


(DCPA President Randy Weeks was in attendance.)
https://www.denvercenter.org/wp-content/uploads/2018/04/featured-image-1356.jpg
517
800
John Moore
John Moore
2014-09-23 16:46:00
2014-09-23 16:46:00
Denver School of the Arts honors DCPA's Daniel L. Ritchie