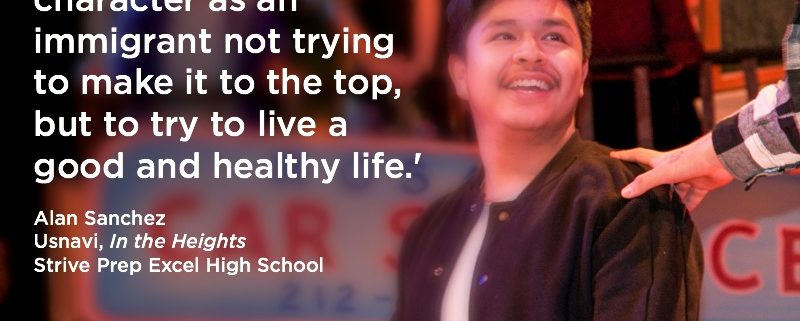 Denver's North High School gets real with 'In the Heights'
Video preview: In the Heights


Video above: Rehearsal footage from 'In the Heights,' which will be performed Feb. 23-25 at Denver North High School.
Everyone from a Pulitzer Prize-winner to the Flobots are helping to launch a unique high-school collaboration.
Long before Hamilton was a distant rhyme in Lin-Manuel Miranda's ear, his breakthrough Broadway musical In the Heights was changing the landscape – and the shade – of the Great White Way.
In the Heights, the 2008 Tony Award winner for best musical, is the story of a close-knit Manhattan barrio where Latino immigrants struggle to eke out small pieces of the American dream as their neighborhood is gentrifying and splitting apart. Broadway hadn't seen anything even remotely like it since perhaps West Side Story.
For three nights starting Thursday, Denver's North High School and Strive Prep Excel High School will collaborate on the work that changed the language of the American musical by bringing hip-hop and spoken-word rap to mainstream stage life.
With a cast of 26, In the Heights is not only introducing many minority students to the joy of live theatre performance, it gives them a story to tell that most of them feel in their bones. Students like North High junior Maya Stone, who plays Nina, an overachiever who drops out of Stanford. "It is really amazing to be able to put on a show that the whole cast can relate to on a personal level," she said.
And students like Strive Prep Excel High School junior Alan Sanchez, whose first role on a stage of any kind will be starring as the narrator Usnavi – yes, the role same role that made Miranda a star. Usnavi runs a struggling bodega out of familial obligation but has dreams of a larger life.
"This show is important to me because, as a fellow immigrant, I can relate to my character, and I'm sure many others can, as an immigrant not trying to make it to the top but to try to live a good and healthy life," said Sanchez.
Motown the Musical cast visits North High School

Music Director Edwina Lucero of Strive Prep said her kids were born to play these roles. "I think Lin-Manuel has given us this art that students who are not white or particularly well-versed in musical theatre can step in and play so genuinely," she said.
In the Heights has only one featured character who is not Latino. The minority enrollment at North High is 90 percent – 85 percent of whom are considered economically disadvantaged. In other words: It's a perfect fit.
"My goal has been to create a comprehensive drama program at North that is not only sustainable but open to all students, no matter their experience or social-economic status," said director Megan Gilman, who is in her fourth year at North. (Pictured: Edwina Lucero, left, and Megen Gilman. Photo by John Moore for the DCPA NewsCenter.)
Choosing to do In the Heights, Gilman said, was a simple decision.
"The show speaks to the gentrification that several North Denver neighborhoods are facing," she said. "It also gives voice to students who are not used to
seeing characters like themselves on a stage. The talent in North Denver is astounding, and I am proud to be a small part in bringing it to the larger community."
That larger community has lent its support as well, helping to raise $15,000 to stage the play. Quiara Alegria Hudes, who wrote the speaking portions of In the Heights, recently beamed in for a 30-minute Skype conversation with the Denver cast to offer encouragement and answer questions. Hudes won a Pulitzer Prize for writing the play Water by the Spoonful, which recently was performed at Curious Theatre.
"She was amazing," Lucero said. "She talked about her process in writing the show, about the role that storytelling plays in her life, and about the importance of authenticity in musical theatre."
Photo gallery: North High/Strive Prep's In the Heights



Photos from rehearsal for Denver North/Strive Prep's upcoming production of 'In the Height.' To see more, click the forward arrow on the image above. All photos may be downloaded for free by clicking. Photos by John Moore for the DCPA NewsCenter.
Among the 10-person live orchestra will be Stephen Brackett and drummer Kenny O of the Flobots, a Denver-based band that is committed to social justice and global betterment. (Brackett is the co-founder of Youth on Record.) The creative team includes choreographer Ricardo Changeux, Set Designer Allan Trumpler, Sound Designer Michael Cousins, Music Advisor Erin Cisney and Costume Designer Mona Lucero. Former North High School drama director Antonio Mercado has helped raise funds.
Michelle Alves, a Puerto Rican-born actor in the national touring production of Motown the Musical, stopped by North High School last week to offer words of encouragement. And the students, in turn, performed a song from the show for her. (Pictured right.)

"In the Heights is one of my favorite musicals because it represents my culture in such a beautiful way, and to know that a high school in Denver is doing the show makes me so happy," Alves said. "If I can be honest, it's really hard to find In the Heights in performance because it is so culturally specific. It's really hard to find the people you need to do the show. So I think this production at North High School is going to be phenomenal. Magnificent."
More Colorado theatre coverage on the DCPA NewsCenter

The support the students have gotten from all over, says Stone, "has been absolutely inspiring."
For everything new that In the Heights represented when it burst onto the Broadway landscape in 2008, Miranda told me in an interview at the time that the musical should also feel as familiar to audiences as Fiddler on the Roof, with nods to Our Town, Rent and West Side Story. Listen closely, and you'll pick up Miranda's references to Cole Porter and even Lord of the Rings.
"Fiddler on the Roof really was our template," said Miranda, who won 2016 Tony Awards for writing and starring in Hamilton. "For the story we wanted to tell, about a community in the face of change, there's really no better example to look to. We saw the parallel where Anatevka is a community where everything has been the same way for hundreds of years, and now the world is changing around it. They had to decide, 'What do we take with us, and what do we say is non-negotiable?'
"In the Heights' is almost the inverse of that," he continued. "When everyone is from everywhere, and we all have our disparate traditions, coming from so many different Latin American countries, we have to decide: What do we pass on?"
As for the language of hip-hop, which seemed like such a novelty to Broadway audiences at the time, Miranda said it was never a novelty to him.
Why Lin-Manuel Miranda's father is obsessed with Molly Brown

"I never existed in a time when hip-hop didn't exist," he said. "It's how any character my age who grew up in this neighborhood would express himself."
For Alan Sanchez, the young actor playing the starring role at North High School, the experience of putting on this play has been not unlike his character's search for a place to belong.
"With all the things that have been happening with the economy and politics, escapism should be something we value," he said. "And this musical shows people this is our home."
There couldn't be a better place or time to put on In The Heights, added his castmate. "I couldn't be more proud to be a part of this huge accomplishment for the North Denver community," said Stone. "This is only the beginning for us."
John Moore was named one of the 12 most influential theater critics in the U.S by American Theatre Magazine in 2011. He has since taken a groundbreaking position as the Denver Center's Senior Arts Journalist.
In the Heights: Ticket information
Feb. 23, 24 and 25
7 p.m.
2960 Speer Boulevard
Main entrance located on West 32nd Avenue at Eliot Street
Adult tickets are $10; students and seniors $5
Tickets available at the door.
https://www.denvercenter.org/wp-content/uploads/2018/04/featured-image-4575.jpg
507
800
John Moore
John Moore
2017-02-20 20:58:00
2018-06-15 08:48:16
Denver's North High School gets real with 'In the Heights'