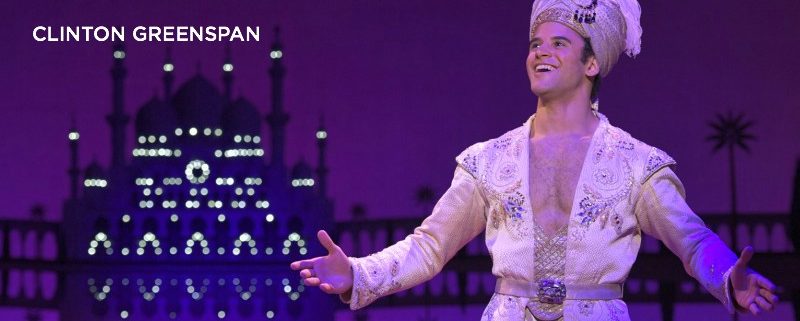 Disney names a new Aladdin for Denver: Clinton Greenspan
Photo by Deen van Meer.
'Denver is going to fall in love with him,' hometown cast member says of Clinton Greenspan, who flies high April 7
By John Moore
Senior Arts Journalist
When Disney's Aladdin flies into Denver next week, the hit Broadway musical will be rolling out the flying red carpet for Clinton Greenspan, who is being elevated to the title role of the charming street urchin and reformed thief.
But it won't be a whole new world for Greenspan, who has been a member of the touring production's ensemble for more than a year. He told the DCPA NewsCenter that playing his dream role will be, for him, literally a dream come true.
"It really does feel like I am on a bit of a magic carpet ride," said Greenspan, who said his feelings on his promotion can best be described by the show's signature song, "A Whole New World:"
"Unbelievable sights.
Indescribable feeling.
Soaring, tumbling, freewheeling
Through an endless diamond sky.
A whole new world."
"Those lyrics are quite accurate for what's going on in my head," said Greenspan. "With this family, with this crew and with this company, I feel very comfortable taking this next step."
Greenspan has performed in productions of Romeo & Juliet, Dreamgirls, Fiddler on the Roof and the North American tour of Rudolph the Red-Nosed Reindeer.
Celina Nightengale, a graduate of Denver Lutheran High School and a member of the Aladdin ensemble, said Denver is going to fall in love with Greenspan. "Clinton embodies Aladdin," she said. "It's always a beautiful thing to see someone play their dream role because they just give it so much heart. He is so young and charming and present onstage.
"There are going to be so many screaming women, I'm not even going to be able to get out the stage door."
Disney's Aladdin, based on the 1992 animated film, is set in the fictional kingdom of Agrabah. It tells the story of Princess Jasmine, who is feeling hemmed in by her father's desire to find her a royal groom. Meanwhile, the Sultan's right-hand man, Jafar, is plotting to take over the throne. When Jasmine sneaks out of the palace, she forms an instant connection with the commoner Aladdin, who is quickly sentenced to death. But where there's a lamp, there's a genie …
Greenspan describes the musical stage adaptation as a spectacle of sight and sound — and the perfect date night.
"Aladdin is a story for anyone and all people," said Greenspan. "Families, students and adults come to see the show for a great time, and they all experience the magic in their own ways. But most of all, this is a story of love between Aladdin and Jasmine. The show has these thrilling, magical and colorful elements to it that make it a perfect romantic evening for those with adult sensibilities. Just know that you're going into something unbelievable. There's so much to look at."
The first time Greenspan saw the design elements, "I just drooled," he said, specifically citing The Cave of Wonders, the forbidden realm that holds vast vast riches and magical artifacts — most notably, the lamp of the all-powerful Genie.
"The Cave of Wonders still leaves me speechless," Grenspan said. "It's so gold. You could go to the show 10 times and still miss some of the gorgeous set details. There's so much color."
Not to mention dance. Dance. And more dance.
"The very first number of the show is called Arabian Nights," he said. "It runs more than eight minutes, and it leaves our jaws completely dropped because there's so much going on."
Greenspan calls the show a magical journey for all audiences. "I can't tell you how many times you will say to yourself, 'This is like nothing I've ever seen before in my life,' " he said. "We can't all ride a magic carpet, but we have all had those experiences when we have just known: 'This is changing my life.' That's what this is like."
Original tour cast members Reggie De Leon (Iago) and Mike Longo (Kassim) will play their final performances in Denver and will be replaced by Jay Paranada and Jed Feder, respectively.
The touring production also features Michael James Scott (Genie), Isabelle McCalla (Jasmine), Jonathan Weir (Jafar), Jerald Vincent (Sultan), Zach Bencal (Babkak), Philippe Arroyo (Omar), Korie Lee Blossey (Standby Genie and Sultan), Ellis C. Dawson III (Standby Genie and Babkak) and Adam Stevenson (Standby Jafar and Sultan).
Rounding out the cast are Nightengale, Mary Antonini, Michael Bullard, Michael Callahan, Gary Cooper, Jace Coronado, Cornelius Davis, Bobby Daye, Lissa deGuzman, Mathew deGuzman, Olivia Donalson, Michael Everett, Karlee Ferreira, Michael Graceffa, Adrienne Howard, Albert Jennings, Kenway Hon Wai K. Kua, Jason Scott MacDonald, Angelina Mullins, Jaz Sealey, Charles South, Manny Stark, Cassidy Stoner, Annie Wallace and Michelle West.
John Moore was named one of the 12 most influential theater critics in the U.S by American Theatre Magazine in 2011. He has since taken a groundbreaking position as the Denver Center's Senior Arts Journalist.

From the song 'Friend Like Me.' Photo by Deen van Meer.

Disney's Aladdin: Ticket information
From the producer of The Lion King comes the timeless story of Aladdin, a thrilling new production filled with unforgettable beauty, magic, comedy and breathtaking spectacle. It's an extraordinary theatrical event where one lamp and three wishes make the possibilities infinite.
National touring production
Performances through April 28
Buell Theatre, Denver Performing Arts Complex
Call 303-893-4100 or BUY ONLINE
https://www.denvercenter.org/wp-content/uploads/2018/04/featured-image-5783.jpg
496
800
John Moore
John Moore
2018-03-26 16:48:00
2018-06-15 08:48:12
Disney names a new Aladdin for Denver: Clinton Greenspan