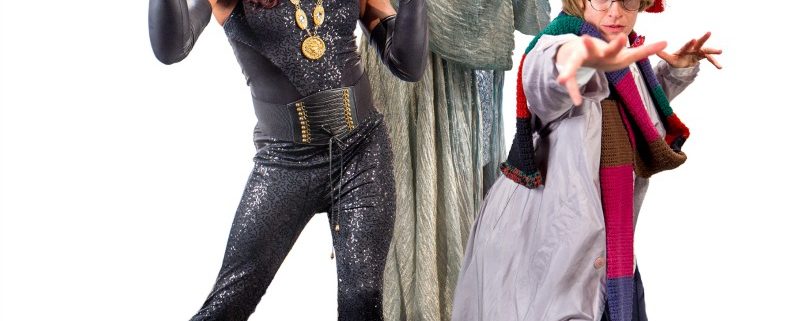 DragOn launches summer celebration of drag, Pride and superheroes
The DCPA's world premiere of 'Drag On' celebrates the worlds of drag and Comic Con, says playwright Jessica Austgen. It runs through June 25. Video by David Lenk.

By Avery Anderson
For the DCPA NewsCenter
Jessica Austgen is a self-proclaimed nerd, Denver Center Teaching Artist, improv comedian and, now, commissioned playwright for Off-Center, the DCPA's most unconventional programming arm.
Her show DragOn opens Saturday at the Galleria Theatre and plays through June 25. It is not only a world premiere, it is marks Austgen's professional playwriting debut.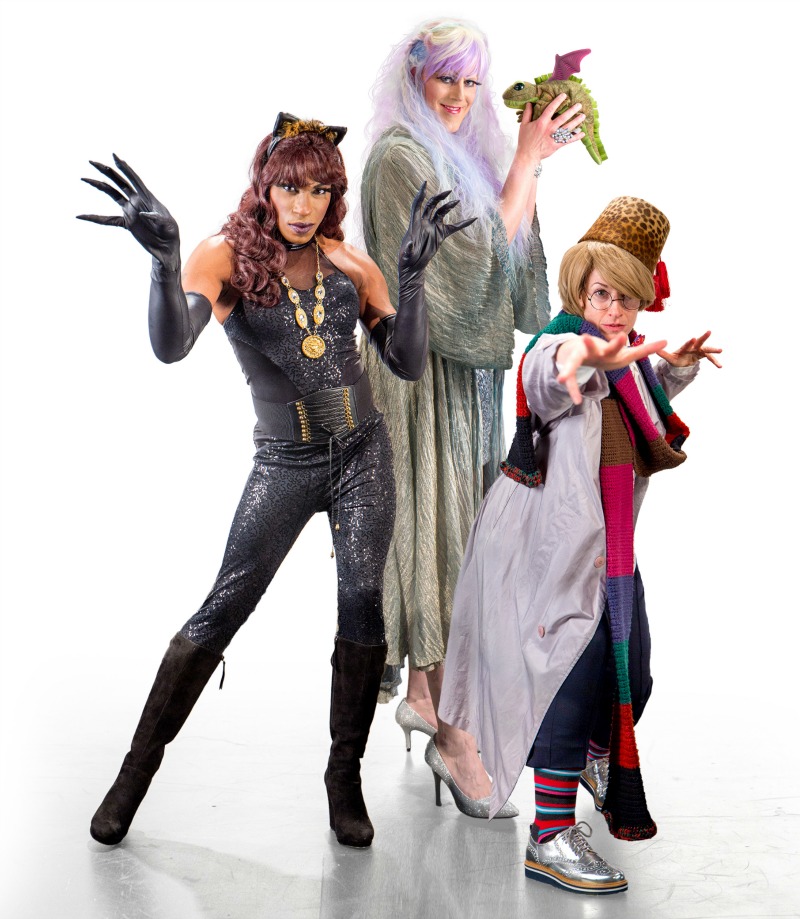 "DragOn is a great way to start off your summer," Austgen said. "It's fun and it's silly and it's a little touching. It just makes you happy."
Austgen is a regular member of Cult Following, Off-Center's resident improv comedy team. As a full-time member of the DCPA Education staff, she teaches improv classes for all ages and performs in a traveling schools program called Shakespeare in the Parking Lot. She has performed on every improv stage in Denver, and is president of the annual Denver Improv Festival.
While the title DragOn might lead audiences to, well … imagine dragons, the show includes only one of the winged beasts. The title is pronounced as two words and brings together sci-fi, fantasy, Comic Con and the fabulous world of drag for a wholly original hour-long stage adventure.
DragOn "is a Comic Con-themed drag adventure," says Austgen. "It's a little more than a drag-themed show, and a little more than an homage to everything Comic Con." Austgen likens DragOn to a Pixar movie: "There is something there for everyone," she said, from RuPaul's Drag Race to Doctor Who to all manner of superheroes.
But the story being told runs deeper than your typical drag show. DragOn is a coming-of-age tale of bravery, family and self-discovery, Austgen said. With a lot of lip-syncing, dancing and random fighting.
(Photo at right: Jessica Austgen is not appearing in 'DragOn,' but it doesn't take much to get her decked out in nerd gear)
The plot is centered on an ingénue named Bobbi Brooklyn who is finding her way in the world as a drag queen. When the "Queen of Queens" disappears, the "Diva-verse" is thrown into chaos –  until Bobbi Brooklyn steps up to bring peace to this land.
Former Off-Center Artistic Producer Emily Tarquin conceived the title last year before commissioning Austgen to pen the script.
Anytime we did sci-fi and fantasy for Cult Following, I was always really excited and nerding out and dropping terms and quotes that nobody else understood," said Austgen. "So they were like, 'If we need a nerd to write this; we're going to get Jess.' "
Austgen owns her nerdness as a badge of honor like the lightning scar on Harry Potter's brow. She is a huge fan of Lord of the Rings, Star Wars and Game of Thrones. She was born the same year the original Star Wars movie premiered, and grew up loving the worlds George Lucas crated on film.
In recent years, Austgen has been fascinated by the revitalization of sci-fi, fantasy and nerd culture, she said.Austgen, a graduate of Fairview High School and the University of Colorado Boulder, really started to get into nerd culture when the first Lord of the Rings film came out in 2001. "Since then, there has been a pretty steady progression of nerdy stuff hitting the mainstream," she said.
"If you love your fandom, then you celebrate the hell out of it," Austgen said. "If you love your fabulousness and your sexuality, then you celebrate the hell out of that, too. I find both of those are really joyful."
Last year alone, the comic-book industry generated $870 million in revenue, while the highest-grossing film of 2016 was Captain America: Civil War at $1.2 billion. Austen hopes DragOn will be seen as right in vogue with today's geek culture. The worlds of drag and Comic Con go well together, she said, because they are are both essentially celebrations.
"On the Comic Con side, LGBTQ+ folks are able to take these characters and morph them to represent their own journey, and it is so celebratory and so inclusive," Austgen said. That same inclusion and celebration can be found at Pride events across the country, and particularly in Denver. Denver's Comic Con and PrideFest are both the third-largest of their kinds in the U.S. The Denver Comic Con hosted 114,900 people in 2016, while the Denver PrideFest attracted more than 375,000.
All of which makes timing for DragOn perfect, Austgen said: PrideFest returns to Civic Center Park on June 17-18, and Comic Con takes over the nearby Colorado Convention Center from June 30-July 2. DragOn only adds to the party.
For those potential audiences who are not familiar with these particular pop-cultural niches, Austgen promises there is nothing to fear from DragOn. "The audience might get picked on a little bit by the drag queens," she said, "but it is not a hugely participatory show." At its heart, she said, "You're going to see a hero's journey – only dragged up, glittery and sparkly."
DragOn: Ticket information
• Saturday through June 25
• Garner-Galleria Theatre, Denver Performing Arts Complex
• ASL and Audio-Described Matinee 2 p.m. June 24
• Tickets: 303-893-4100 or BUY ONLINE
• Groups: Call 303-446-4829
About the Author
Avery Anderson is interning with the DCPA NewsCenter for the summer. He is the General Manager and producer of Met TV at Metropolitan State University of Denver. He was won two Heartland Student Emmy Awards for his work on The Met Report. He has a passion for local arts and culture and enjoys covering theatres across the Denver area and the state. Follow him on Twitter and @a_anderson64.
https://www.denvercenter.org/wp-content/uploads/2018/04/featured-image-4977.jpg
919
800
DCPA Press
DCPA Press
2017-06-01 13:20:00
2018-12-19 21:40:42
DragOn launches summer celebration of drag, Pride and superheroes