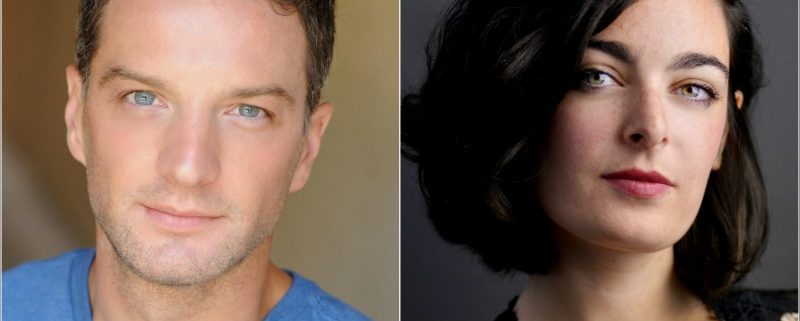 Euan Morton to don Hedwig's wig on national tour

Euan Morton, left, and Hannah Corneau.
The long-awaited first national touring production of Hedwig and the Angry Inch will come to Denver starting Dec. 6 with Tony and Olivier Award-nominee Euan Morton in the title role of the internationally ignored song stylist, it was announced this morning.
Morton is perhaps best known for originating the role of Boy George in the musical Taboo in London and New York. Hannah Corneau will play Yitzhak in Broadway's 2014 Tony Award-winning Best Musical Revival.
Denver will be the second stop on the new tour after it officially opens Nov. 29 in San Diego.
"I have been blessed in my career, but no blessing has been as exciting as the chance I've been given to take over the role of Hedwig," said Morton. "Joining the cast is the kind of challenge an actor dreams of."
Read John Moore's interview with John Cameron Mitchell's parents

Hedwig and the Angry Inch is the landmark rock-concert musical by John Cameron Mitchell and Stephen Trask that debuted off-Broadway in 1998 and was made into a cult-hit indie movie in 2001. It's about a fictional rock band fronted by an East German singer named Hedwig – formerly Hansel – who undergoes a botched sex-change operation to marry an American soldier who helped her to escape East Germany to Kansas, where he abandoned her.
The now iconic role was originated by Mitchell off-Broadway and again on film. But when Hedwig finally arrived on Broadway (or, as the clever story now goes, when Hedwig essentially trespassed her way onto Broadway), the role of Hedwig was bequeathed onto the man Mitchell calls "America's Sweetheart" – Neil Patrick Harris.
But as successful as Hedwig was on Broadway, with more than 500 performances, the role was not conceived to be performed by a major celebrity. That national touring audiences will not be as familiar with Morton, Mitchell said, will work to the show's advantage.
"I have to say that I am really, really excited about (Euan)," Mitchell said in an exclusive interview with the DCPA NewsCenter. "His audition was spectacular. It was the best that I have ever seen for Hedwig.
"The pressure on Broadway was harder because you had more seats, the ticket price was higher. You had to have some kind of name, or you were going to close. On the tour, we are selling 'the show.' So there is a certain release in being able to cast the best, as opposed to someone who is really good that is famous."
Added Trask: "Euan's Hedwig is going to be so exquisitely beautiful and achingly heartbreaking. He is otherworldly." Mitchell said he is going to be taking special care with Morton "to give him the benefit of what I know and help him out along the way – because I have sneaking suspicion that he could be spectacular."
More Colorado theatre coverage on the DCPA NewsCenter

Morton was born in Scotland and received both Olivier and Tony Award nominations for his performance as Boy George in Taboo. More recently, he appeared as Prince John in the play Heart of Robin Hood in Canada opposite Denver School of the Arts alum Gabriel Ebert as Robin Hood.
"I'm ready for the ride of my life; I hope America is ready for her ride too," Morton said.
Corneau just played the title role in Evita at the Marriott Lincolnshire Theatre outside of Chicago and Fantine in the Paramount Theatre production of Les Miserables. "Hannah is a force of nature, and I'm really excited to unleash her on the country," said Hedwig director Michael Mayer (Spring Awakening).
The members of Hedwig's band "The Angry Inch" – aka "Tits of Clay" – are music director Justin Craig (guitar and keyboards), Matt Duncan (bass), Tim Mislock (guitar), and Peter Yanowitz (drums), all of whom originated their roles on Broadway. Rounding out the company are Mason Alexander Park (Standby for Hedwig), Shannon Conley (Standby for Yitzhak), Dylan Fusillo (Standby for Schlatko) and Matt Katz-Bohen (Standby for Skszp, Jacek and Krzyzhtoff).

John Moore was named one of the 12 most influential theater critics in the U.S by American Theatre Magazine in 2011. He has since taken a groundbreaking position as the Denver Center's Senior Arts Journalist.
Hedwig and the Angry Inch: Ticket information
Hedwig and the Angry Inch is the genre-bending, fourth-wall-smashing musical sensation, with a pulsing score and electrifying performances, that tells the story of one of the most unique characters to ever hit the stage.
• Dec 6-11
• Buell Theatre
• ASL interpreted, Audio-described and Open Captioned performance: Dec. 10
• Tickets: 303-893-4100 or BUY ONLINE
• Groups: Call 303-446-4829
https://www.denvercenter.org/wp-content/uploads/2018/04/featured-image-3674.jpg
494
800
John Moore
John Moore
2016-10-13 10:00:00
2018-06-13 16:04:31
Euan Morton to don Hedwig's wig on national tour