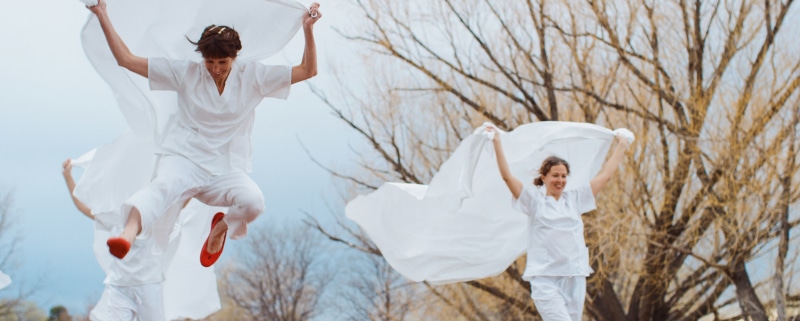 'First, Do No Harm' takes dance immersion down hospital hallways
Audiences will explore life and loss through the eyes of both the cared for and the caregivers
Tara Rynders, a dancer, actor and film artist who appeared in Off-Center's 2016 Sweet & Lucky, is also a registered nurse at Rose Medical Center. And this month, she is combining her passions by presenting a unique new immersive dance performance that will be staged throughout her very own workplace.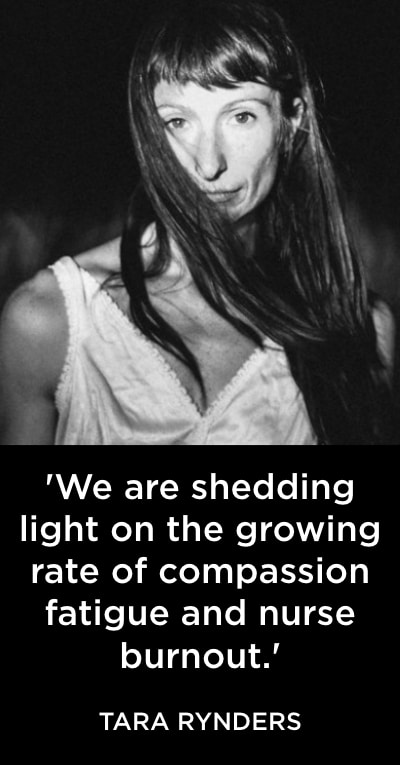 Rynders describes First, Do No Harm as "an intimate journey of personal loss, love, life and death that takes the audience on a pendulum swing until collectively we reach the very core of our human condition, sharing an experience that shapes our interactions and the way we experience each other."
Throughout the two-hour public performance, dancers, actors and musicians will guide audiences throughout the hospital where these themes will be explored through the eyes of the caregivers and the cared for.
First, Do No Harm is presented by The Clinic, created by Rynders as a year-long artist residency at the hospital. "We are shedding light on the growing rate of compassion fatigue, nurse burnout and post-traumatic stress through an entangled story of love, life, loss and grief, told through the perspectives of nurses, hospital liaisons and family members," said Rynders, who has been employed at Rose Medical Center for the past decade.
"Though I have been a registered nurse for more than 14 years, being a patient for the first time made me realize how incredibly lucky I am to be a nurse," she said. "I am inspired and passionate about bringing the arts into the hospital setting to give patients the best care possible so that they feel seen, heard, and cared for. I am inspired to use the arts to help educate nurses on how to experience the joy and beauty found daily in our profession."
First, Do No Harm, inspired by personal accounts of health-care providers and patients, is written by Denver actor director and playwright Edith Weiss, who was Rynders' castmate in Sweet & Lucky, and also will be a featured playwright in Off-Center's upcoming evening of micro plays called Bite Size.
First, Do No Harm is co-directed by Rynders, Jadd Tank of Houston and Lia Bonfilio, another Sweet & Lucky castmate who is based out of New York City with Third Rail Projects.
"It has been really great to see how Sweet & Lucky connected us all, and now we are creating and collaborating with each other on new levels," said Rynders, who is also married to Tim Rynders, bassist for the popular Colorado band The Knew.
John Moore was named one of the 12 most influential theater critics in the U.S by American Theatre Magazine in 2011. He has since taken a groundbreaking position as the Denver Center's Senior Arts Journalist.
The Clinic's First, Do No Harm
Dates: October 18-28
Written by Edith Weiss
Performances 7 p.m. Thursdays through Sundays at Rose Medical Center, 4567 E. 9th Ave. (Use main entrance on Cherry Street.)
Performers: J. Akiyama, Maegan Keller, Jake Wherry, Olivia Dwyer, Rowan Salem,  Suzanna Wellens, Emma Acheson, Kristine Whittle, Hanna Brown, Lia Bonfilio, Sexton McGrath, Julie Rooney, Cortney McGuire, Tara Rynders and Kate Speer
Visit theclinicperformance.com for tickets
Please note all guests will be required to walk and stand for long periods of time. Note: Please wear comfortable shoes. Also note that you may be physically touched as an audience member. All shows are ADA accessible.
https://www.denvercenter.org/wp-content/uploads/2018/10/800-TheClinic_FullRes-5_photoby_Adam_Bove.jpg
337
800
John Moore
John Moore
2018-10-14 14:50:56
2018-10-16 12:17:44
'First, Do No Harm' takes dance immersion down hospital hallways