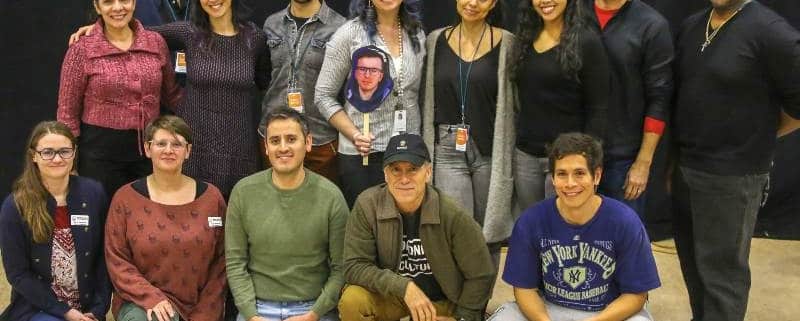 Five things we learned at first rehearsal for 'twenty50'
Director believes this conversation is long overdue
The DCPA's commissioned world-premiere play twenty50 began as a conversation on the balcony of a Brooklyn apartment. It was just after the 2016 presidential election, and playwright Tony Meneses was talking with friends about the future of America, the Latinx community's place in it, and what might happen to Latino identity as a result.
"I wondered: Are we still going to be otherized and vilified the way we are right now, or is that going to change?" Meneses said. "Or are we going to continue to assimilate into the white population the way that other immigrant groups have throughout American history? It seemed like an interesting what-if?"
That what-if was the seed for his new play. In twenty50, set in the year 2050, a Mexican immigrant named Andres Salazar is running for congress but, in this tricky political environment, he must decide whether identifying himself as Mexican American will help or hinder him on Election Day.
Here are five things we learned about the play – and the people presenting it – at the first rehearsal.
This is a very much political play. It's also a thriller that turns on the appearance of an unexpected visitor. "twenty50 is an election story, it's a pot-boiler, it's a mystery – and it's a pretty energizing night at the theatre," Director Henry Godinez said. "Things happen that are shocking and exciting, not unlike any great Hollywood film." He added that all scenic elements have been designed to keep the story propelling forward in a kind of perpetual motion. "It's just a really exciting 80 minutes in the theatre," he said.

It is also a cautionary tale. Godinez's great hope is that twenty50 will start a community-wide dialogue about about issues of identity. "What's wonderful about this play is that it makes space for very difficult conversations within communities of color that should be happening all over this country right now – but aren't." he said. "I think this play provides an opportunity to hold a mirror up to ourselves as a country, as the human race but even more specifically as communities of color – and Latinos in particular. What are we going to have to sacrifice as we move along into the future if we lose our connection to who we are as people of Latin American heritage along the way?"

It is not a science-fiction play. Part of the fun of presenting a play set 30 years into the future is deciding just how futuristically to present the story on stage. Godinez and Meneses are choosing to be disciplined about that opportunity so as not to distract the audience from the larger point of the story. So while we in the real world might very well be watching hologram TV in 2050, you won't see that on the stage. "We want to create a world that is both recognizable and yet gives you the feeling that the future is just over there," Godinez said. "But the last thing we want is for the audience to be taken out of the world of the play by the technology we might create."
Fashion forward? While clothing trends come and go, Costume Designer Meghan Anderson Doyle is likewise respectful of the fact that certain basics haven't changed all that much over the past century, such as men's business suits, everyday farm clothing, work uniforms and good-old blue jeans. But one thing she hopes absolutely changes is the way one female character who plays the local sheriff dresses for the job. "This is a woman who has advanced her career, and my hope is that perhaps society has caught up with that fact  – and maybe she's not just wearing a man's clothes shoved onto a female body. So we are giving her a sheriff's uniform that is made just for her."
Listen to the sound. Godinez said the soundscape for the play is informed by percussion and folkloric music with an emphasis on the female voice – namely singer-songwriter Lila Downs and her take on the traditional "La Cucaracha," as well as the iconic lament La Llorona – the legendary "Medea"-like tale of a woman who when abandoned by her husband takes her revenge by drowning her sons out of grief and anger. Godinez also cited as a music influence Los Lobos' 1988 Mexican folk album "La Pistola y el Corazón."

The making of twenty50: Photo gallery
twenty50: Ticket information
At a glance: In the year 2050, Andres Salazar, an immigrant, is running for congress. In an imagined America where Latinos are now considered part of the racial majority, he has tough decisions to make. Will identifying himself as a Mexican American help or hinder him on Election Day? Will denying part of his identity be worth the potential political benefits? As the campaign forces his mother and daughter to face their own questions of culture and identity, a mysterious stranger arrives. Searching for freedom and running from the law, his appearance jeopardizes everything the family holds dear.
Dates: Performances January 31 through March 1 (opens February 7)
Where: Space Theatre

Genre: Suspenseful thriller
Tickets: Start at $30 and can be purchased at 303-893-4100 or in person in the Helen Bonfils Theatre Complex at 14th and Curtis streets or online by clicking here:

https://www.denvercenter.org/wp-content/uploads/2020/01/twenty50.-Photo-by-John-Moore.jpg
626
800
John Moore
John Moore
2020-01-08 19:15:28
2020-01-10 18:29:38
Five things we learned at first rehearsal for 'twenty50'