For Robert Michael Sanders, time has stood still long enough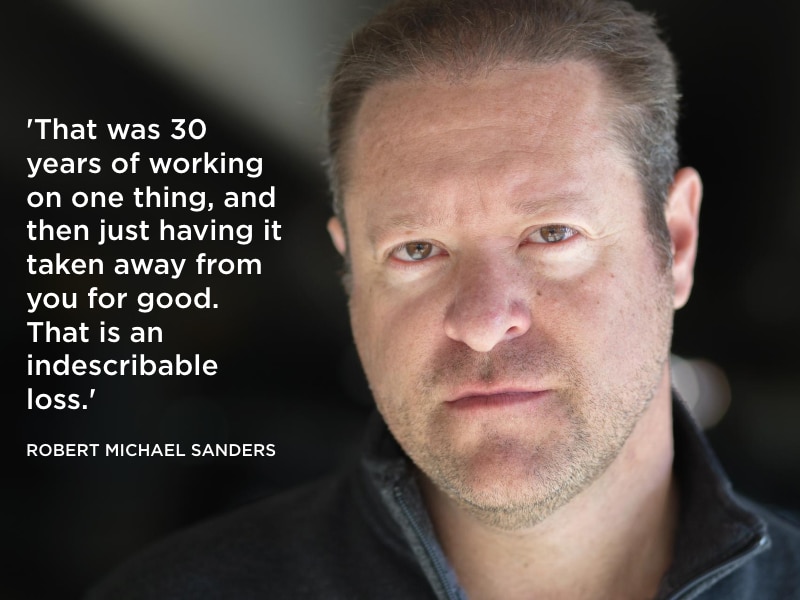 The actor and singer will perform his music publicly for the first time since botched shoulder surgery left his fingers partially paralyzed
It was a full two years of pain, tears and rigorous physical therapy before it finally got through to actor and musician Robert Michael Sanders that he will never regain the full use of his fingers. Doctors finally informed Sanders his recovery had plateaued at about 50 percent of normal mobility. That was it. Meaning he would never again offer another firm handshake. He would never again wield a hammer. And he would never again play the guitar or the piano as he once had.
For a career actor, musician and stage builder, it was a feeling of complete and total defeat.
"That was 30 years of working on one thing, and becoming proficient and successful at it ­– and then just having it taken away from you for good," Sanders said. "That is an indescribable loss."
And for what? A badly botched, routine shoulder surgery.
But Sanders hasn't accepted the permanent diagnosis. Not fully, anyway. "My mind still knows the chords, and my brain can still write music," he said. "If anybody can figure out how to MacGyver a way that I can play a guitar again, it will be me."
If Sanders had fully accepted his fate, he would not be taking the next Quixotic step in his recovery on February 8-9 when he headlines two nights of cabaret at the Aurora Fox under his musical pen name: Robert Michael.
He's terrified – for real. This will be the first time he has played music in public since he surprised his future wife, actor Megan Van De Hey, on a date back in 2008. And he warns you: This story is going to be sappy and romantic.
"I told Megan we were going out for a night of live music at the Toad Tavern in Littleton," he said. "I didn't tell her that I had booked a solo show there and that I would be playing. So I got up there and serenaded her with a private concert that was just for her in a room full of people."
Sanders claims not to get why his return to the mighty mic next week at the Aurora Fox makes for an irresistible comeback story. But take it from actor and singer Norrell Moore, herself a breast-cancer survivor at age 32: It is.
"This show will be a powerful reflection of all Robert has had to overcome," said Moore, who is flying back from her new home in Chicago to sing with Sanders at the Fox. "This will be raw, and it will be real."
While playing the guitar may be history, Sanders used plunking the piano as an occupational therapy during his recovery. And he has worked his way up to the point where he believes he might actually tickle the ivories on two or three songs in his upcoming set at the Fox. If you think that will be emotional to watch, just imagine what it will be like for Sanders to do.
"I fully expect to have a meltdown," he said. "I should probably start the show with the caveat that if I burst into tears, just give me a second. That's perfectly normal for me."
This isn't a gig Sanders asked for – more like one he was berated into taking, he claims. But not-so deep down, he knows he needs this. "Emotionally, I need to know that I can still do this. Physically, I need to know that I can get through this. And psychologically, I need to prove to myself that I am more than just what I used to do," he said.
"The way I look at it, I have two choices: I can either not play my music ever again – or I can go out there and figure out my new normal. Which means I have to go out there and find out for myself what I can and can't do."
The day everything changed
Sanders is the rare local theatre artist who has always consistently worked as an actor or director. "From 2006 until my surgery, I don't think I ever wasn't working on a show," he said. That included a long stretch in a revival of the Denver Center's biggest hit, I Love You, You're Perfect, Now Change.
Then came April 24, 2013, when Sanders underwent what was expected to be outpatient rotator-cuff surgery at Denver Health Medical Center. The procedure was supposed to be so minor that he wasn't even placed on a surgical table – he was sitting up in a chair for the operation. But Sanders was given too much anesthesia, which caused his blood pressure to drop. It was only determined later, after Sanders came to and could barely move his neck — and his arms and hands not at all — that something had gone terribly, terribly wrong.
Sanders was told by doctors that when his blood pressure fell, the three discs of his spine that control his hand and some arm movement were temporarily deprived of oxygen. And the impact of that oxygen deprivation was the equivalent of a skeletal stroke.
Sanders was moved to Craig Rehabilitation Hospital for extended-care physical therapy that he continued as an out-patient for the next two years.
"I went from being a full-time actor and musician to a spinal injury that required me to effectively re-learn how to walk, among other things," said Sanders, who naturally wondered if anyone would ever hire him again.
What sustained Sanders in those dark days was his future wife (whom he finally married in 2016) and both the financial and familial response of the theatre community.
"Megan is a badass," Sanders said of Van De Hey, who is making a comeback of her own from a serious leg injury by performing right now in Cherry Creek Theatre's A Little Night Music. "She is just as fierce as a spouse as she is as a performer," he said. "She didn't ask for the challenges that came with this. But she has taken them on, and she has fought all the battles with me."
The theatre community not only raised money to help with immediate expenses, area directors hired him to perform in shows, even if he couldn't hold his own script, just to help him stay eligible for his health insurance. He was also welcomed into Phamaly, the acclaimed Denver theatre company that exists to create performance opportunities for actors with disabilities. He played Bellomy in The Fantastics and Henry Higgins in Pygmalion.
"Having been a non-disabled actor all my life and then suddenly seeing first-hand the challenges that actors with disabilities face truly gave me a unique insight into their battles and the fight they go through every day just to be on that stage," said Sanders, who also has become a go-to director for several local theatre companies, including the Breckenridge Backstage Theatre and the Candlelight Dinner Theatre in Johnstown. All of that work has kept his mental energy flowing forward.
"You might feel like a really little cog in a community, and then everybody circles the wagons and pulls together for you, whether you know them or not," he said. "That helped bring me around to seeing the value of this community, and paying all of that forward."
The community's grassroots efforts to support Sanders in his time of need largely laid the groundwork for The Denver Actors Fund, a grassroots nonprofit that supports Colorado theatre artists in medical need. Sanders has steadfastly supported the organization since its inception, primarily by producing the organization's major annual fundraiser, Miscast. By the end of 2018, Sanders had helped in the raising of more than $65,000 for the fund in various ways.
"I guess you have to have been on the bad side of things just to see how desperately we need The Denver Actors Fund," he said. "Everybody rallied for me, I want to make sure that we continue to rally for anyone and everyone to come. Things change in an instant, so …"
The sounds of 'Silence'
Sanders, a Denver native and graduate of Broomfield High School, has one overriding claim to fame from his youth: Working at  Jonas Brothers Taxidermy in the Golden Triangle. OK, that's not the only one. He is also an accomplished singer and guitarist who toured the world with a hair-metal band (with harmony!) that he called, one can only hope ironically: Silence. The band, he says, was essentially Whitesnake with Journey vocals. But Silence defied time and all expectations by staying together in pretty much its original lineup for a remarkable 18 years.
But hair metal had an expiration date (who knew?), and when Sanders hit it, "I moved into a more sustainable kind of music that is a little more easy-listening adult blues rock," he said. That was the birth of the Robert Michael Band.
If Robert Michael Sanders is a long-haired rocker, then Robert Michael is a mellower and more closely cropped acoustic storyteller who has released two albums that fuse rock, blues, country, funk, pop and easy listening: "Feel it Coming" and "Time Stood Still." Robert Michael has quite a presence on Spotify, notably his cover of Crowded House's "Don't Dream It's Over" that is now approaching 1.4 million plays.
Sanders' cabaret set at the Aurora Fox will feature several songs from his two albums – "and not a single show tune," he promises. He has hired some of his favorite hired guns to play with him: Longtime keyboard player and writing partner Jeremiah Horner is coming in from Portland, Oregon, to play the two shows. Jason Tyler Vaughn will play guitar and Norrell Moore not only will support Sanders with backup vocals, she will sing a few of her own songs.
"For me, performing with Robert Michael in such an intimate, safe space is the truest expression of who he is as person," said Moore. "He's just a magnificent storyteller who is always inviting you into the conversation."
That's one affirmation Sanders will begrudgingly own. "What I know how to do is hold the guitar and sing and tell a story. Or sit down at a piano and sing and tell a story," he said. "But sitting down and telling a story that I'm not playing on guitar or piano is a new challenge for me. I've never been just a singer. I've always had an instrument to lean on. And now I have to go out there and just tell the story vocally while everybody else supports it. That is going to be different. But I've written everything. It's all my stuff. And I think it's in good hands."
Sanders hopes you come to the Aurora Fox to see his cabaret show, not because of his story but for his songs.
"Please come to have a good time, listen to some original music and support all of artists who will be on that stage," he said. "But don't come for pity."
Time Stood Still: Ticket information
The Aurora Fox Cabaret Series
7:30 p.m., February 8-9
Studio Theatre, 9900 E. Colfax Ave., Aurora
Tickets $22
Call 303-739-1970 or go to aurorafox.org
Robert Michael Sanders: At a glance
Acting highlights:
Featured player in the Denver Center's I Love You, You're Perfect, Now Change
Caldwell B. Cladwell in Urinetown at the City of Denver's wastewater plant
Conklin (the Irish racist) in the Arvada Center's Ragtime
Ensemble in the Aurora Fox's Almost Maine
Dave in Town Hall Arts Center's The Full Monty
Pedro in the Arvada Center's The Man of La Mancha
The Lion in Town Hall Arts Center's The Wizard of Oz
Michael in The Edge Theatre's Murder Ballad
Directing highlights:
The Producers and Spamalot for Breckenridge Backstage Theatre
Kiss Me, Kate and Scrooge for the Candlelight Dinner Playhouse
Robert Michael Sanders: Photo gallery
https://www.denvercenter.org/wp-content/uploads/2019/01/Robert-Michael-Sanders-Quote.jpg
600
800
John Moore
John Moore
2019-01-30 12:02:45
2019-02-10 21:06:10
For Robert Michael Sanders, time has stood still long enough