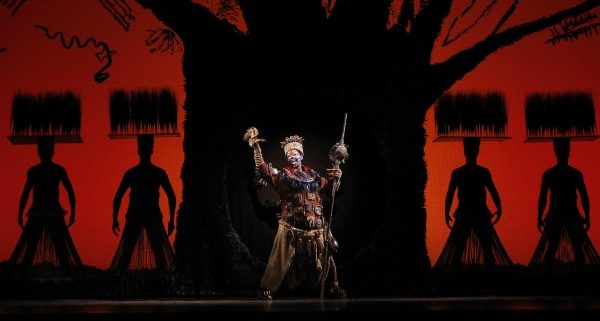 For South Africans, Pride Lands are land of opportunity
The Lion King has employed more than 100 South Africans like Sihle Ngema in its productions worldwide
Sihle Ngema is the first to admit he is living a life that is "completely far-fetched."
Raised in the province of KwaZulu-Natal in southeastern South Africa, Ngema has been a professional performer for 21 years. Which means he started at age 9. For the past nine years, he has been a member of the national touring production of The Lion King that is now visiting Denver through Nov. 29.
"I am blessed," said Ngema. "The Lion King has changed my life completely. It's done a whole 360 on my life."

Like Simba the cub, Ngema comes from South African royalty – but of the pop-culture variety. His family is known for its artistic achievements throughout South Africa. His uncle Mbongeni Ngema not only helped arrange the vocals for Disney's animated The Lion King film alongside Quincy Jones in 1994, he wrote the Tony-nominated Serafina and its 1992 screenplay. Another uncle, Nhlanhla Ngema, was an original member of The Lion King's Broadway ensemble in 1997.
But that does not mean it was easy for Sihle – pronounced "Seek-Lay" – growing up near the Indian Ocean shoreline.
"It was a rough neighborhood," Ngema said. "Either you join the bad boys, or you are a good boy that goes to church. And if you are a good boy, then the bad boys are going to mess with you all the time."
Ngema graduated from school and left for Cape Town to work as a singer. And at that, he's very good, says The Lion King Puppet Supervisor Michael Reilly. "He really is the South African version of Steve Perry," Reilly said, comparing Ngema to the original lead singer of the rock band Journey.
When word came to South Africa that Disney would be opening a Broadway musical telling the Hamlet-like story of a kingdom of African lions, and that its score would blend pop-music influences with South African chants, everyone back home was talking about it – but no one understood what it was. "Everybody thought The Lion King was just a cartoon," said Ngema.
Then his uncle was cast in The Lion King on Broadway. Then Sihle was cast for productions in Australia, Shanghai and finally the North American national tour.
"To tell you the honest truth, I had chills all over my body the first time I saw the show," Ngema said. "I am a sensitive guy. I cry all the time. Watching this amazing thing onstage, there was disbelief that I am going to be a part of this epic thing that everybody is watching."
What makes performing in The Lion King all the more meaningful to Ngema is the authenticity of the South African music, and what that brings to the live theatrical experience.
"There are so many people who really don't know about other countries," Ngema said. "I wouldn't, if I had never left home. But this show is such a good way of taking people to Africa. The way I think of it is this: Sitting in that theatre; that is home."
Today, home for Ngema is Arizona, where he is based with his wife – a former Lion King performer herself – and their children, ages 4 and 1.
"Life is not bad," Ngema said. "I am grateful that God gave me a chance to be here in another country and gave my children a different way of life."
The Lion King has now played before more than 80 million audience members in 22 productions around the world. One of the most tangible rewards for its success has been the employment opportunities it has created for performers of color – a direct consequence of Director Julie Taymor's insistence on the musical's African genuineness.
When The Lion King hit the road starting in Denver in 2001, a study determined that just 5.2 percent of all lead roles on Broadway and 15.8 percent of chorus roles were being filled by non-white actors. In 2013, it was estimated that 23 percent of all Broadway roles were being played by non-white actors.
The Lion King has had more to do with turning those numbers in the right direction than any show in Broadway history. And its impact is being felt throughout the world. The touring production features a cast of 49, of whom 42 are actors of color representing a range of ethnicities. To date, The Lion King has employed more than 100 South Africans in its productions worldwide, including Ngema.
"I am grateful every day for the opportunity Disney has provided not just for me, but for my fellow South Africans," Ngema said. "There are so many families back home whose lives have been changed by this. Many of the South African cast members have created their own charity companies back home, and it is all because of The Lion King."
Despite a last name that carries great celebrity and artistic opportunity for him throughout South Africa, Ngema has chosen to spend almost the past decade on the North American road with The Lion King.
"There are families that first came with their kids, and now their kids are bringing their kids," said Ngema. "Every night, for one kid in the audience – or for two, or 14 – it will change their lives. It will make them decide they want to be a dancer, a singer, an actor. And on top of that, it is just a good way of understanding life. The circle of life.
"Now that I have kids, I know it can be hard to touch sore subjects with them. This show is an easy way of easing into that with kids. And to remind us all that life is life. It happens, and it is nothing to worry about. It will keep going if we are here or not."

Disney's The Lion King: Ticket information
Nov 4-29 at the Buell Theatre
Tickets: 303-893-4100 or BUY ONLINE
TTY: 303-893-9582
Groups of 15 or more: 303-446-4829
Also: Purchase in person at The Denver Center Ticket Office, located at the Helen Bonfils Theatre Complex lobby. Buy and print online at DenverCenter.Org.
Accessibility performance: 2 p.m. Nov. 28
Please be advised that the Denver Center for the Performing Arts – denvercenter.org – is the only authorized online ticket provider for Disney's 'The Lion King.'
https://www.denvercenter.org/wp-content/uploads/2018/04/featured-image-2935.jpg
340
600
John Moore
John Moore
2015-11-12 17:27:00
2019-02-28 15:55:14
For South Africans, Pride Lands are land of opportunity