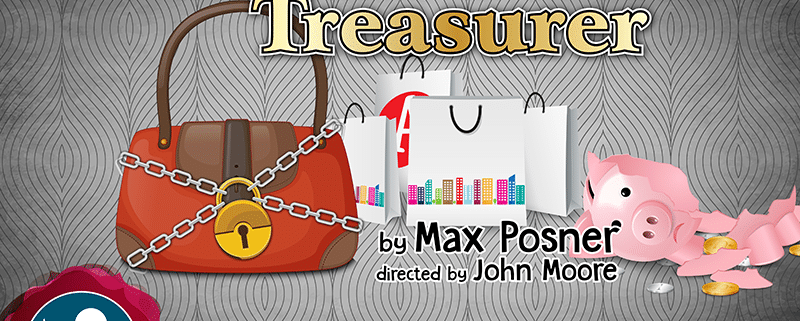 Former DCPA Arts Journalist John Moore directs The Treasurer at Miners Alley Playhouse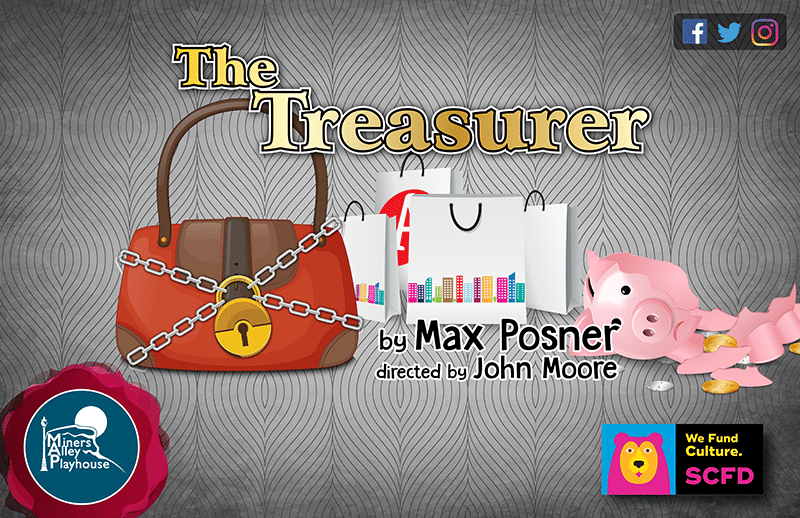 When former DCPA Sr. Arts Journalist John Moore was forced to vacate his position and exit stage right due to COVID, little did he imagine that he would be directing a play on which he previously reported. But Miners Alley Playhouse wisely decided to put all of that theatre expertise into action by tapping Moore to direct The Treasurer, which plays July 17 through August 7 in Golden.
"Since leaving The Denver Post in 2012, I have actually kind of hit the creative trifecta," said Moore. He performed in Germinal Stage-Denver's farewell production of Offending the Audience, wrote Waiting for Obama, and directed both an extended run of Always, Patsy Cline at the PACE Center in Parker and Jostled as part of Bas Bleu Theatre's "Lest We Forget" Holocaust remembrance in Fort Collins.
Of this list of credits, Moore's most personal time in the theatre was likely in writing his own play. Waiting for Obama is a story of a family convinced that President Obama is coming to take their guns — and their right to bear arms — away. It was a featured selection at the 2016 New York International Fringe Festival and is now available as a radio play and on demand.
Now, he returns to the director's seat and the stakes are high.
"Although Miners Alley Playhouse is a 501 c(3) non-profit, we pay a hefty monthly rent to be in downtown Golden," said Artistic Director Len Matheo," so we are always under pressure to bring in money 365.
"We've made the decision that the best way to get our audiences back and engaged is to do our best work possible, and not just happy plays or musicals," Matheo continued. "So The Treasurer fits perfectly into that frame, with a top notch cast, director and our award-winning production team."
The Treasurer is by Colorado native and Denver School of the Arts grad, Max Posner, whom Moore had the pleasure of interviewing in 2017 just as the play was receiving its world premiere at Playwrights Horizons in New York.
Posner, who is now a commissioned playwright with Lincoln Center, Manhattan Theatre Club and DCPA Theatre Company (he's writing a two-person musical), was named by Moore, as one of The Denver Post's "Can't Miss Kids" of 2006 when the budding playwright was just 17.
Fast forward 15 years and Moore says, "I just think Max is a fresh, original voice who is rewriting the rules of traditional theatre storytelling convention all along his way. This is just the beginning for him."
The Treasurer "is a play about a mother and three sons in four states, trying to manage her final transition from the emotional wasteland of isolation of distance," explained Moore. "How much closer to the bone can that get to the year we have all just experienced?
"[It] presents us with a completely identifiable play that asks some uncomfortably relatable questions: Can you go to hell for not loving your mother? Even when you don't actually believe in hell? Especially when that mother abandoned you at age 13 for a more fulfilling life?"
According to Moore's past feature story, The Treasurer is "a darkly funny and very private portrait of an aging mother and her son.
"I think audiences will relish this wholly original play that explores one fundamental truth: Even when we don't love our family, we still have a responsibility toward them," Moore asserted. "That's not always fair, but that's the deal. And just to be clear: I would assert that this play is not only absurdly funny at times, it also presents us with a shockingly hopeful ending.
"I hope DCPA patrons will come to Golden just to get a taste of what this exciting new, Denver-born playwriting voice might be bringing back to the Denver Center someday soon with his new musical."
The Treasurer is an extension of Miners Alley Playhouse's commitment to showcase local playwrights and their new works. Tickets are available in-person and On-Demand based on a "Pay it Forward" pricing model. Tickets range from $10 to $100 and are available online or by phone at 303.935.3044.
DETAILS
The Treasurer
Jul 17 – Aug 7 • 1224 Washington Ave., Golden
Tickets range from $0 – $100
Box Office: minersalley.com or 303.935.3044
https://www.denvercenter.org/wp-content/uploads/2021/07/3-Treasurer_Poster_11x17v3-sm.png
518
800
DCPA Press
DCPA Press
2021-07-13 10:45:04
2021-07-13 10:49:49
Former DCPA Arts Journalist John Moore directs The Treasurer at Miners Alley Playhouse