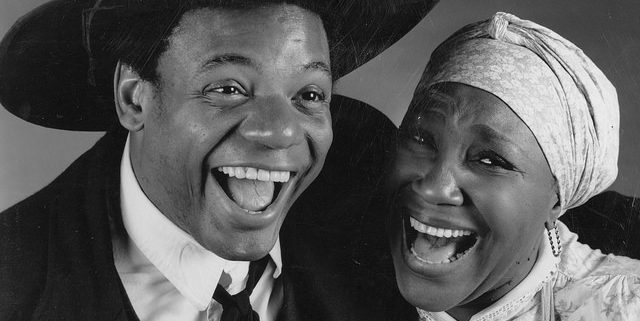 Harvy Blanks: 'Wilsonian Warrior' makes Broadway debut in 'Jitney'
Photo gallery: A look back at Harvy Blanks at the Denver Center:


Harvy Blanks, a veteran of 37 productions with the DCPA Theatre Company, including eight of the 10 August Wilson plays, made his Broadway debut on Thursday (Jan. 19) in Wilson's 'Jitney.' Here is a look back at some of his productions with the Denver Center.To see more, click the forward arrow on the image above.
First the popular actor made theatre history in Denver. Now he is helping to make history on Broadway.
By John Moore
For The DCPA NewsCenter
In 2009, Harvy Blanks made history as part of the DCPA Theatre Company's Radio Golf, which made Israel Hicks the first director in the world to have completed the entire August Wilson Century Cycle for the same theatre company.
Blanks made history again Thursday night, when he not only made his Broadway debut, he did it in Jitney, the 10th and final story in Wilson's legendary series to be told on Broadway.
Blanks is a veteran of 37 DCPA Theatre Company productions over 25 years, including eight of the 10 Wilson plays that chronicle the African-American experience in Pittsburgh's Hill District throughout each decade of the 20th Century. Jitney takes place in the 1970s and tells the story of gentrification as the city tries to shut down a gypsy cab station whose drivers are struggling to survive. The New York Times is already calling the production glorious, "acted by an impeccably tuned ensemble."
"The coupling of my doing any August Wilson play, and being on Broadway for the first time, is just too much," Blanks said this week. "I sit backstage sometimes and I say to myself, 'Man, I'm on Broadway. And I am rubbing elbows with some of the greatest actors in the world.' ''
Some of Blanks' fellow actors would say they are the ones doing the elbow-rubbing. Kim Staunton, who is back at the Denver Center to appear in the upcoming world premiere of the play Two Degrees, appeared in six August Wilson plays alongside Blanks at the Denver Center, which beat Broadway to the August Wilson finish line by seven years. Staunton says Blanks is part of a tribe she calls "The Wilsonian Warriors."
"Harvy is one of America's theater treasures, and a kind, gentle, amazing man," said Staunton. "He so deserves to be on Broadway, and that his debut is the last August Wilson play in the canon to be produced there, couldn't be more perfect and wonderful."
Blanks admits it was hard for him to accept a role in another Wilson play after Israel Hicks died in 2010. "I've seen a whole lot of August Wilson, but not a lot of good August Wilson," he said, "and if it's not good, it's going to be bad."
Blanks wants to do August Wilson anytime he can do it with a good director, he said, and Jitney director Ruben Santiago-Hudson is Wilson royalty.
(Photo above and right: Cast of Broadway's 'Jitney.' Photo by Kareem Black.)
"Ruben is a direct descendent of Israel Hicks and Lloyd Richards and that whole circle of August Wilson's friends," Blanks said. Many of his Broadway castmates were part of Wilson's original productions. Santiago first cast Blanks in a staging of Jitney at Two River Theatre in New Jersey back in 2012. And he not only brought most of that cast with him to Broadway – he insisted on it. Including Blanks, who despite all of his regional experience, was an unknown Broadway entity. As is the case with most every high-stakes Broadway production, there was pressure to bring in bigger names from TV or film for Jitney. But Santiago didn't flinch.
"He is loyal to a fault," Blanks said, "and I'll tell you what, man, this production almost did not get done because of that fact. But Ruben was willing to stand up and say, 'Hey, it has to be this way because these are August Wilson's kind of actors, and I can't do it with anything less than these people. Just to have a big name up there is not going to work for me.' So he fights for his people, and he fights for the right to put the best play on stage that he can. Ruben reminds me of Israel so much. He's an actor's director, and he is a friend."
In the Denver Center's 2002 production of Jitney, Blanks played Turnbo, a gossiping, gun-pulling livery driver. On Broadway, Blanks is playing Shealy, a smooth, well-dressed numbers man. Blanks describes Shealy as "the spice of life" in the play, a comic role he equates to the mechanical characters in Shakespeare's A Midsummer Night's Dream.
"When Shealy comes on, he brings all of the energy and all the hopes and desires and passions that exist on the streets of the Hill District," Blanks said. "He comes in and he tells stories and he elicits conversation with everyone and by the time he makes his exit, I hope you are wondering, 'What kind of adventure is he going to bring with him next?' He's a whirlwind, and he's a storyteller, very much like August himself."
In order of each decade in the Wilson cycle, Blanks has played:
Eli in Gem of the Ocean (DCPA Theatre Company)
Loomis in Joe Turner's Come and Gone (DCPA Theatre Company)
Slow Drag in Ma Rainey's Black Bottom (Two River Theater)
Boy Willie in The Piano Lesson (DCPA Theatre Company)
Canewell in Seven Guitars (DCPA Theatre Company)
Gabe in Fences (DCPA Theatre Company)
West in Two Trains Running (Two River Theater)
Turnbo and Shealy in Jitney (DCPA Theatre Company/Broadway)
Stool Pigeon in King Hedley II (DCPA Theatre Company)
Sterling Johnson in Radio Golf (DCPA Theatre Company, pictured above)
And so he was inevitably asked if he has a favorite. And like most actors, Blanks' favorite character is the character he's working on now.
"Shealy is always in this very fashionable 1970s attire," he said. "These are the clothes my dad's generation used to wear. I looked in the mirror in the dressing room the other day, and I just saw my dad in that suit, man. You can't know how meaningful that was to me. It took me right back to those days with my dad and my mom getting dressed to go out, and he's putting on this suit that looks exactly like the one I wear in this play. It warms me. So I'm in love with this guy right now. And I have to thank August Wilson for that, because the turns of phrases that my dad and my uncles used to use all the time are now pouring out of my mouth."
(Pictured right: Harvy Blanks in Broadway's 2017 production of 'Jitney.' Photo by Joan Marcus.)
Wilsonian Warriors have that in common, Staunton said.
"We recognize these people from our own families," she said. "Having done so many shows with Harvy, I've had the pleasure of hearing his stories of the wonderful community who helped raise him. Like always, I know he has pulled from that extraordinary pool to create Shealy."
Blanks last appeared at the Denver Center in a seminal 2011 production of Ruined, a Mother Courage-like story set in a brothel in war-torn Africa. Blanks' DCPA resume includes roles in many African-American stories, such as Purlie and A Raisin in the Sun. But it's remarkably varied slate, including August Strindberg's Miss Julie, Shakespeare's The Winter's Tale, Tennessee Williams' A Streetcar Named Desire, Joseph Kesselring's Arsenic and Old Lace and nine seasonal productions of A Christmas Carol.
"I miss it, man," he said. That's where I cut my teeth."
He knew the Denver Center would be his artistic home, he said, when then-Artistic Director Donovan Marley told him, "We don't have 'color' around here,' " Blanks said. "He told me, 'You are going to be a full part of the company, and that means you will be expected to do what Jamie Horton does, or Kathy Brady does, or John Hutton does.' The biggies. These people were so gifted, and so just by sitting there and watching them work, I became far more disciplined as an actor than I was before I got there. So my time in Denver was huge to me."
Blanks returns to Colorado whenever possible. He performed in Lake Dillon Theatre Company's The Mountaintop opposite Staunton in 2014 (pictured right), and last year he was back in Denver performing in the world premiere of the musical Uncle Jed's Barbershop at the Cleo Parker Robinson Dance Theatre.
Here's more of our conversation with Blanks, including his take on the new movie version of Fences:
John Moore: What does it mean to you to be making your Broadway debut at this stage of your career?
Harvy Blanks: I have certainly wanted to do Broadway, but it wasn't on my bucket list.
John Moore: How is that possible?
Harvy Blanks: Because after you have done theatre for a while, you lose that romantic view. And when you let something go, it frees you from your angst. But a lot of times, it comes back to you in strange and magical forms. Once you let something go free, you find yourself meeting up with it again down the road – and that's the way this happened.
John Moore: What was your first encounter with August Wilson's work?
Harvy Blanks: The first August Wilson experience I ever had was a production of Fences in Chicago with James Earl Jones, and I walked out of there in a daze. It was a nice summer night, and I must have walked forever. I was just completely in my head about what I had just witnessed.
More Colorado theatre coverage on the DCPA NewsCenter

John Moore: I was thinking about you and Kim Staunton when I saw the movie version of Fences a few weeks ago. What did you think of the film?
Harvy Blanks: We were invited by (director and star Denzel Washington) to attend a screening here in New York, and we got to party with him. I was just bowled over … and I am going to tell you the truth. I was thinking to myself: 'There are no chase scenes, there are no blood spatters, there are no sex scenes. I just don't know if America is ready for this.' But, man. That movie took me on a journey. How Denzel shot it reminded me of A Streetcar Named Desire in a lot of ways. Directors often have a problem turning plays into movies, but this was put on the screen in such an artistic fashion. I think it's going to change cinema. I got into an argument after the film with a person who said, 'Yeah but they talked so much.' And I said, 'Yeah, that's what it's about: People talking. It's not about helicopter crashes and missiles. It's a story, and if you listen, you might pick some things.'
John Moore: How about Viola Davis and her willingness to get messy? I mean, in that one key scene, she has bodily fluids coming out of three orifices of her face at the same time. There are actors I'm sure who would have said to the director, "Let's cut, because I know I'm not going to look good on camera." But with Viola Davis, it seems to be the messier the better.
Harvy Blanks: That was just amazing. And just to be frank: I didn't know how to take it at first. At one point I was just thinking, "Please, Viola, just wipe your nose." But the more I thought about it, I said, "Yes! When people are in that state – everything flies." I have been there. I think what she did is going to be a conversation piece for the ages among actors: "To wipe, or not to wipe? That is the question!"
John Moore: I say don't wipe.
Harvy Blanks: You say don't wipe.
John Moore: So to wrap this up, I want to ask you the big question about where we are as a nation and a people right now. In his final interview with American Theatre magazine in 2006, August Wilson expressed hope that with the completion of his cycle, "blacks might now move forward into the next century united, ditching the yoke of disenfranchisement without surrendering their cultural identity." And then I thought about something you told me in a previous interview. You said we should look at the cycle as a metaphor for what blacks in this country have been struggli
ng to do since slavery – and that's trying to find family. But both of those quotes are a decade old now. When you look at them in the context of what has happened in America since, I wonder where you think we're at in terms of that pursuit.
Harvy Blanks: Well, I think we are still pursuing it, quite frankly. This is what I have basically come to: There are forces out there that don't want you to get what you want, because they want what they want, and they will use whatever powers they can to keep that from happening.
(Photo above and right: Harvy Blanks and Keith Randolph Smith in Broadway's 'Jitney.' Photo by Joan Marcus.)
John Moore: So, do you think we are heading in the right direction as a country?
Harvy Blanks: Honestly, I never thought we were heading in the right direction. When Obama was elected, I said, "OK, this is a moment in time." But this whole fantasy of a post-racial society? Are you kidding me? Who came up with that term? It's stupid to think that. Here's what I think: The American Dream is always in flux. So you and me? We can differ. But I have a feeling, that you are going to basically be straight up with me, and that I can be straight up with you. And I think that in terms of human beings, that's the best that we can hope for: That we can have a dialogue. And that's what August Wilson has provided with his plays.
John Moore was named one of the 12 most influential theater critics in the U.S by American Theatre Magazine in 2011. He has since taken a groundbreaking position as the Denver Center's Senior Arts Journalist.

Harvy Blanks' full chronology of plays at the Denver Center:
| | | |
| --- | --- | --- |
| Purlie | Purlie | 1985-86 |
| The Adventures of Huckleberry Finn | Jim | 1989-90 |
| Fences | Gabriel | 1989-90 |
| Three Men on a Horse | Frankie | 1989-90 |
| White Paint | Jake Rutledge | 1989-90 |
| Back to the Blanket | Buffalo Soldier | 1990-91 |
| Joe Turner's Come and Gone | Herald Loomis | 1990-91 |
| The Man Who Came to Dinner | Banjo | 1990-91 |
| Miss Julie | John | 1990-91 |
| They Shoot Horses Don't They? | Rollo | 1990-91 |
| Arsenic and Old Lace | Lieutenant Rooney | 1991-92 |
| Home | Cephus Miles | 1991-92 |
| To Kill a Mockingbird | Tom Robinson | 1991-92 |
| The Piano Lesson | Boy Willie | 1992-93 |
| Someone Who'll Watch Over Me | Adam | 1994-95 |
| The Taming of the Shrew | Curtis | 1994-95 |
| Seven Guitars | Canewell | 1996-97 |
| Dream on Monkey Mountain | Tigre | 1998-99 |
| A Christmas Carol (original version) | Fezziwig/Businessman | Four years** |
| The Winter's Tale | Cleomenes/Ensemble | 1999-00 |
| Jitney | Turnbo | 2001-02 |
| King Hedley II | Stool Pigeon | 2002-03 |
| A Streetcar Named Desire | Mitch | 2003-04 |
| Madwoman | Cop | 2004-05 |
| A Selfish Sacrifice | Samuel Armstrong | 2004-05 |
| Gem of the Ocean | Eli | 2005-06 |
| A Christmas Carol* (new version) | Subscription Gent/Old Joe | Five seasons* |
| Radio Golf | Sterling Johnson | 2008-09 |
| A Raisin in the Sun | Bobo | 2009-10 |
| Ruined | Christian | 2010-11 |
*Blanks performed in the "new" version of A Christmas Carol in 2006-07, 2008-09, 2009-10, 2010-11 and 2011-12
*Blanks performed in the "original" version of A Christmas Carol in 1994-95, 1995-96, 1998-99 and 1999-00
https://www.denvercenter.org/wp-content/uploads/2018/04/featured-image-4651.jpg
537
640
John Moore
John Moore
2017-01-20 14:22:00
2017-01-20 14:22:00
Harvy Blanks: 'Wilsonian Warrior' makes Broadway debut in 'Jitney'