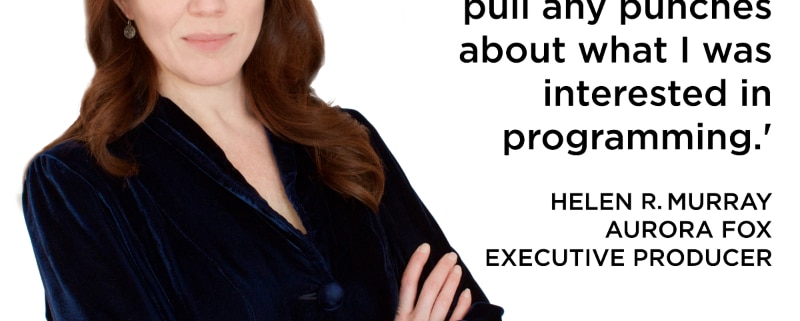 'It shouldn't feel scary to come to your theater,' says the new Executive Producer who isn't remotely interested in telling the same old stories
When Helen R. Murray announced her departure from The Hub Theatre she co-founded in Fairfax, Virginia, to become the new Executive Producer of the city-owned Aurora Fox Arts Center, one reporter lamented that the Washington D.C. performing-arts community was losing one of its visionary artistic directors.
But Murray was looking to step out of the indie theater scene and into a job where, she said, "I would have a little broader programming muscle."
You might not have thought that becoming the chief administrator of a city-owned arts facility with strict financial oversight would be that place. But despite its bureaucratic arteries, The Aurora Fox has been long known as a proud purveyor of risky and non-traditional programming that often amplifies underserved voices. Recent years have brought mainstage titles ranging from Porgy and Bess to Black Elk Speaks to Hedwig and the Angry Inch, each telling African-American, Native American and transgender stories, respectively.
But no one could have predicted just how emphatically Murray would introduce herself to Denver-area theatre audiences with her first season out of the gate:
Now through October 14: Songs for a New World: A contemporary theatrical song cycle by Jason Robert Brown (The Last Five Years) that is "neither musical play nor revue," with no consistent characters or storyline. Directed by Murray in her Colorado debut.
October 29: Killer Wigs from Outer Space, a new musical about a rock-n-roll prophet of peace on an epic journey to save our world. To be staged as a one-night-only benefit (and Halloween dance party!) for The Denver Actors Fund.
23-Dec. 23: Twist Your Dickens: Second City's interactive and decidedly adult send-up of A Christmas Carol.
18-Feb. 10, 2019: Hooded, or Being Black for Dummies: A searing look at being a young black teenager in America today by Tearrance Arvelle Chisholm.
22-March 17, 2019: Life Sucks: Aaron Posner's contemporary reworking of Chekhov's Uncle Vanya as a group of sassy old friends grappling with life's thorniest questions.
March 8-24, 2019: The Happiest Place on Earth: One actor plays all the roles in this story of one family's reckoning with the death of their patriarch.
April 5-May 12, 2019: Caroline, or Change: Tony Kushner and Jeanine Tesori's epic civil-rights musical about a black maid working for a middle-class Jewish family in 1963 Louisiana.
It is a season clearly stamped with Murray's imprimatur: It's challenging, subversive — and only one title (Songs for a New World) has been staged before by a Colorado theatre company. Which makes it an artistic director's dream — and a marketer's nightmare.
"When I interviewed for this job, I didn't pull any punches about what I was interested in programming," Murray told the DCPA NewsCenter. "I outright said to them: 'This is what I want to do.' I wanted to go somewhere where I could just be myself and bring important stories of our day directly to the community of that area. And they said, 'Yes.' "
Read more: Aurora Fox ushers in daring new era with Caroline, Or Change
The Fox is the rare company that has no official Artistic Director. As Executive Producer, Murray is essentially in charge of all artistic and financial decisions, and she answers to Gary Margolis, the Cultural Services Division Manager of Aurora's Library and Cultural Services Department. The Fox operates on a $1 million annual budget, of which $400,000 is her actual production budget.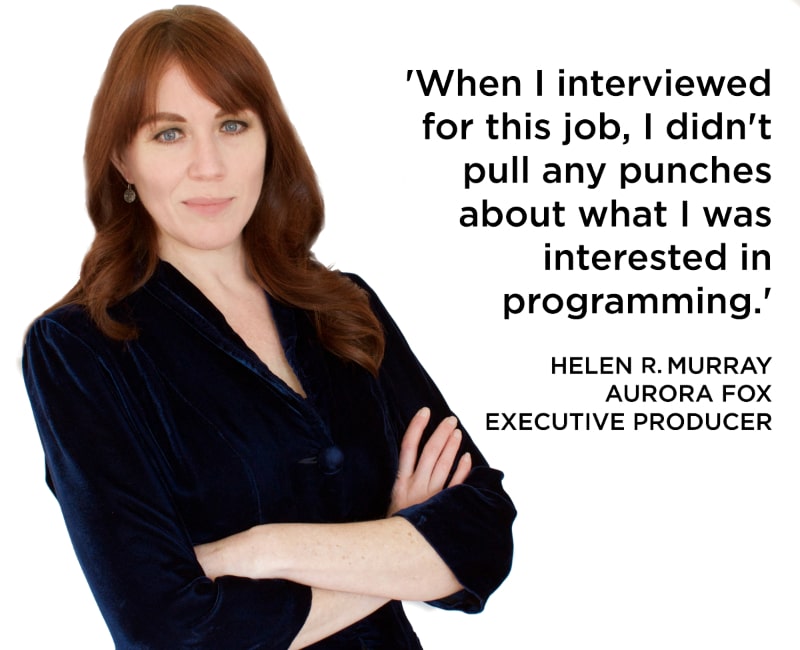 Her first season, Murray hopes, signals to audiences that The Fox will be a home for interesting and varied stories. "I really want to build a level of trust with our audiences," she said. "I hope they come to realize they can find something for themselves in every season. And that while some titles will feel safe and others will feel like more of a risk, if they come to the safe ones and see how well we've done them, I hope they will feel inclined to come back for the riskier ones."
Murray took over a Fox that was mired in confusion and financial disarray after the May 2017 resignation of longtime leader Charles Packard, who cited budget cuts and the growing difficulty of juggling his competing role as both an artist and arts administrator for a city-owned performing-arts facility for his decision to step down. Murray was clearly not deterred.
When she first looked at The Fox job, Murray was intrigued by the growing East Colfax arts district that includes The Fox, her own theatre's growth potential and the diversity of the neighborhood surrounding The Fox about 15 minutes due east of downtown Denver.
Read more: Charles Packard leaving Aurora Fox after 19 years
"They were already doing some exciting programming here under Charles Packard, so it was clear I wasn't going to have to twist anybody's arm to program in my own voice," Murray said. "The first show I saw at The Fox when I came out here was Hedwig and the Angry Inch, and it was just so wonderful. The talent level was high, and that made me feel really good about my decision to move here. I thought to myself, 'If this is what I have to work with here, then this is a great place to come to.' "
And the lure of the great Western outdoors certainly made her decision easier. After all: D.C. is not just a metaphorical swamp, she said. It is literally built on a swamp.
"The air is cleaner out here, and there are all those beautiful mountains to hike," said Murray, a mother of three who already has one Colorado 14er under her belt. "This is better. What can I say? I'm just a huge nature chick."
Now that she is on the clock in Aurora, Murray said, "I've quickly come to love The Fox, and that is in large part due to the staff," referring to Technical Director Brandon Case, Production Manager Jen Orf and Patron Services Manager Beau Bisson among a full-time staff of six. Murray's first full-time hire was naming popular Denver actor Steven J. Burge (DCPA's An Act of God and First Date) as Marketing and Development Specialist.
"This is just such a great group of people," she said. "They're so passionate about The Fox, and they care so much."
As for her assessment of the community she has just joined, Murray is somewhat conflicted. She has reached out to say hello to most of the metro area's artistic leaders, and she has been taking in plays and musicals around town most every free theatregoing night.
"I am trying to get to know everyone because I come from a theater community in D.C. where the theater ecology was really healthy," she said. "We all looked out for each other. We made a habit of lending a hand whenever we could. It was really hard to leave that theater community because of how tight they are, from the largest houses on down to the tiniest.
"Since I have come here, I will say there is so much good intention. Everyone has been so welcoming. It makes me happy to be here."
But it's not the same.
"The big thing I find that's missing here is there are no healthy MFA programs," Murray said. "I'm used to having a pipeline of young artists coming into the scene at the MFA level because that's where you find your young playwrights, designers and assistant directors. MFA programs feed into a community in a really healthy way. They make everybody up their game."
There is also, she said, a huge lack of female directors and directors of color in this theatre community.
"After our first round of submissions for the season, I turned to my Production Manager and said, 'Where are the women and the people of color?' " Murray said.
Murray's immediate priorities include plans to reimagine and expand the company's "Little Foxes" education program. But her driving overall goal, she said, will be addressing what she says is the biggest challenge now facing artistic leaders all over the country.
"In our current climate, regular people on the street don't think to go to the theater anymore," she said. "Theater has become a niche art form. The price of a theater ticket and a movie ticket these days is not that far apart. But people have no problem going to a movie that looks terrible rather than come to a play that looks awesome. And so I think we really need to impress upon our communities that they are welcome in our theatre homes. It shouldn't feel scary to come to your theater. We have to reach our communities and let them know that live theatre is something they can be a part of."
John Moore was named one of the 12 most influential theater critics in the U.S by American Theatre Magazine in 2011. He has since taken a groundbreaking position as the Denver Center's Senior Arts Journalist.
Helen R. Murray: In the Spotlife
Aurora Fox Executive Producer Helen R. Murray, originally from Marin City, California, is the co-Founder and former Artistic Director of The Hub in Fairfax, Virginia, where she started the Emerging Writers and New Play Festival. She is also a director and playwright. One play she wrote, Redder Blood, won the 2016 Jewish Play Project playwriting contest. She studied at Virginia Tech.
When's the last time you saw a greatness play out in front of you? I was just completely torn to pieces — in the best way — by the book All the Light We Cannot See by Anthony Doerr. Theater-wise, I recently saw Still Life with Rocket by Mollye Maxner at Theater Alliance in Washington D.C. It was an immersive theatre experience as if you actually walked through the home of the people you are about to see. The movement was half-dance, half-theater, but it didn't feel like you were at some avant-garde piece. You felt entrenched in the experience. It felt so honest in its delivery, and it was not pretentious in any way. The movement work was stunning. The acting was stunning. The story drew you in. It was so heartbreaking and so brave.
Five (or so!) of your favorite playwrights? I love Charles Mee's work. He is amazing. I adore Lauren Yee (DCPA's The Great Leap). Sheila Callaghan is really high on my list. Philip Dawkins is a great love, as are Adam Bock and Jordan Harrison and Sarah Ruhl.
What's playing on your Spotify? Right now, it's a healthy mix of Leon Bridges and Rayland Baxter.
Songs for a New World: Ticket information
Songs for a New World is the first musical written by Tony Award-winning composer Jason Robert Brown. The piece is a 'theatrical song cycle' that explores the moment of no return when making major decisions. Brown's uplifting and moving collection of songs and stories takes us everywhere from the deck of a 1492 Spanish sailing ship, to a ledge fifty-seven stories above Fifth Avenue in New York City. The stories are told by four actors, each playing multiple characters who, when faced with a life changing moment, can only choose to step boldly into the future.
Presented by the Aurora Fox Arts Center, 9900 E. Colfax Ave., Aurora
Through Oct. 14
Thursdays, Fridays and Saturdays at 7:30 p.m.; Sundays at 2 p.m.
Written by Jason Robert Brown
Directed by Helen R. Murray
Musical Direction by David Nehls
Cast: Sarah Rex, Leonard Barrett, Jr., Randy Chalmers and Leiney Rigg
Performances 7:30 p.m. Thursdays, Fridays and Saturdays; 2 p.m. Sundays
Tickets: 303-739-1970 or aurorafox.org
https://www.denvercenter.org/wp-content/uploads/2018/09/800-Helen-R.-Murray-QUOTE.jpg
650
800
John Moore, Senior Arts Journalist
John Moore, Senior Arts Journalist
2018-09-26 16:28:13
2018-09-27 13:37:20
Helen R. Murray is flexing her muscle at Aurora Fox