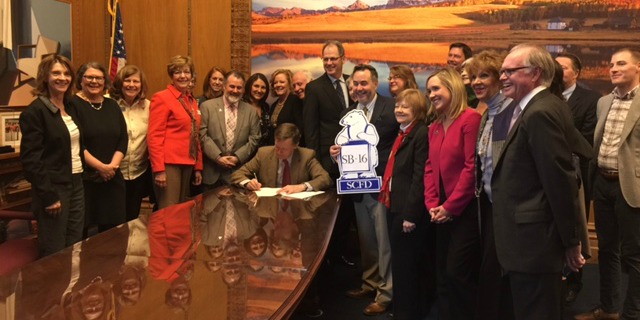 Hickenlooper puts SCFD renewal on November ballot
Gov. John Hickenlooper signs Senate Bill 16, which places the renewal of the SCFD on the November ballot.
Gov. John Hickenlooper signed a bill this afternoon that will ask voters to extend the Scientific and Cultural Facilities District (SCFD) this November. The SCFD provides nearly $55 million each year to 313 arts, culture and science organizations throughout the seven-county Denver metro community.
The SCFD, first approved by voters in 1988, is a penny-per-$10 sales tax that now generates about $55 million a year. It must be reauthorized at least every 12 years. After overwhelming approval by the Colorado Legislature, Senate Bill 16 places the renewal of the SCFD on the November ballot.
Now in its 28th year, the annual impact includes:
• 10,000 employed
• 4,250,000 students served
• 14,000,000 guests attended
• $1,850,000,000 in economic activity
The SCFD was renewed by regional voters in 1994 and 2004. Counties comprising the SCFD include Adams, Arapahoe, Boulder, Broomfield, Denver, Douglas (except for Castle Rock and Larkspur) and Jefferson.The SCFD currently provides the non-profit Denver Center for the Performing Arts with $5.5 million each year.
Volunteer to help the SCFD reauthorization initiative

Additional NewsCenter coverage of SCFD reauthorization:
SCFD moves forward with united front
Largest metro arts organizations offer major concession
SCFD board: Unanimous decision to stay the course
Ritchie resigns to focus on SCFD reauthorization
https://www.denvercenter.org/wp-content/uploads/2018/04/featured-image-3398.jpg
320
640
John Moore
John Moore
2016-04-29 14:50:00
2016-04-29 14:50:00
Hickenlooper puts SCFD renewal on November ballot