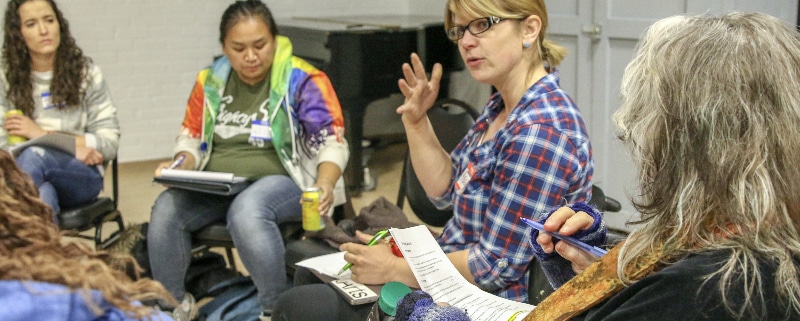 How to approach improving accessibility? Start with, 'Don't be a jerk!'
Denver's diverse grassroots community of immersive artists gathers for insight on how to be more inclusive
The DCPA's Off-Center joined with Immersive Denver to host a forum on Monday night for about 75 local immersive theatre practitioners to address the challenges and creative opportunities that arise around building accessibility into their design processes.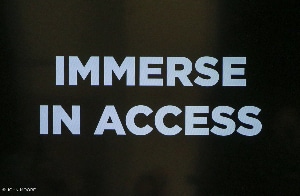 The event, called "Immerse in Access," was hosted by Off-Center curator Charlie Miller and Immersive Denver's David Thomas, a professor at the University of Colorado Denver.
"No two audience members are the same – that's part of the fun and challenge of immersive design," said Miller. "So how can we create welcoming, affirmative spaces and experiences for all patrons, even under the constraints of limited budgets and resources?"
The program included three nationally recognized experts who offered actionable insights:
In addition, Patrick Mueller, Artistic Director of Control Group Productions, presented a case study for the group to brainstorm creative approaches to accessibility.
Linton provided the following groundwork for where companies might start with this list of 10 suggestions:
1. Create an access statement. What is your unique approach and commitment to access, and have you articulated it?
2. Design with access. Think about access from the project's inception: don't wait until you have to modify things that are already designed. Can access be an asset? Is there a way to enhance the experience with a different but parallel approach?
Read more on the 2019 Immersive Retrospectacle at the Denver Center
3. Test design assumptions. Are you making certain assumptions about how audience members will react or behave in a certain part of the experience? If so, what are those assumptions? Are you prepared if someone doesn't fit that expectation? (Especially from a safety perspective.)
4. Check your perspective. Consider your immersive experience from a variety of perspectives. What will the experience be for someone with a disability? Is it diminished in some way? Do you have organizations or individuals in the community who could be a resource to you in accessibility questions? Some items you might include:
Is the entire experience wheelchair accessible? (No stairs, wide enough spaces, ample turning radius, no big thresholds, no difficult terrain, elevators if necessary)
Are there wheelchair accessible bathrooms available with grab bars?
Are there sensory triggers? (Sound, lights, surprising elements)
What is the general physical/ambulation process of the experience?
Are there certain expectations of the audience, and what are they? (e.g. interaction, being quiet, doing XYZ at this time, etc.)
Is it self-guided?
Is audio description available?
Is ASL interpretation available? Captioning?
Can someone bring their own personal guide/interpreter/caregiver? Do they have to pay for an additional ticket?
Is the experience contingent on a certain human sense?
5. Dedicate a point person. Do you have someone designated as a primary point-of-contact for access questions? Is their contact information listed explicitly for the public?
6. Educate your team. Does everyone on your staff have a general knowledge of the accessibility of the experience?
Read more about Regan Linton, Colorado's 2017 Colorado Theatre Person of the Year
7. Use welcoming language. What language are you using? Is it welcoming or exclusive?
8. Clearly articulate your offerings. Have you determined which access items can be fulfilled (or not) and how to communicate that? Do you have an explicit process for handling access inquiries?
9. Create a sensory guide. Summarize the general sensory elements of the experience so that people can be informed and make their own decision about whether it is appropriate for them. Have the sensory guide available in advance and at the event.
10. Don't be a jerk! Create a general sense of welcome that is supportive and helpful to humans of all kinds, rather than dismissive. Active interest goes a long way, even if you can't solve everything.
Immersive Denver has created an online resource guide that includes all presenter slides from Monday's forum, along with other helpful information. Download them here.
In the coming days, a complete video of Monday's forum will be posted to ImmersiveDenver.Com.
To contact Immersive Denver, email hello@immersivedenver.com
Photo gallery: 'Immerse in Access'
Go to our complete gallery of more than 40 photos from Immerse in Access
https://www.denvercenter.org/wp-content/uploads/2020/01/Regan-Linto-at-Immerse-in-Action.-Photo-by-John-Moore.jpg
551
800
John Moore
John Moore
2020-01-28 15:41:12
2020-02-03 09:53:22
How to approach improving accessibility? Start with, 'Don't be a jerk!'